Voyager 1400g delivers omnidirectional reading of linear bar codes, plus the ability to affordably upgrade the device to enable PDF and 2D bar code scanning—at the time of purchase or as scanning needs evolve.
This product is no longer available. Please choose from similar products.
Honeywell 1400g Voyager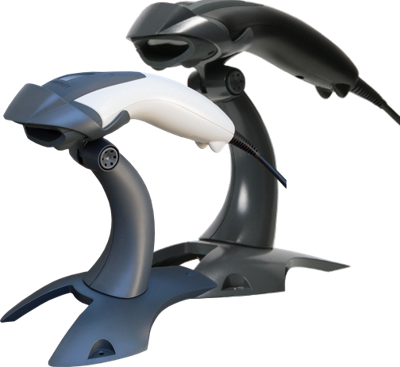 An exceptional value, Voyager 1400g offers:
Scanning of linear codes at speeds comparable to laser-based scanners
Omnidirectional reading of virtually all linear, PDF417* and the most widely used 2D bar codes*
Ability to read traditional paper-based bar codes and codes on mobile phone screens
Offers omnidirectional reading of virtually all linear bar codes and the most widely used 2D bar codes, including poor quality and mobile bar codes (2D decoding available in select models).
Voyager 1400g is an easily adaptable solution with a flexible licensing scheme that provides a growth path from linear-only to PDF417 and 2D scanning capability in the future, with minimal up-front investment.
Required accessories
The device will not work without these accessories:
None available
Recommended Accessories
| ARTICLE No. | Name | Availability | Price | incl. VAT | |
| --- | --- | --- | --- | --- | --- |
| CBL-500-150-S00 | Honeywell Kabel USB pro Voyager 1200g, 1202g, 1250g, 1300g, 1400g, 1450g, 1452g, 1900g, 1902g, černý, přímý, 1,5m | 4 pcs | 260,- CZK | 314,6 CZK | |
| HON-1900-CBL-KB | Honeywell KBW Cable for Honeywell 1900 | Usually 20 days | 313,- CZK | 378,7 CZK | |
| HON-1900-CBL-RB | Honeywell RS232 Cable for Honeywell 1900 | Usually 20 days | 313,- CZK | 378,7 CZK | |
| HON-1900-CBL-UB | Honeywell USB Cable: Honeywell 1900 | 10 pcs | 313,- CZK | 378,7 CZK | |
| HON-PWR-095V | Honeywell Power Supply for 1900 Xenon,Orbit, Quantum, Voyager, Fusion, Eclipse, Horizon 5.2VDC 1A | 15 pcs | 712,- CZK | 861,5 CZK | |
| S-PODPORA | Codeware Technical support - commenced 30 minutes | On stock | 350,- CZK | 423,5 CZK | |
Technical Description:
Optical
Bar code scanner
2D Imager
Functionality & Operation
1D Barcode Symbologies
All standard one-dimension barcodes
2D Code Symbologies
PDF417, all standard 2D-Codes
Communication interface
IBM-46xx, keyboard, RS232, USB
Mechanical
Dimensions
Width: 43mm, Height: 66mm, Length: 180mm
Weight
119g
Environment
Operating temperature
0 to 42°C
Storage temperature
-40 to 60°C
Relative humidity (non-condensing)
0 to 95%
Ingress protection
IP42
Others
Warranty
5 years
You must login first to get allowance for downloading files, which are not publicly free.
File
Description
Free for download
Driver_Honeywell_scannerbarcodes.zip
Size: 5.05 MB, Language: en
MD5: f39be51bc46af77d5f02c4be3e0d429c
Drivers
Download
Util_Honeywell_scanner.rar
Size: 156.39 MB, Language: en
MD5: 41f21d87747a5798f3c3628fbaa8e6a3
Utility for settings
Download
HWL1400g_datasheet.pdf
Size: 264.67 KB
MD5: f32d5431e465ec97af35f7e52e18e81e
Honeywell 1400g Voyager datasheet
Download
softwedge.zip
Size: 1.68 MB, Language: en
MD5: d3d9419d56f0e344f79e8c66e31ab762
Eavesdropping Program COM port - suitable for use all readers emulation RS232, VCOM. (Transfer from RS232 to KBW)
Download
Loading other files from the documentation system... please wait.
Question to product Honeywell 1400g Voyager
To PDF
Compare