Xenon™ 190x, Honeywell's sixth-generation of area-imaging technology, is redefining the standard for hand-held scanners. Featuring a custom sensor that is optimized for bar code scanning, Xenon 190x offers industry-leading performance and reliability for a wide variety of applications that require the versatility of area-imaging technology. In combination with the stand-reading autosense.
Honeywell Xenon 1900 handheld 2D imager HD, USB, black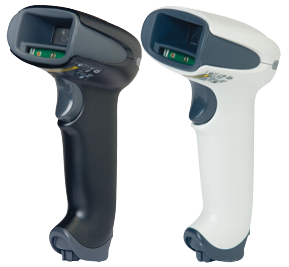 Honeywell Xenon 190x is powered by Adaptus® Imaging Technology 6.0, Xenon 1900 delivers superior bar code scanning and digital image capture. Xenon 190x incorporates a revolutionary decoding architecture that combines Adaptus Imaging Technology 5.5 and Omniplanar's SwiftDecoder® software along with a custom sensor, enabling extended depth of field, faster reading, and improved scanning performance on poor quality bar codes.
Custom sensor optimized for bar code scanning

improves scanning aggressiveness and protects investment by providing supply chain stability

Three focal options

(high density, standard range and extended range) provide application-specific scanning, leading to improved productivity

Image processing software

offers advanced editing functionality-cropping, brightening, rotating, sharpening and more-to produce high-quality digital images

TotalFreedom® 2.0 development platform

enables the loading and linking of multiple applications on the scanner to enhance image processing, decoding or data formatting functionality, eliminating the need for host system modifications

Remote MasterMind® scanner management software

provides a quick and convenient solution for IT administrators seeking to manage all scanners within their network from a single remote location

Optional disinfectant-ready housing

protects investment with durable construction that is better able to resist the harmful effects of harsh chemicals
Required accessories
The device will not work without these accessories:
None available
Recommended Accessories
| ARTICLE No. | Name | Availability | Price | incl. VAT | |
| --- | --- | --- | --- | --- | --- |
| 1900-STANDF | Honeywell Xenon 1900 Flexible Stand | Usually 17 days | 582,- CZK | 704,2 CZK | |
| CBL-500-150-S00 | Honeywell Kabel USB pro Voyager 1200g, 1202g, 1250g, 1300g, 1400g, 1450g, 1452g, 1900g, 1902g, černý, přímý, 1,5m | 2 pcs | 259,- CZK | 313,4 CZK | |
| HON-1900-CBL-KB | Honeywell KBW Cable for Honeywell 1900 | Usually 17 days | 312,- CZK | 377,5 CZK | |
| HON-1900-CBL-RB | Honeywell RS232 Cable for Honeywell 1900 | 2 pcs | 312,- CZK | 377,5 CZK | |
| HON-1900-CBL-UB | Honeywell USB Cable: Honeywell 1900 | 10 pcs | 312,- CZK | 377,5 CZK | |
| HON-PWR-095V | Honeywell Power Supply for 1900 Xenon,Orbit, Quantum, Voyager, Fusion, Eclipse, Horizon 5.2VDC 1A | 12 pcs | 708,- CZK | 856,7 CZK | |
| S-PODPORA | Codeware Technical support - commenced 30 minutes | On stock | 350,- CZK | 423,5 CZK | |
| XENON-HOLDER | Honeywell Xenon 1900 Holder Kit | Usually 17 days | 548,- CZK | 663,1 CZK | |
Technical Description:
Functionality & Operation
Communication interface
USB
2D Code Symbologies
all standard 2D-Codes
1D Barcode Symbologies
All standard one-dimension barcodes
Optical
Depth of scan field
10,2-584,2 mm
Scanning rate
72scan/s
Scannig pattern
1 line
Electrical
Power Source
4.5 ~ 5.5VDC
Power Consumption - Standby
0.45W
Power Consumption - Operation
2.3W
Mechanical
Dimensions
Width: 160mm, Height: 104mm, Length: 71mm
Weight
147g
Environment
Operating temperature
0 to 50°C
Storage temperature
-40 to 70°C
Storage humidity (non-condensing)
0 to 95%
Ingress protection
IP41
You must login first to get allowance for downloading files, which are not publicly free.
File
Description
Free for download
IUQ_1900_Quick_Guide_ftp.pdf
Size: 418.66 KB, Language: en
MD5: 8f42c8383ca37d37dedccbf062837dcd
Quick user guide
Download
IU_1900STANDSHEET_ftp.pdf
Size: 85.33 KB, Language: en
MD5: 9dcc8d5f93f2e8160f0f3d075115860e
Stand installation guide
Download
IU_CG_1900_Xenon_EN.pdf
Size: 3.86 MB, Language: en
MD5: 5bea1565e2677280b083694c6fc8f8e1
Configuration guide
Download
Driver_Honeywell_scannerbarcodes.zip
Size: 5.05 MB, Language: en
MD5: f39be51bc46af77d5f02c4be3e0d429c
Drivers
Download
Util_Honeywell_scanner.rar
Size: 156.39 MB, Language: en
MD5: 41f21d87747a5798f3c3628fbaa8e6a3
Utility for settings
Download
softwedge.zip
Size: 1.68 MB, Language: en
MD5: d3d9419d56f0e344f79e8c66e31ab762
Eavesdropping Program COM port - suitable for use all readers emulation RS232, VCOM. (Transfer from RS232 to KBW)
Download
Xenon-UG.pdf
Size: 9.44 MB, Language: en
MD5: 1d2586e1083e3c69e8ff67045848eac6
Users Guide
Download
Loading other files from the documentation system... please wait.

ARTICLE No.:

OPI-3601-UB

Availability:

Product discontinued - can not be ordered

Warranty (months): 12 měsíců

1564 series wireless BT 2D code scanners raise the bar for performance, value and user satisfaction with a 90-meter range, sleek ergonomics and a smart communication stand that serves seven scanners.

ARTICLE No.:

BI-BS-111-BU

Availability:

56 pcs

Warranty (months): 12 měsíců

The L-22X is a fast 2D imager that scans at a fast speed of 100 frames per second. The scanner is lightweight and ergonomically designed so it balances perfectly in your hand.
Question to product Honeywell Xenon 1900 handheld 2D imager HD, USB, black
To PDF
Compare