The Granit 1910i industrial-grade area-imaging scanner is designed to withstand the varied demands that exist in harsh working environments and provides users with the same exceptional bar code reading performance - from poorly printed and damaged codes to low density linear codes
Honeywell Granit 191Xi - wireless industrial-grade Area-Imaging scanner, USB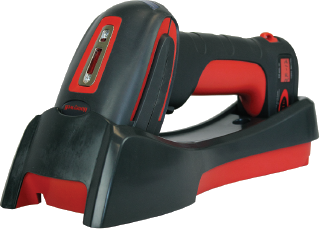 Features:
The custom built IP65-rated housing is able to withstand 5,000 3.3´ (1 m) tumbles and survive 50 drops from 6.5´ (2 m)

Adaptus 6.0 Imaging Technology provides aggressive bar code readin

Outstanding Scan Performance on Poor Quality and Damaged Bar Codes
Required accessories
The device will not work without these accessories:
None available
Recommended Accessories
| ARTICLE No. | Name | Availability | Price | incl. VAT | |
| --- | --- | --- | --- | --- | --- |
| S-PODPORA | Codeware Technical support - commenced 30 minutes | On stock | 350,- CZK | 423,5 CZK | |
| 1202-ZDROJ | Honeywell Zdroj pro Voyager 1202g, Granit - základna | 1 pcs | 569,- CZK | 688,5 CZK | |
| HON-1900-CBL-RB | Honeywell RS232 Cable for Honeywell 1900 | 2 pcs | 312,- CZK | 377,5 CZK | |
Technical Description:
Functionality & Operation
1D Barcode Symbologies
All standard one-dimension barcodes
Communication interface
keyboard, RS232, USB
2D Code Symbologies
all standard 2D-Codes
WPAN Features
Adaptive Frequeny Hopping Bluetoth® v4.0 2.4 GHz (ISM Band) 1 100m line of sight
Optical
Minimum symbol contrast
20%
Bar code scanner
2D Imager
Electrical
Power Consumption - Standby
0.6W (0.12A, 5V)
Power Consumption - Operation
5W (1A, 5V)
Main battery pack
Li-Ion 2000 mAh
Main battery pack operating time
14hod
Battery charging time
4.5hod
Mechanical
Dimensions
Width: 133mm, Height: 75mm, Length: 195mm, Width: 250mm, Height: 103mm, Length: 65mm cradle
Weight
380g, 290g cradle
Environment
Operating temperature
-20 to 50°C
Storage temperature
-40 to 70°C
Shock resistance
multiply drops from 2 m onto concrete surface, multiply drops from 1,2 m onto concrete surface, 5000 tumbles at 1m
Operating humidity (non-condensing)
0 to 95%
Electrical static discharge
±8kV contact, ±20kV air
Ingress protection
IP65
Others
Warranty
3 years
Bundled Accessories
battery, Charging and Communication Cradle
Optional accessories
stand
You must login first to get allowance for downloading files, which are not publicly free.
File
Description
Free for download
Driver_Honeywell_scannerbarcodes.zip
Size: 5.05 MB, Language: en
MD5: f39be51bc46af77d5f02c4be3e0d429c
Drivers
Download
Util_Honeywell_scanner.rar
Size: 156.39 MB, Language: en
MD5: 41f21d87747a5798f3c3628fbaa8e6a3
Utility for settings
Download
honeywell-on-the-forklift-brochure-a4.pdf
Size: 8.72 MB
MD5: 6d952ce5d2a11f48d4a7b6173cd63e8e
Honeywell brochure
Download
softwedge.zip
Size: 1.68 MB, Language: en
MD5: d3d9419d56f0e344f79e8c66e31ab762
Eavesdropping Program COM port - suitable for use all readers emulation RS232, VCOM. (Transfer from RS232 to KBW)
Download
Xenon-UG.pdf
Size: 9.44 MB, Language: en
MD5: 1d2586e1083e3c69e8ff67045848eac6
Users Guide
Download
Loading other files from the documentation system... please wait.

ARTICLE No.:

LS3578-1DSCAN

Availability:

Usually 10 days

Warranty (months): 12 měsíců
Question to product Honeywell Granit 191Xi - wireless industrial-grade Area-Imaging scanner, USB
To PDF
Compare