CCD barcode reader. In case of RS232 model please select, if you need +5VDC power supply.
CipherLab CCD-1000 Hand Bar Code Scanner, RS232, black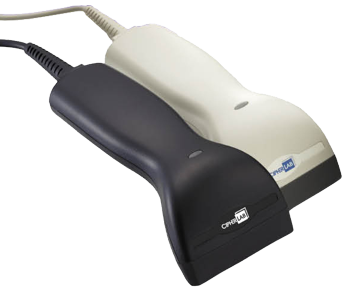 Referential installations:
the employment offices of the Czech Ministry Of Labour And Social Affairs (10 thousand units in total);
Fokus Optik, Prague;
Required accessories
The device will not work without these accessories:
None available
Recommended Accessories
ARTICLE No.
Name
Availability
Price
incl. VAT
ZBX-HOLD-C
Zebex Desktop Holder for CCD Bar Code Scanner

73 pcs

and

Ongoing [i]

212,- CZK
256,5 CZK
PWR5VDC-1
Power supply 5VDC 500 mA

16 pcs

159,- CZK
192,4 CZK
Technical Description:
Functionality & Operation
Communication interface
RS232
1D Barcode Symbologies
Code 39, Italy Pharma Code, French Pharma Code, Industrial 2 of 5, Interleaved 2 of 5, Matrix 2 of 5, EAN 8, EAN 8 + ADDON 2, EAN 8 + ADDON 5, EAN 13/UPCA, EAN 13/UPCA + ADDON 2, EAN 13/UPCA + ADDON 5, UPCE, UPCE + ADDON 2, UPCE + ADDON 5, Codabar, Code 128, MSI, Plessey, UPCA, UPCA + ADDON 2, UPCA + ADDON 5
Indicators
Buzzer (Frequency is programmable and can be disabled), LED: Red Color for Good Read; Green Color for Status
Programmable features
Code ID, Prefix Code, Postfix Code, Length Code, Barcode type, Keyboard layout, ISBN/ISSN/UK Plessey conversion
Programmable conditions
code type, data length and location (data can be divided into 6 Matching string fields), Five additional fields can be programm
Optical
Light source
visible red LED 660nm
Optical system
CCD 2048 pixels
Depth of scan field
0.125(0~10mm); 0.33 (0~50mm)
Maximal barcode width
67mm
Scanning rate
100scan/s
Resolution
3 mil
Maximal skew angle
40°
Maximal pitch angle
70°
PCS min
> 0.45
Bar code scanner
CCD
Electrical
Power Source
+5V ±10%
Mechanical
Weight
250g
Body housing
ABS plastic
Environment
Operating temperature
0 to 50°C
Storage temperature
-20 to 60°C
Shock resistance
drop from 1m onto concrete surface
Storage humidity (non-condensing)
10 to 95% non-condensing
Operating humidity (non-condensing)
20 to 90% non-condensing
Others
Certifications
FCC Class A, C-Tick, CE, RoHS
You must login first to get allowance for downloading files, which are not publicly free.
File
Description
Free for download
CG_CipherLab_SetupReader_CZ.pdf
Size: 671.42 KB, Language: cs
MD5: 903456efb7b1317b5092a0dfacf47999
Configuration manual for hand bar code reader CipherLab
Download
DS_1000_scanner_ccd_EN.pdf
Size: 798.6 KB, Language: en
MD5: 9f3a230b1f6e5c011380e2df8fb4c573
Datasheet for CipherLab CCD-1000 bar code scanner
Download
IU_CCD-1000_Uzivatelska_Prirucka_CZ_ftp.pdf
Size: 203.02 KB, Language: cs
MD5: a0b2b3d83f54a9e46f8400d8be9f881f
User guide for bar code reader CipherLab CCD-1000
Download
CDC_VCP_win_xp_vista_seven.zip
Size: 812.79 KB, Language: en
MD5: cd2dc49c1f25cb8a253e727b80b9c1b5
This is Silicon USB virtual COM driver for CipherLab devices for Windows. It is used with most USB cradles of 8 series portable terminals and with 3610 Bluetooth USB transponder.
Download
ScanMaster.zip
Size: 3.88 MB, Language: en
MD5: eea6520706e306c1dc1b465c4b1d0310
Utility for setting-up the CipherLab bar-code scanners
Download
DS_CPL_1000_1070_1100_EN.pdf
Size: 604.38 KB, Language: en
MD5: 687880fab88d407e454342badc2ecc4b
Data sheet for CCD bar code readers CipherLab 1000, 1070, 1100
Download
CG_1000_1090+_1100_1105_Scanner_User_Guide_EN.pdf
Size: 1.07 MB, Language: en
MD5: 1737674f05ce5eb4f8b23668078a34c5
Set-up guide for CipherLab 1000, 1090+, 1100 and 1200 bar code scanners
Download
ScanMaster User Guide.pdf
Size: 3.14 MB, Language: en
MD5: 3e887cfdbe725626cc8d4d6098346f41
ScanMaster User Guide [Applied Models] 1000 Series, 1500 Series, 1600 Series, 1700 Series scanners
Download
softwedge.zip
Size: 1.68 MB, Language: en
MD5: d3d9419d56f0e344f79e8c66e31ab762
Eavesdropping Program COM port - suitable for use all readers emulation RS232, VCOM. (Transfer from RS232 to KBW)
Download
DS_FullLine_Brochure_CZ.pdf
Size: 4.03 MB, Language: cs
MD5: d1a9ea74df55be28a4895f0247ad098f
CipherLab: CipherLab products brochure
Download
DS_FullLine_Brochure_EN.pdf
Size: 1.82 MB, Language: en
MD5: 8832ed2635b050e90ec969edf45b8564
CipherLab: CipherLab products brochure
Download
Loading other files from the documentation system... please wait.
Question to product CipherLab CCD-1000 Hand Bar Code Scanner, RS232, black
To PDF
Compare