Linear imaging 1D barcode scanner of the best performance (200 sc./sec), antimicrobial design. Depth of reading range 35 cm, multiinterface keyboard wedge + RS232 + USB
This product is no longer available. Please choose from similar products.
CipherLab 1500H Corded linear imager Scanner Kit, white (Scanner + Stand + USB-VCOM Cable) (CipherLab)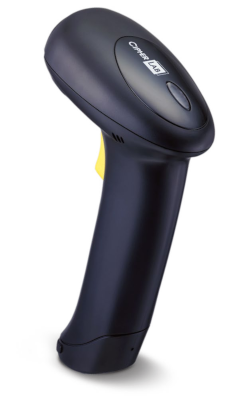 CipherLab 1500 barcode scanner (linear imager) raises the standard of performance, style and affordability. An incredibly comfortable design and the innovative three-way stand makes it easy to use all day long. A large LED and the adjustable tone ensure instant scan recognition that speeds up the workflow. No moving parts and CipherLabs reputation for reliability mean ultra-low maintenance, giving you remarkably low total cost of ownership. And a five-year warranty gaurantees years of worry-free service. The CipherLab 1500 delivers where reliability, durability, comfort, speed, safety, and value matter.
You can easily configure the 1500 scanner with the ScanMaster software.
Bar code scanner CipherLab 1500 is available also in special design for health institutions, pharmacies, and similar social institutes. The housing is cast from a mixture of antibacterial solution developed for this purpose by
Microban
corporation.
Autosense
Desktop
Wall mount
Ministry Of Labor And Social Affairs, Czech (hundreds of scanners)
Gesto Computers, spol. s r.o., Czech
Required accessories
The device will not work without these accessories:
None available
Recommended Accessories
| ARTICLE No. | Name | Availability | Price | incl. VAT | |
| --- | --- | --- | --- | --- | --- |
| A1500-STAND | CipherLab 1500 Autosense stand, black | 4 pcs | 387,- CZK | 468,3 CZK | |
| PWR5VDC-1 | Power supply 5VDC 500 mA | 8 pcs | 161,- CZK | 194,8 CZK | |
Technical Description:
Functionality & Operation
1D Barcode Symbologies
Codabar, Code 128, Code 39, Code 93, EAN 13/UPCA, EAN 8, French Pharma Code, Industrial 2 of 5, Interleaved 2 of 5, Italy Pharma Code, Matrix 2 of 5, MSI, Plessey, Telepen, UPCE, and others
Programmable features
Data editing, interface selection, symbology, configuration
Configuration
by programming barcodes, ScanMaster utility
Optical
Light source
visible red LED 625nm
Depth of scan field
40-400 mm
Scanning rate
520scan/s
Resolution
3 mil
Maximal skew angle
70°
Maximal pitch angle
70°
Bar code scanner
CCD 2500 px
Minimal PCS value
30%
Electrical
Power Consumption - Standby
350mA
Power Consumption - Operation
170mA , max. 250 mA
Mechanical
Weight
145g
Color
black
Environment
Operating temperature
0 to 50°C
Storage temperature
-20 to 60°C
Maximal ambient light
100000lux
Shock resistance
drop from 1,5 m onto concrete surface
Storage humidity (non-condensing)
5 to 95%
Operating humidity (non-condensing)
10 to 90%
Electrical static discharge
±8kV contact, ±15kV air
Ingress protection
IP30
Others
Certifications
CE, FCC Class A, MIC, BSMI, IC, C-Tick
Warranty
5 years
You must login first to get allowance for downloading files, which are not publicly free.
File
Description
Free for download
CG_CipherLab_SetupReader_CZ.pdf
Size: 671.42 KB, Language: cs
MD5: 903456efb7b1317b5092a0dfacf47999
Configuration manual for hand bar code reader CipherLab
Download
IU_CG_1500_1502_Scanner_User_Guide_EN.pdf
Size: 1.87 MB, Language: en
MD5: 5946b38c06fc755a2a17c200489c6dc0
User and set-up guide for CipherLab 1500 and 1502 bar code scanner
Download
IU_CG_1500_nastavovaci_prirucka_CZ.pdf
Size: 531.13 KB, Language: cs
MD5: 99d8d4a923e3894d51dccdccf597e405
User and set-up guide for CipherLab 1500 bar code scanner
Download
CDC_VCP_win_xp_vista_seven.zip
Size: 812.79 KB, Language: en
MD5: cd2dc49c1f25cb8a253e727b80b9c1b5
This is Silicon USB virtual COM driver for CipherLab devices for Windows. It is used with most USB cradles of 8 series portable terminals and with 3610 Bluetooth USB transponder.
Download
ScanMaster.zip
Size: 3.88 MB, Language: en
MD5: eea6520706e306c1dc1b465c4b1d0310
Utility for setting-up the CipherLab bar-code scanners
Download
DS_CPL_1500P_1502_1560P_1562_1564A_EN.pdf
Size: 1.54 MB, Language: en
MD5: a958d31571e2717d11170c2efce07630
Datasheet for CipherLab 1500P, 1560P, 1502, 1562 and 1564Abar code scanners
Download
softwedge.zip
Size: 1.68 MB, Language: en
MD5: d3d9419d56f0e344f79e8c66e31ab762
Eavesdropping Program COM port - suitable for use all readers emulation RS232, VCOM. (Transfer from RS232 to KBW)
Download
Loading other files from the documentation system... please wait.
Question to product CipherLab 1500H Corded linear imager Scanner Kit, white (Scanner + Stand + USB-VCOM Cable) (CipherLab)
To PDF
Compare