Single line CCD scanner, rechargeable, thanks Bluetooth it can be attached to mobile phone, PDAs etc. Antimicrobial design for healthcare.
This product is no longer available. Please choose from similar products.

ARTICLE No.:

OPL-9815

Availability:

Usually 12 days

Warranty (months): 12 měsíců

Smaller and lighter than a mobile phone, the 1600 series can be easily fit in your pocket and carried around for required tasks wherever it takes. The 1600 series is built to meet the needs in healthcare, field sales and field service with strong mobility requirement.…

OPN 200x is a small memory scanner, combining convenient barcode data collection with flexible communication options.
CipherLab BT-1661H CCD Barcode Memory Scanner, Bluetooth, rechargeable, healthcare design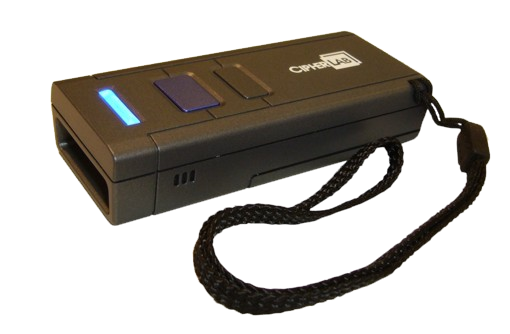 Available Models
1660 - powered by two alkaline batteries of AAA size
1661 - rechargeable model with Li-ION accumulator
1661H - with antimicrobial housing, suitable for healthcare
a built-in Bluetooth for instant connections, anywhere, any time
100 scans/second scanning rate for fast, accurate workflow
a lightweight, ergonomic design for repetitive use
D.O.F. 3.5 to 38 cm, resolution 3 mil, minimum 30% PCS
Line of sight coverage up to 10 meters or 33 feet
Supports multiple languages and symbologies for worldwide applications
Low power consumption
Includes free ScanMaster software
Pocket bar code collector CipherLab 1661 is available also in special design for health institutions, pharmacies, and similar social institutes. The housing is cast from a mixture of antimicrobial solution developed for this purpose by
Microban corporation
.
Required accessories
The device will not work without these accessories:
None available
Recommended Accessories
| ARTICLE No. | Name | Availability | Price | incl. VAT | |
| --- | --- | --- | --- | --- | --- |
| A1660-DNG | CipherLab 3610 Bluetooth USB Dongle for CP-166x | 13 pcs | 1 207,- CZK | 1 460,5 CZK | |
| A1661-BAT | CipherLab Battery Li-Ion for CP-1661 / 1662 / 1664 | 9 pcs | 782,- CZK | 946,2 CZK | |
| A1661-CHG | CipherLab Battery + Recharger for CP-1661 / 1662 / 1664 | 8 pcs | 1 119,- CZK | 1 354,0 CZK | |
Technical Description:
Functionality & Operation
Wireless communication
Bluetooth Class 3 (2.4 GHz) ver. 2.0
Signal coverage
10m
Bluetooth profiles
SPP, HID
1D Barcode Symbologies
Codabar, Code 128, Code 39, Code 93, French Pharma Code, GS1 Data Bar (RSS), Industrial 2 of 5, Interleaved 2 of 5, Italy Pharma Code, Matrix 2 of 5, MSI, Plessey, Telepen, UPCE, and others
Programmable features
Symbology configuration, data editing, using Windows-based application ScanMaster, or with special barcodes, or by direct Bluetooth connection
Language support
US and UK English, French, Nederland, Norwegian, Italian, Swedish, Spanish, German, Portuguese
Buttons
reading push button and delete button
Memory
256Kb
Optical
Light source
visible red LED 650nm
Optical system
CCD 2500 pixels
Resolution
3 mil
Maximal skew angle
70°
Maximal pitch angle
70°
PCS min
30% minimum
Electrical
Power Source
2xAAA, Li-ION rechargeable
Power Consumption - Standby
15mA
Power Consumption - Operation
150mA
Mechanical
Dimensions
Width: 9.5cm, Height: 3.5cm, Length: 2cm
Weight
50g incl. batteries
Color
dark grey, white
Environment
Operating temperature
0 to 50°C
Storage temperature
-20 to 60°C
Storage humidity (non-condensing)
0 to 95%
Operating humidity (non-condensing)
10 to 90%
Electrical static discharge
±8kV contact / ±15kV air
Others
Certifications
BSMI, C-Tick, CE, FCC Class A, MIC, RoHS
You must login first to get allowance for downloading files, which are not publicly free.
File
Description
Free for download
Cordless Scanner Setup Cards_v1.00.pdf
Size: 53.66 KB, Language: en
MD5: d32fe271ab5031b52e4507db8590bc6a
Download
IU_CipherConnect_Android_EN.pdf
Size: 4.69 MB, Language: en
MD5: 1227ec8ec0abb288f20d7dc512983456
How to setup CipherConnect for Android
Download
IU_CipherConnect_BlackBerry_EN.pdf
Size: 2.69 MB, Language: en
MD5: 0d0ba277e58c57221e2b902f6c8d8304
How to setup CipherConnect for Blackberry
Download
IU_CipherConnect_WindowsMobile_EN.pdf
Size: 1.65 MB, Language: en
MD5: 24fae6551c2e6350c629645fb889b1da
How to setup CipherConnect for Windows Mobile
Download
CDC_VCP_win_xp_vista_seven.zip
Size: 812.79 KB, Language: en
MD5: cd2dc49c1f25cb8a253e727b80b9c1b5
This is Silicon USB virtual COM driver for CipherLab devices for Windows. It is used with most USB cradles of 8 series portable terminals and with 3610 Bluetooth USB transponder.
Download
CG_1660_1661 Scanner User Guide_EN.pdf
Size: 4.7 MB, Language: en
MD5: 503b1fae878a4215f662ba34e1ec807c
Configuration and user manual for CipherLab 1660, 1661
Download
ScanMaster.zip
Size: 3.88 MB, Language: en
MD5: eea6520706e306c1dc1b465c4b1d0310
Utility for setting-up the CipherLab bar-code scanners
Download
ScanMaster User Guide.pdf
Size: 3.14 MB, Language: en
MD5: 3e887cfdbe725626cc8d4d6098346f41
ScanMaster User Guide [Applied Models] 1000 Series, 1500 Series, 1600 Series, 1700 Series scanners
Download
softwedge.zip
Size: 1.68 MB, Language: en
MD5: d3d9419d56f0e344f79e8c66e31ab762
Eavesdropping Program COM port - suitable for use all readers emulation RS232, VCOM. (Transfer from RS232 to KBW)
Download
DS_FullLine_Brochure_CZ.pdf
Size: 4.03 MB, Language: cs
MD5: d1a9ea74df55be28a4895f0247ad098f
CipherLab: CipherLab products brochure
Download
DS_FullLine_Brochure_EN.pdf
Size: 1.82 MB, Language: en
MD5: 8832ed2635b050e90ec969edf45b8564
CipherLab: CipherLab products brochure
Download
Loading other files from the documentation system... please wait.
Question to product CipherLab BT-1661H CCD Barcode Memory Scanner, Bluetooth, rechargeable, healthcare design
To PDF
Compare