CCD bar code CD-108e is made with respect to ease of use and long term reliability. The reader is equipped with a USB interface, RS-232 and keyboard emulation, their only option is replacement of the cable.
Birch CD-108e CCD Bar Code Scanner, black, USB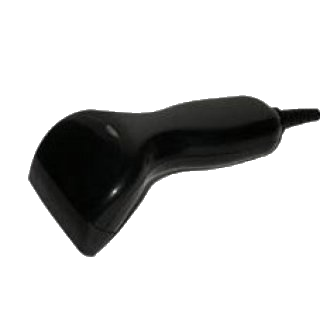 Model CD-108e is characterized by reduced power consumption and so it is very suitable for usage with a laptop for example. Users can easily configure the scanner through a PC and then save the settings on the hard disk. CD-108e reliably reads all the commonly used bar codes, has a sophisticated ergonomic design and work with it, including configuration settings, is very easy.
Required accessories
The device will not work without these accessories:
None available
Recommended Accessories
None available
Technical Description:
Functionality & Operation
Communication interface
USB-HID, USB-VCP
1D Barcode Symbologies
Codabar, Code 11, Code 128, Code 32 Pharmaceutical (PARAF), Code 39, Code 93, EAN 13/UPCA + ADDON 2, EAN 13/UPCA + ADDON 5, EAN 8 + ADDON 2, EAN 8 + ADDON 5, GS1 DataBar Expanded, GS1 DataBar Limited, GS1-DataBar, China Postal Code, Industrial 2 of 5, Interleaved 2 of 5, Matrix 2 of 5, MSI, Plessey, Telepen, UCC/EAN-128, UPC/EAN/JAN, UPCA + ADDON 2, UPCA + ADDON 5, UPCE + ADDON 2, UPCE + ADDON 5
Mechanical
Color
black
Dimensions
Width: 174mm, Height: 90mm, Length: 31mm
Weight
126g without cable
Body housing
ABS plastic with rubber
Optical
Depth of scan field
0-50 mm (20 mil barcode)
Scanning rate
100scan/s
Resolution
4 mil
Reading width
80 mm
Minimal PCS value
0.45
Electrical
Power Source
+5 VDC ±5%
Power Consumption - Standby
200mW
Power Consumption - Operation
375mW
Environment
Operating temperature
0 to 50°C
Storage temperature
-20 to 70°C
Relative humidity (non-condensing)
20 to 95%
Maximal ambient light
5000lux fluorescent, direct sunlight 3000lux
Shock resistance
drop from 1 m onto concrete surface
Others
Warranty
6 months
You must login first to get allowance for downloading files, which are not publicly free.
File
Description
Free for download
DS_Birch_CD-108.pdf
Size: 293.42 KB, Language: en
MD5: 1773c198f1c97cce99c35fc0a7ca0ac8
Data sheet for Birch CD-108e bar code scanner
Download
Barcode_Birch_programming_menu_EN.pdf
Size: 326.43 KB, Language: en
MD5: b1d491a4c85cc717d76d494622a965f0
Set-up manual for Birch bar code scanners
Download
Birch_Virtual_COM_Driver.zip
Size: 11.28 MB, Language: en
MD5: 7e9b0fc83d09688692ca83dddb912f63
Driver (Windows) for the bar code scanners Birch, which are set for USB-VCP interface
Download
softwedge.zip
Size: 1.68 MB, Language: en
MD5: d3d9419d56f0e344f79e8c66e31ab762
Eavesdropping Program COM port - suitable for use all readers emulation RS232, VCOM. (Transfer from RS232 to KBW)
Download
Loading other files from the documentation system... please wait.
Question to product Birch CD-108e CCD Bar Code Scanner, black, USB
To PDF
Compare