The Birch DS-715 is a professional price-checker of compact design shape with seamless built-in 20-line omni-directional laser scanner, high bright graphical LCD display supporting text, animations and pictures.
Birch DS-715 Price Checker,omni-laser, LAN, black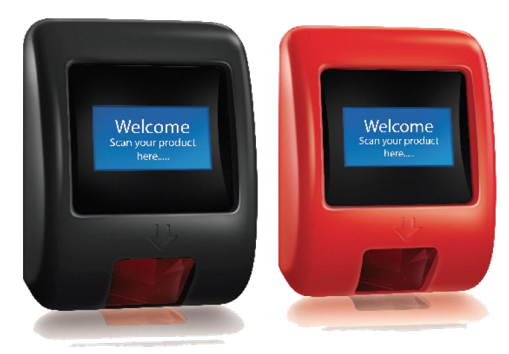 It has Ethernet TCP/IP interface (10/100 BaseT) as standard. Optionally it can be occupied with Power Over Ethernet (PoE) or WiFi 802.11b/g/n through mini-PCI card encrypted by WEP, WPA-1, WPA-2 Personal & Enterprise.
Key Feature
s of DS-715 Price Checker
20-line omni-directional laser scanner supporting fragmented code reading
Graphical LCD display supporting text, pictures, logos and animations
Built with loud speaker to support real audio samples (.wma)
AUX port for handheld scanner connection
User's friendly utility tool for easy integration
Easy to configure and upgrade through "Configuration Tool" or "Internet Browser" secured by password
Click-and-go installation
Required accessories
The device will not work without these accessories:
None available
Recommended Accessories
None available
Technical Description:
Mechanical
Color
black
Dimensions
Width: 182mm, Height: 131mm, Length: 95mm
Weight
750g
Body housing
ABS plastic
Functionality & Operation
Display type
LCD graphic, blue-white
1D Barcode Symbologies
Codabar, Code 128, Code 32 Pharmaceutical (PARAF), Code 39, Code 93, EAN 13/UPCA + ADDON 2, EAN 13/UPCA + ADDON 5, EAN 8 + ADDON 2, EAN 8 + ADDON 5, GS1-DataBar, Interleaved 2 of 5, ISBN/ISSN, UCC/EAN-128
Communication interface
Ethernet, RS232, 10/100 BaseT Ethernet (RJ45) w/ POE, WLAN (WiFi)
Audio
speaker
Optical
Light source
visible laser diode VLD 650 nm
Depth of scan field
10-200 mm
Scanning rate
1350scan/s Laser, 270scan/s CCD
Resolution
128x64 px
Bar code scanner
Laser, CCD
Scannig pattern
20 lines, 1 line
Electrical
Power Source
External adapter 5.2 VDC, POE (Power Over Ethernet)
Environment
Operating temperature
0 to 40°C
Operating humidity (non-condensing)
20 to 95%
You must login first to get allowance for downloading files, which are not publicly free.
Loading other files from the documentation system... please wait.

Fixed terminal Z-7010 EasyCheck, produced by Zebex, is an ideal space-saving unit, light, yet powerfull for virtually any kiosk-type application. The device has set of large control buttons, VGA screen with touch panel, two speakers, bar code reader or RFID reader and…
Question to product Birch DS-715 Price Checker,omni-laser, LAN, black
To PDF
Compare