Omnidirectional laser barcode scanner, multiinterface
Honeywell MK-3580 Quantum-T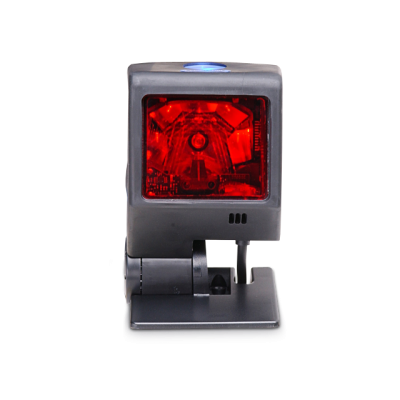 The main highlights of the Quantum-T:
an automatic activation of laser beam with the IR sensor (Honeywell's patent);
a touch sensor for activation from standby mode;
OPOS and JPOS standards compatible;
operates in frost down to -20°C;
can be switched into a single-line scanning mode anytime;
multininterface, change between a keyboard-wedge / a RS232 / a IBM / a USB automatic is done easily by simply changing the cable and setting the unit;
a lower price and an almost two times longer depth of scanning field than Metrologic Orbit (which is used for the same target applications);
The depth of scanning field is almost two times larger in comparision with the previous model with the same target applications (MK-7120 Orbit).
You can choose one of several types of the flexible stand as an addition to the Quantum-T scanner.
Optical and Decoding Features
Light Source
Visible Laser Diode 650 nm ± 10 nm
Laser Power
1.18 mW (peak)
Depth of Scan Field
25mm - 279mm (1" - 11") for 0.330 mm (13 mil) bar code
Width of Scan Field
38 mm (1.5") @ 25 mm (1"); 153 mm (6") @ 279 mm (11")
Scan Speed
1650 scan lines per second; 80 scan lines per second for single-line mode
Scan Pattern
5 fields of 4 parallel lines (omni-directional)
Number of Scan Lines
20
Minimum Bar Width
0.127 mm ( 5.0 mil)
Decode Capability
Auto discriminates all standard 1D bar code symbologies; for other symbologies call Metrologic
System Interfaces
RS232, Light Pen, Keyboard Wedge, Stand Alone Keyboard, IBM, USB
Print Contrast
35% minimum reflectance difference
Roll, Pitch, Yaw
360°, 60°, 60°
Beeper Operation
7 tones or no beep
Number Characters Read
Up to 80 data characters
Indicators(LED)
White = Good read ; Blue = Laser on, ready to scan
Physical Features and Electricity
Dimensions
66 mm (2.60") x 67 mm (2.65") x 108 mm (4.25") (L x W x H)
Weight
170 g (5.9 oz)
Termination
10 pin modular, RJ45 connector
Cable
Standard 2.1 m (7\') straight; optional 2.7 m (9\') coiled; for other cables call Metrologic
Mounting Holes
five - M2.5 x 0.45
Input Voltage
5 VDC ± 0.25 V
Power
1.825 W
Operating Current
220 mA typical @ 5 VDC
DC Transformers
Class 2; 5.2 VDC @ 650mA
Laser Class
Class 1; IEC60825-1: 1993/A1: 1997 + A2:2001 Class 1; IEC60825-1: 1994/A11: 1996 + A2:2001
EMC
FCC, ICES-003 & EN 55022 Class A
Environment
Operating Temperature
-20°C to 40°C (-4°F to 104°F)
Storage Temperature
-40°C to 60°C (-40°F to 140°F)
Humidity
5% to 95% relative humidity, non-condensing
Light Levels
Up to 4842 Lux (450 footcandles)
Contaminants
Sealed to resist airborne particulate contaminants
Ventilation
None required
Required accessories
The device will not work without these accessories:
None available
Recommended Accessories
| ARTICLE No. | Name | Availability | Price | incl. VAT | |
| --- | --- | --- | --- | --- | --- |
| HON-PWR-095V | Honeywell Power Supply for 1900 Xenon,Orbit, Quantum, Voyager, Fusion, Eclipse, Horizon 5.2VDC 1A | 7 pcs | 713,- CZK | 862,7 CZK | |
| S-PODPORA | Codeware Technical support - commenced 30 minutes | On stock | 350,- CZK | 423,5 CZK | |
Technical Description:
Functionality & Operation
1D Barcode Symbologies
Codabar, Code 128, Code 39, Code 93, EAN 13/UPCA, French Pharma Code, Industrial 2 of 5, Interleaved 2 of 5, MSI
Communication interface
USB, RS232, keyboard, IBM 46xx (RS485), OCIA, Laser Emulation, Light Pen Wand Emulation
Configuration
by programming barcodes
Language support
French, German, Italian, Norwegian, Portuguese, Spanish, Swedish, US and UK English, Belgian
Optical
Light source
visible laser diode VLD 650 nm
Depth of scan field
"5.2 mil 38 mm - 101 mm (1.5 ? - 4.0 ?) 7.5 mil 19 mm - 184 mm (0.8 ? - 7.3 ?) 10.4 mil 19 mm - 235 mm (0.8 ? - 9.3 ?) 13 mil 19
Scanning rate
1650 scan lines per second; Single line: 80 scan lines per second
Minimum symbol contrast
35%
Maximal skew angle
60°
Scannig pattern
5 directions
Electrical
Power Source
5 VDC ± 0.25V
Power Consumption - Standby
1.2W
Power Consumption - Operation
1.4W
Mechanical
Dimensions
Width: 108mm, Height: 66mm, Length: 67mm
Weight
170g
Environment
Operating temperature
-20 to 40°C
Storage temperature
-40 to 60°C
Maximal ambient light
4842lux
Shock resistance
multiply drops from 1,5 m onto concrete surface
Storage humidity (non-condensing)
5 to 95%
Others
Certifications
BSMI, C-Tick, CE, FCC Class A, IC, MIC
You must login first to get allowance for downloading files, which are not publicly free.
File
Description
Free for download
IU_3580quantumT_EN_FTP.pdf
Size: 2.21 MB, Language: en
MD5: c461fe03c8a7aff661a0f43221c398e6
User guide
Download
HSM USB Serial Driver r1.19-WHQL-03-08-2013.zip
Size: 4.2 MB, Language: en
MD5: 48c80e31584f77110bc64de31345213c
Honeywell Scanning and Mobility (HSM) USB Serial Driver The Honeywell Scanning & Mobility (HSM) WHQL-certified USB Serial Driver connects an HSM scanner through a virtual COM port to a Microsoft Windows operating system and applications. See release notes for list of supported devices and operating systems. Revision 1.19 Format: Zip File Date Released: 5/23/13
Download
softwedge.zip
Size: 1.68 MB, Language: en
MD5: d3d9419d56f0e344f79e8c66e31ab762
Eavesdropping Program COM port - suitable for use all readers emulation RS232, VCOM. (Transfer from RS232 to KBW)
Download
Loading other files from the documentation system... please wait.

The Orbit 7190g scanner is designed for highly efficient retail checkouts, with a unique dual-modes design that enables seamless scanning of both merchandise barcodes and digital barcodes off customer smartphones.

With affordable price and stable performance, HF600 is the ideal choicefor various small and medium-sized enterprises with 2D scanning needs,including but not limited to E-membership card reading, mobile couponscanning, warehousing and logistics…

Zebex Z-6010 is a compact hands-free omnidirectional laser bar code scanner with aggressive scanning performance. It supports both omnidirectional and single-line scanning, uses Z-SCAN+ technology and can have the optional 3D turning cradle.

Zebex A-50M is a reliable omnidirectional bar code scanner of very small dimensions, ready for threaded mounting screw from the bottom and rear sides. It can easily find wide application spectrum like efficient barcode reader in Point-Of-Sale (POS) places or various…
Question to product Honeywell MK-3580 Quantum-T
To PDF
Compare