Eclipse scanner, the price effective laser barcode scanner on market. We recommend to buy the stand with unit (see chap. Cables, Stands)
Honeywell MK-5145 Eclipse, USB interface, black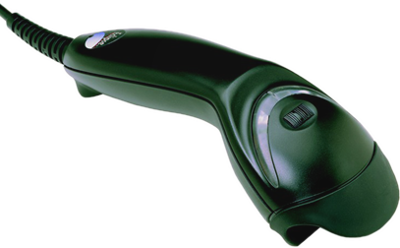 Metrologic's MK-5145 Eclipse is a single-line hand-held laser bar code scanner. Equipped with Metrologic's patented CodeGate technology, Eclipse can be used in a wide variety of applications. CodeGate technology allows the user to easily target the desired bar code and complete the data transmission with a simple press of a button. This combination makes Eclipse a perfect selection for menu scanning, point-of-sale, document processing and inventory control.
Required accessories
The device will not work without these accessories:
None available
Recommended Accessories
| ARTICLE No. | Name | Availability | Price | incl. VAT | |
| --- | --- | --- | --- | --- | --- |
| 46-46758-3 | Honeywell Stand for MS-5145 Eclipse - Flexible, black | 1 pcs | 406,- CZK | 491,3 CZK | |
| 55-55002A | Honeywell Kabel KBW pro MK-5145 Eclipse, přímý, šedý | Usually 20 days | 1 150,- CZK | 1 391,5 CZK | |
| HON-PWR-095V | Honeywell Power Supply for 1900 Xenon,Orbit, Quantum, Voyager, Fusion, Eclipse, Horizon 5.2VDC 1A | 7 pcs | 713,- CZK | 862,7 CZK | |
| S-PODPORA | Codeware Technical support - commenced 30 minutes | On stock | 350,- CZK | 423,5 CZK | |
Technical Description:
Functionality & Operation
1D Barcode Symbologies
Codabar, Code 128, Code 39, Code 93, EAN 13/UPCA, French Pharma Code, Industrial 2 of 5, Interleaved 2 of 5, Matrix 2 of 5, MSI
Communication interface
USB, RS232, keyboard, IBM 46xx (RS485), OCIA, Laser Emulation, Light Pen Wand Emulation
Configuration
by programming barcodes
Language support
French, German, Italian, Norwegian, Swedish, Spanish, Portuguese, US and UK English, Belgian
Optical
Light source
visible laser diode VLD 650 nm
Scanning rate
72scan/s
Minimum symbol contrast
35%
Maximal skew angle
50°
Bar code scanner
Laser
Electrical
Power Source
+5V ±10%
Power Consumption - Standby
125mW
Power Consumption - Operation
675mW
Mechanical
Dimensions
Width: 51mm, Height: 169mm, Length: 63mm
Weight
100g
Environment
Operating temperature
0 to 40°C
Storage temperature
-40 to 60°C
Shock resistance
drop from 1,5 m onto concrete surface
Storage humidity (non-condensing)
5 to 95%
Others
Certifications
BSMI, C-Tick, CE, FCC Class A, IC, MIC
You must login first to get allowance for downloading files, which are not publicly free.
File
Description
Free for download
DS_MS5145-eu.pdf
Size: 1.15 MB, Language: en
MD5: 3df8c88e31794dedf181237fe33bb62f
Datasheet
Download
IU_MS5145_EN_ftp.pdf
Size: 1.23 MB, Language: en
MD5: 5940e446affdca1629efa06e8c6d07e8
User guide
Download
HSM USB Serial Driver r1.19-WHQL-03-08-2013.zip
Size: 4.2 MB, Language: en
MD5: 48c80e31584f77110bc64de31345213c
Honeywell Scanning and Mobility (HSM) USB Serial Driver The Honeywell Scanning & Mobility (HSM) WHQL-certified USB Serial Driver connects an HSM scanner through a virtual COM port to a Microsoft Windows operating system and applications. See release notes for list of supported devices and operating systems. Revision 1.19 Format: Zip File Date Released: 5/23/13
Download
softwedge.zip
Size: 1.68 MB, Language: en
MD5: d3d9419d56f0e344f79e8c66e31ab762
Eavesdropping Program COM port - suitable for use all readers emulation RS232, VCOM. (Transfer from RS232 to KBW)
Download
Loading other files from the documentation system... please wait.

ARTICLE No.:

Z-3001-UB

Availability:

6 pcs

Warranty (months): 12 měsíců
Question to product Honeywell MK-5145 Eclipse, USB interface, black
To PDF
Compare