Honeywell's MK-7600 Series Horizon™ is Metrologic's next generation in-counter laser bar code scanner. This compact, hands-free scanner is designed with a dense 20 line omnidirectional scan pattern that helps provide fast, efficient throughput with a high first-pass read rate.Each Horizon is equipped with an integrated EAS deactivation antenna. The EAS security tag, designed to reduce shrink, is deactivated and the bar code is scanned with a single pass. These simultaneous operations help improve operator comfort and increase throughput. To further enhance operator efficiency and productivity, Horizon is equipped with IR laser activation. This allows the user to "wake" the unit from a power save or sleep mode and read a bar code instantaneously, without any delay.
Honeywell MK-7625 Horizon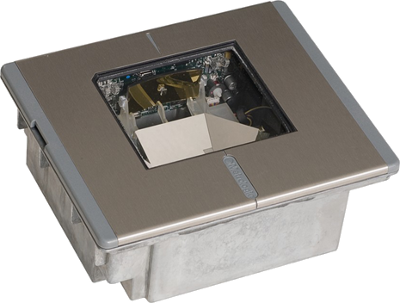 Each Horizon comes with an RS232 auxiliary port that allows connection of the hand held barcode scanners providing easy scanning of bulky, over -sized objects. Other peripherals such as check readers or magnetic stripe readers can also utilize the flexibility of the auxiliary port. The Horizon also offers multiple interfaces and data editing making it compatible with almost any POS system currently on the market. The combination of performance, robustness, and a myriad of features make the Horizon an ideal choice for grocery, retail, coupon redemption, and a multitude of other applications.
Light Source Visible Laser Diode 650 nm ± 10 nm
Laser Power < 1.1 mW (peak)
Depth of Scan Field 0 mm - 203 mm ( 0" - 8.0" ) for 0.33 mm ( 13 mil ) bar code
Width of Scan Field 137 mm ( 5.4" ) @ 40 mm ( 1.6" ); 221 mm ( 8.7" ) @ 178 mm (7.0")
Scan Speed 2000 scan lines per second
Scan Pattern 5 fields of 4 parallel lines (omni-directional)
Number of Scan Lines 20
Minimum Bar Width 0.127 mm (5.0 mil)
Decode Capability Auto discriminates all standard bar codes; for other symbologies call Metrologic
System Interfaces PC Keyboard Wedge, RS232, OCIA, Light Pen, IBM 468X/469X, Stand Alone Keyboard, USB
Print Contrast 35% minimum reflectance difference
Roll, Pitch, Yaw 360°, 60°, 60°
Beeper Operation 7 tones or no tone
Number Characters Read Up to 80 data characters
Indicators (LED) Amber = Laser on, ready to scan ; Red = Good read
Dimensions 193 mm H x 88 mm D x 229 mm W
Weight 2.88 kg
Termination Three 10- pin modular RJ45
Cable Standard 2.1 m (7\') straight- for other cables call Metrologic
Input Voltage 5 VDC ± 0.25 V
Power 2.6 W
Operating Current 500 mA
DC Transformers Class II; 5.2 V @ 650 mA
Laser Class IEC 60825-1:1993+A11997 + A2:2001 Class 1
EMC FCC, ICES-003 & EN55022 ClassA
Operating Temperature 0°C to 40°C
Storage Temperature -40°C to 60°C
Humidity 5% to 95% relative humidity, non-condensing
Light Levels Up to 4842 Lux
Contaminants Sealed to resist airborne particulate contaminants
Ventilation None required
Required accessories
The device will not work without these accessories:
None available
Recommended Accessories
| ARTICLE No. | Name | Availability | Price | incl. VAT | |
| --- | --- | --- | --- | --- | --- |
| 46-46604 | Honeywell 7600 Stainless Steel Top, Standard Window | 3 pcs | 999,- CZK | 1 208,8 CZK | |
| 46-46641 | Honeywell 7600 Mounting Ring | 1 pcs | 1 358,- CZK | 1 643,2 CZK | |
| 54-54667 | Honeywell Kabel RS232 pro MK-7600 Horizon, pro připojení přídavného snímače | Usually 20 days | 435,- CZK | 526,4 CZK | |
| HON-PWR-095V | Honeywell Power Supply for 1900 Xenon,Orbit, Quantum, Voyager, Fusion, Eclipse, Horizon 5.2VDC 1A | 7 pcs | 713,- CZK | 862,7 CZK | |
| S-PODPORA | Codeware Technical support - commenced 30 minutes | On stock | 350,- CZK | 423,5 CZK | |
Technical Description:
Functionality & Operation
Communication interface
USB, RS232, keyboard, IBM 46xx (RS485), OCIA, Laser Emulation, Light Pen Wand Emulation
1D Barcode Symbologies
Codabar, Code 128, Code 39, Code 93, EAN 13/UPCA, French Pharma Code, Industrial 2 of 5, Interleaved 2 of 5, Matrix 2 of 5, MSI
Configuration
by programming barcodes
Language support
French, German, Italian, Norwegian, Portuguese, Spanish, Swedish, US and UK English, Belgian
Optical
Light source
visible laser diode VLD 650 nm
Depth of scan field
"5.2 mil 0 mm - 38 mm (0˝ - 1.5˝)7.5 mil 0 mm - 114 mm (0˝ - 4.5˝)10.4 mil 0 mm - 178 mm (0˝ - 7.0˝)13 mil 0 mm - 203 mm (0˝ - 8
Scanning rate
2000 scan lines per second
Minimum symbol contrast
35%
Maximal skew angle
60°
Scannig pattern
5 directions
Electrical
Power Source
5 VDC ± 0.25V
Power Consumption - Standby
830mW
Power Consumption - Operation
2.6W
Mechanical
Dimensions
Width: 88mm, Height: 229mm, Length: 193mm
Weight
2.9kg
Environment
Operating temperature
0 to 40°C
Storage temperature
-40 to 60°C
Maximal ambient light
4842lux
Storage humidity (non-condensing)
5 to 95%
Others
Certifications
BSMI, C-Tick, CE, FCC Class A, IC, MIC
You must login first to get allowance for downloading files, which are not publicly free.
File
Description
Free for download
IU_00-02870 Horizon IU.pdf
Size: 6.45 MB, Language: en
MD5: b2665e3d2e2a1bf51c399362d91c3e07
User guide
Download
IU_MS7600_EN_FTP.pdf
Size: 6.43 MB, Language: en
MD5: b3b2633a3b9d0053044eadd80e1707dd
User guide
Download
HSM USB Serial Driver r1.19-WHQL-03-08-2013.zip
Size: 4.2 MB, Language: en
MD5: 48c80e31584f77110bc64de31345213c
Honeywell Scanning and Mobility (HSM) USB Serial Driver The Honeywell Scanning & Mobility (HSM) WHQL-certified USB Serial Driver connects an HSM scanner through a virtual COM port to a Microsoft Windows operating system and applications. See release notes for list of supported devices and operating systems. Revision 1.19 Format: Zip File Date Released: 5/23/13
Download
softwedge.zip
Size: 1.68 MB, Language: en
MD5: d3d9419d56f0e344f79e8c66e31ab762
Eavesdropping Program COM port - suitable for use all readers emulation RS232, VCOM. (Transfer from RS232 to KBW)
Download
ms7620.pdf
Size: 143.54 KB, Language: en
MD5: 24976ff21f43331bf1e0ca7e36d5fbbb
Datasheet
Download
Loading other files from the documentation system... please wait.

Product discontinued - can not be ordered
The Zebex Z-6181 in-counter laser scanner is a powerful scanning solution specifically designed for high-traffic environments with limited space. The Z-6181 features dual-laser technology that enables 32 scan lines for enhanced speed and accuracy, but manages to do so…

The Zebex Z-6182, a versatile, compact, vertical barcode scanner that features unique dual-laser technology and reads at 3600 scans per second. It supports both omni-directional and single-line scanning and uses Z-SCAN + technology.
Question to product Honeywell MK-7625 Horizon
To PDF
Compare