The NLV-4001 is the smallest fix position scanner in the NLV-series and scans at a fast speed of 300 scans per second. This fixed position scanner is developed for the most demanding applications requiring a device capable of reading 1D barcodes
Opticon NLV-4001 fixní čtečka 1D kódů (CCD), USB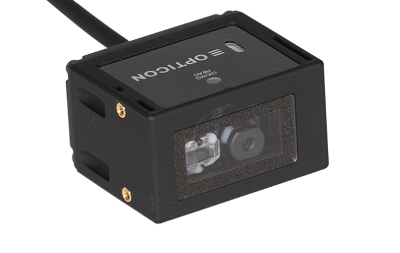 The NLV-4001 is our latest development in the NLV series. This small 1D CCD scanner is easily integrated and scans at a fast speed. The fix position scanner is perfect for the most demanding applications and the scanner is also very resistant with an IP65 rating.
This fixed mount scanner is ideal in situations that require 1D scanning at a fast speed. Our existing customers use this scanner in retail P.O.S., self service solutions like a kiosk, parking lot ticket machines and in medical or pharmaceutical analysis machines.
The NLV-4001 is the smallest fix position scanner in the NLV-series and scans at a fast speed of 300 scans per second. This fixed position scanner is developed for the most demanding applications requiring a device capable of reading 1D barcodes. The fix position scanner is very rugged with a IP65 rating.
Offered with the choice of USBCOM or Serial interface, this scanner is flexible enough to suit most OEM/ODM applications.
300 scans per second
Smallest in the NLV-series
USBCOM or Serial interface
Rugged; IP65
Required accessories
The device will not work without these accessories:
None available
Recommended Accessories
None available
Technical Description:
Functionality & Operation
1D Barcode Symbologies
All standard one-dimension barcodes
Communication interface
USB
Buttons
1 Skenovací tlačítko
Configuration
internet guide, by programming barcodes
Indicators
visual:1 LED(red/green/orange) , Non visual: Buzzer
Optical
Light source
visible red LED 625nm
Scanning rate
300scan/s
Electrical
Power Source
+5V ±10%
Power Consumption - Standby
50mA
Power Consumption - Operation
180mA
Mechanical
Dimensions
Width: 33mm, Height: 24mm, Length: 41mm
Weight
50g
Body housing
ABS plastic
Color
black
Environment
Operating temperature
-5 to 50°C
Storage temperature
-20 to 60°C
Maximal ambient light
10000lux
Shock resistance
drop from 0,75 m onto concrete surface
Storage humidity (non-condensing)
10 to 95%
Operating humidity (non-condensing)
10 to 90%
Electrical static discharge
±8kV contact
Ingress protection
IP65
Others
Certifications
CE, FCC, VCCI, RoHS, FCC Part 15, EN61000-6-1, EN55022, EN55024, IEC 62471 Extempt
Warranty
1 year
You must login first to get allowance for downloading files, which are not publicly free.
File
Description
Free for download
USB-Drivers-Installer.exe
Size: 2.3 MB, Language: en
MD5: 508bf8b7a6eb2ccc4bbf615a06dc118b
USB Drivers Installer: USB driver (exe) for Windows. Opticon USB Code Reader virtual VCOM port, This driver is for both 32-bit and 64-bit Windows.
Download
Czech_keyboard.pdf
Size: 1.05 MB, Language: en
MD5: 4132894ef693b2e4a423eddb42083375
Set czech keyboard for Opticon scanners
Download
leaflet_NLV-4001.pdf
Size: 154.13 KB, Language: en
MD5: f8b98f3d85af222523c7d60001ef4c9d
Datasheet Opticon NLV-4001
Download
Produkty_Opticon_CZ.pdf
Size: 3.53 MB, Language: cs
MD5: ef66088e9aad65979a615defb925c31a
Opticon products brochure
Download
Appload.zip
Size: 577.77 KB, Language: en
MD5: 49f39d4e9cefda509d73dd700c903752
Utility to upload an application or an operating system
Download
Loading other files from the documentation system... please wait.

Honeywell Quantum-E MK-3480 is a high performance barcode readers with omni-directional using laser diodes. They are ideal for mounting on various machines installed in machines, production lines. Allow attachment to the wall, use find in shops for the sale or price…

An ultra-compact and lightweight fixed-position laser barcode scanner that uses Opticon's proprietary scan engine technology for quick and accurate results. The NLV-1001's target is replacement of the older LMD-1135 barcode scanner.
Opticon NLV 3101 is fixed barcode and 2D codes scanner, which is among the smallest device of its kind, excels with scanning rate of up to 60 scans per second. NLV 3101 is suitable for the most demanding applications, for example - is able to capture despite the…
Question to product Opticon NLV-4001 fixní čtečka 1D kódů (CCD), USB
To PDF
Compare