Wireless reader OPR-3301 is a compact handheld laser scanner 2D code that communicates right with each other devices using wireless Bluetooth technology. It is equipped with aggressive scanning engine to provide both fast and accurate scanning. OPR-3301 seamlessly reads barcodes with low contrast codes with high density.
Opticon OPI-3301 Wireless CMOS 1D / 2D barcodes, BT, black, without power supply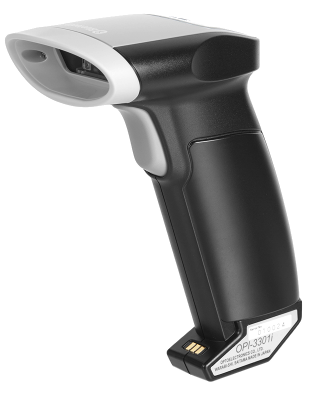 Wireless reader OPR-3301 is specifically designed for ergonomic scanning. Thanks to the pistol grip and low weight naturally fits in the hand, allowing for comfortable use throughout the day.
OPR-3301 uses Bluetooth technology, which allows data capture and instantly transmit into the system, or when the device is out of range, save barcodes scanned into memory and send it later. This prevents data loss and increase work efficiency.
Durable reader cover ensures reliable operation even in demanding environments and provides protection against a fall onto concrete from a height of two meters.
Required accessories
The device will not work without these accessories:
| ARTICLE No. | Name | Availability | Price | incl. VAT | |
| --- | --- | --- | --- | --- | --- |
| 10991 | Opticon Power supply for scanners Opticon OPR | 1 pcs | 430,- CZK | 520,3 CZK | |
| OPA-3201-USB | Opticon Bluetooth USB dongle for OPI-3301 and OPC-3301 | 6 pcs | 468,- CZK | 566,3 CZK | |
| OPC-I-3301-STANDB | Opticon OPI33 cradle, black | 6 pcs | 942,- CZK | 1 139,8 CZK | |
Recommended Accessories
None available
Technical Description:
Functionality & Operation
1D Barcode Symbologies
All standard one-dimension barcodes
Memory
1MB DRAM
2D Code Symbologies
all standard 2D-Codes
Indicators
1 LED ( červená/zelená/modrá)
Wireless communication
Bluetooth®
WPAN Features
Bluetooth® Class II v2.0
Optical
Depth of scan field
70-95 mm
Electrical
Main battery pack
Rechargeable Li-Ion battery 1100 mAh, 3,7V
Main battery pack operating time
24hod
Charging method
cradle
Battery charging time
3hod
Mechanical
Dimensions
Width: 56mm, Height: 135mm, Length: 113mm
Weight
132g
Environment
Operating temperature
0 to 50°C
Storage temperature
-20 to 60°C
Maximal ambient light
10000lux
Shock resistance
drop from 1,5 m onto concrete surface
Storage humidity (non-condensing)
20 to 85%
Operating humidity (non-condensing)
20 to 85%
Ingress protection
IP42
Vibrations resistance
10-100 Hz with 2G for 1h.
Others
Certifications
CE, FCC, RoHS, IEC 62471 Extempt, EN 60950-1
Warranty
1 year
You must login first to get allowance for downloading files, which are not publicly free.
File
Description
Free for download
leaflet_opi-3301i.pdf
Size: 543.47 KB
MD5: 7ec470818a98ca5ccd57f327c89e8511
OPI 3301i- datasheet
Download
MenuBook_en.pdf
Size: 630.02 KB, Language: en
MD5: 9fbd4c8d4f5c8e64fb418b004d4c414e
Configuration manual for Opticon bar code scanners
Download
USB-Drivers-Installer.exe
Size: 2.3 MB, Language: en
MD5: 508bf8b7a6eb2ccc4bbf615a06dc118b
USB Drivers Installer: USB driver (exe) for Windows. Opticon USB Code Reader virtual VCOM port, This driver is for both 32-bit and 64-bit Windows.
Download
Czech_keyboard.pdf
Size: 1.05 MB, Language: en
MD5: 4132894ef693b2e4a423eddb42083375
Set czech keyboard for Opticon scanners
Download
softwedge.zip
Size: 1.68 MB, Language: en
MD5: d3d9419d56f0e344f79e8c66e31ab762
Eavesdropping Program COM port - suitable for use all readers emulation RS232, VCOM. (Transfer from RS232 to KBW)
Download
Produkty_Opticon_CZ.pdf
Size: 3.53 MB, Language: cs
MD5: ef66088e9aad65979a615defb925c31a
Opticon products brochure
Download
Appload.zip
Size: 577.77 KB, Language: en
MD5: 49f39d4e9cefda509d73dd700c903752
Utility to upload an application or an operating system
Download
Loading other files from the documentation system... please wait.
Question to product Opticon OPI-3301 Wireless CMOS 1D / 2D barcodes, BT, black, without power supply
To PDF
Compare