The OPI3601 is a 2D CMOS imager that reads 1D or 2D barcodes for healthcare, retail, point-of-sale (POS), inventory or logistics applications. The OPI3601 features bright LED tagreting guides, multiple trigger modes and a rapid decode speed. A simple ergonomic design ensures a comfortable grip while the proprietary decode engine captures even difficult to read barcodes with a snap of the trigger.
This product is no longer available. Please choose from similar products.
Opticon OPI-3601 - 2D code reader, USB, black, including stand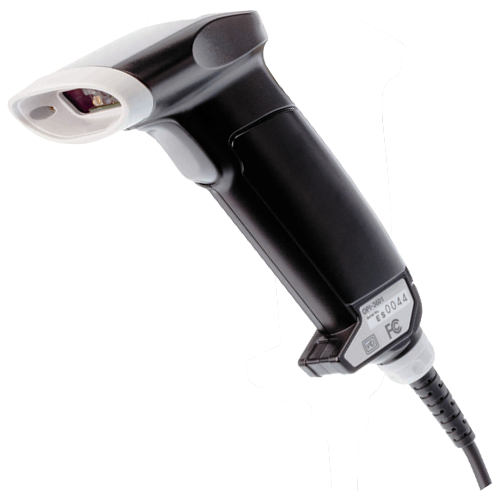 Illuminated 2D CMOS imager
Distinct targeting guides
Rapidly scans/decodes a wide variety of 1D or 2D barcodes
2.5 times faster than former models
Customizable trigger modes, scan how you want
Enhanced motion tolerance
Improved scanning of curved, wide and poorly printed barcodes
Green bar LED aim function providing laser-free aiming with no laser class required
Rugged - withstands drops of 5 feet to concrete, IP 42 rating
RS232, Keyboard Wedge or USB available
Auto-Trigger features both stand-alone and with stand detection
Optional hands-free stand
Required accessories
The device will not work without these accessories:
None available
Recommended Accessories
None available
Technical Description:
Functionality & Operation
2D Code Symbologies
Aztec, Composite codes, Data Matrix (ECC200 only), MaxiCode, Micro QR Code, MicroPDF417, PDF417, QR code
1D Barcode Symbologies
All standard one-dimension barcodes
Communication interface
keyboard, RS232, USB
Trigger mode
auto-trigger, Manual, multiple read, stand detection
Indicators
LED (red/green/orange), buzzer
Operation interface
scan button
Optical
Light source
visible laser diode VLD 650 nm
Depth of scan field
45-250 mm
Scanning rate
60scan/s
Resolution
5 mil
Maximal skew angle
0° -50 to 0, 0 to +50°
Bar code scanner
2D Imager
Focal plane
104mm
Curvature
R>16 mm (12-digit 0.15 mm Codabar), R>20 mm (13-digit UPC)
Electrical
Power Consumption - Standby
75mA
Power Consumption - Operation
350mA
Mechanical
Dimensions
Width: 108mm, Height: 56mm, Length: 148mm
Weight
85g
Body housing
ABS plastic
Maximal head tilt angle
360°
Color
black
Environment
Operating temperature
-20 to 50°C
Storage temperature
-20 to 60°C
Shock resistance
drop from 1,5 m onto concrete surface
Storage humidity (non-condensing)
5 to 90%
Operating humidity (non-condensing)
5 to 90%
Ingress protection
IP42
Others
Certifications
CE, FCC, IEC 60825-1: Class 1, IEC 60950-1, RoHS, VCCI
Warranty
1 year
Bundled Accessories
stand, power supply
You must login first to get allowance for downloading files, which are not publicly free.
File
Description
Free for download
opi3601.pdf
Size: 871.51 KB, Language: en
MD5: e9a86929598aecb2b994a4a8fee936cb
Datasheet
Download
MenuBook_en.pdf
Size: 630.02 KB, Language: en
MD5: 9fbd4c8d4f5c8e64fb418b004d4c414e
Configuration manual for Opticon bar code scanners
Download
OpticonRL.zip
Size: 10.54 KB, Language: en
MD5: 7f518d9f6b73570bb78f9648ecfaa683
Applications that translates data from the serial port to keyboard for PDA.
Download
OpticonRL_Android.zip
Size: 805.96 KB, Language: en
MD5: 0a088f4a1d6112dbf2caea2e106d2812
Applications that translates data from the serial port to keyboard for PDA.
Download
OpticonRL_BlackBerry.zip
Size: 1.12 MB, Language: en
MD5: 12bba9a9aeac948f49974d90ee2ca130
Applications that translates data from the serial port to keyboard for BlackBerry.
Download
USB-Drivers-Installer.exe
Size: 2.3 MB, Language: en
MD5: 508bf8b7a6eb2ccc4bbf615a06dc118b
USB Drivers Installer: USB driver (exe) for Windows. Opticon USB Code Reader virtual VCOM port, This driver is for both 32-bit and 64-bit Windows.
Download
OPI3601_EMC-RoHS-WEEE-REACH-SVHC.pdf
Size: 50.37 KB, Language: en
MD5: 8f1dfd84982443882f0dd12779ce84df
Certification EMC, RoHS, WEEE, REACH, SVHC for laser hand bar code reader Opticon OPI-3601
Download
leaflet_OPI3601.pdf
Size: 871.51 KB
MD5: e9a86929598aecb2b994a4a8fee936cb
leaflet OPI-3601
Download
Czech_keyboard.pdf
Size: 1.05 MB, Language: en
MD5: 4132894ef693b2e4a423eddb42083375
Set czech keyboard for Opticon scanners
Download
softwedge.zip
Size: 1.68 MB, Language: en
MD5: d3d9419d56f0e344f79e8c66e31ab762
Eavesdropping Program COM port - suitable for use all readers emulation RS232, VCOM. (Transfer from RS232 to KBW)
Download
Produkty_Opticon_CZ.pdf
Size: 3.53 MB, Language: cs
MD5: ef66088e9aad65979a615defb925c31a
Opticon products brochure
Download
Appload.zip
Size: 577.77 KB, Language: en
MD5: 49f39d4e9cefda509d73dd700c903752
Utility to upload an application or an operating system
Download
Loading other files from the documentation system... please wait.
Question to product Opticon OPI-3601 - 2D code reader, USB, black, including stand
To PDF
Compare