The OPR3001 is an ergonomic yet lightweight handheld barcode laser scanner that scans with confidence, delivering reliability and durability in harsh conditions, extreme temperatures and humidity.
Opticon OPR-3001 průmyslová čtečka 1D kódů, KBW, světlá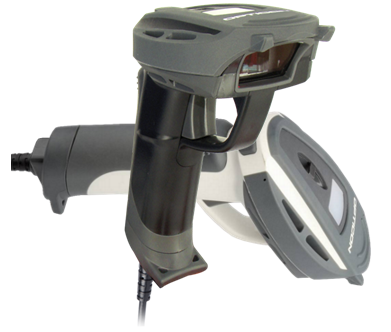 The OPR3001 is designed for aggressive reading of poorly printed and slightly damaged barcodes. A large and bright LED along with an adjustable tone provides a clear indication, especially suitable for operation in low-light and noisy environments. The OPR3001 is available with USB (HID), RS232 and Keyboard Wedge interface options, for easy implementation.
Required accessories
The device will not work without these accessories:
None available
Recommended Accessories
None available
Technical Description:
Functionality & Operation
Indicators
Visual: 1 large LED (red/green/orange); Non-visual: Buzzer
Communication interface
keyboard, RS232, USB
Trigger mode
auto-trigger, Manual
1D Barcode Symbologies
All standard one-dimension barcodes
2D Code Symbologies
Composite codes, MicroPDF417, PDF417
Optical
Light source
visible red LED 650nm
Depth of scan field
30-590 mm/ 1.18 - 23.23 in (1.0 mm / 39 mil), 10 - 360 mm / 0.39 - 14.17 in (0.5 mm / 20 mil), 10 - 200 mm / 0.39 - 7.87 in
Scanning rate
100scan/s
Minimal resolution
0,127 mm / 5 mil
Electrical
Power Source
+5V ±10%
Mechanical
Dimensions
Width: 150mm, Height: 68mm, Length: 155mm
Weight
230g
Body housing
ABS plastic
Environment
Operating temperature
-10 to 60°C
Storage temperature
-30 to 70°C
Shock resistance
drop from 1,9 m on to concrete surface
Storage humidity (non-condensing)
5 to 90%
Operating humidity (non-condensing)
5 to 90%
Others
Certifications
CE, FCC, RoHS, VCCI
Warranty
1 year
You must login first to get allowance for downloading files, which are not publicly free.
File
Description
Free for download
OPR-3001.pdf
Size: 1.31 MB, Language: en
MD5: 562ebe0ae2c398855624738db297451e
Datasheet
Download
MenuBook_en.pdf
Size: 630.02 KB, Language: en
MD5: 9fbd4c8d4f5c8e64fb418b004d4c414e
Configuration manual for Opticon bar code scanners
Download
USB-Drivers-Installer.exe
Size: 2.3 MB, Language: en
MD5: 508bf8b7a6eb2ccc4bbf615a06dc118b
USB Drivers Installer: USB driver (exe) for Windows. Opticon USB Code Reader virtual VCOM port, This driver is for both 32-bit and 64-bit Windows.
Download
leaflet_OPR3001.pdf
Size: 843.21 KB
MD5: 38b89818c2a5b828fec38f1275ea5cef
Leaflet OPR-3001
Download
Czech_keyboard.pdf
Size: 1.05 MB, Language: en
MD5: 4132894ef693b2e4a423eddb42083375
Set czech keyboard for Opticon scanners
Download
softwedge.zip
Size: 1.68 MB, Language: en
MD5: d3d9419d56f0e344f79e8c66e31ab762
Eavesdropping Program COM port - suitable for use all readers emulation RS232, VCOM. (Transfer from RS232 to KBW)
Download
Produkty_Opticon_CZ.pdf
Size: 3.53 MB, Language: cs
MD5: ef66088e9aad65979a615defb925c31a
Opticon products brochure
Download
Appload.zip
Size: 577.77 KB, Language: en
MD5: 49f39d4e9cefda509d73dd700c903752
Utility to upload an application or an operating system
Download
Loading other files from the documentation system... please wait.
Question to product Opticon OPR-3001 průmyslová čtečka 1D kódů, KBW, světlá
To PDF
Compare