The PX-36 is a 2D CMOS imager with the capability of scanning at 60 FPS. Additionally, this is a rugged scanner quipped with LCD display and powerful battery.
Opticon PX-36, 1D/2D data kolektor s LCD displejem, Bluetooth, IrDA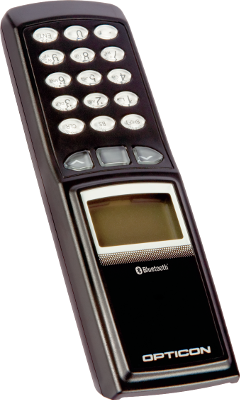 This straight forward barcode scanner makes sure that data is transferred in real time and that the user enjoys a good experience while scanning. The PX-36 is a 2D CMOS imager with the capability of scanning at 60 FPS. Additionally, this is a rugged scanner quipped with LCD display and powerful battery. You will want to have this scanner!
The PX-36 is often used in data collection intensive jobs that require feedback on the LCD display. This includes, but is not limited to, warehouse activities, inventory management, asset management and postal applications.
The PX-36 is a barcode scanner with a powerful 2D CMOS Imager, strong battery and rugged seal with IP54. The LCD display is bright and provides good readability why scanning and can show up to 10 lines of information at a single given moment. It is a single handed scanner with a numeric keypad and a fast 32-bit processor. The PX-36 can be used as batch scanner by storing the data on the local memory or the Bluetooth connection can be utilized to create real time data transfer, so that the data is always as up-to-date as possible.
In addition, various cradles are available providing communication and charging options. The IrDA interface within the cradle allows data transfer when the scanner is inserted for charging. The multiple station cradle permits charging of up to 5 terminals simultaneously.
Features
A few highlights why the PX-36 is the next scanner you should buy:
Real time data transfer
Feedback by bright LCD display
Powerful 2D Imager
Up to 60 FPS
Required accessories
The device will not work without these accessories:
| ARTICLE No. | Name | Availability | Price | incl. VAT | |
| --- | --- | --- | --- | --- | --- |
| 10850 | Opticon Power supply for CRD-7734, CRD-9723 | 1 pcs | 273,- CZK | 330,3 CZK | |
| CRD-9723RU | Opticon CRD-9723 charging and communication cradle for OPL-97xx terminals, RS232 & USB, without power supply | 1 pcs | 2 711,- CZK | 3 280,3 CZK | |
Recommended Accessories
| ARTICLE No. | Name | Availability | Price | incl. VAT | |
| --- | --- | --- | --- | --- | --- |
| PX36-BAT | Opticon Rechargeable battery for PX-36, Li-Ion, 1880mAh | Usually 12 days | 599,- CZK | 724,8 CZK | |
Technical Description:
Functionality & Operation
CPU Type
32-bit RISC
Memory
512Kb SRAM 1 MB
Display type
Grafic LCD with backlight 112 x 64 pixels
Keyboard
18 keys, alphanumeric
1D Barcode Symbologies
All standard one-dimension barcodes
2D Code Symbologies
all standard 2D-Codes
Communication interface
Bluetooth 4.0
Optical
Bar code scanner
2D Imager
Electrical
Main battery pack
Li-Ion 1800 mAh 3,7 V
Main battery pack operating time
10hod
Battery charging time
7hod
Mechanical
Dimensions
Width: 44mm, Height: 140mm, Length: 25mm
Weight
115g
Body housing
ABS plastic
Color
black
Environment
Operating temperature
0 to 50°C
Storage temperature
-20 to 60°C
Maximal ambient light
100000lux
Shock resistance
drop from 1,5 m onto concrete surface
Storage humidity (non-condensing)
20 to 85%
Operating humidity (non-condensing)
20 to 85%
Ingress protection
IP54
Others
Certifications
CE, FCC, RoHS, IEC 62471 Extempt
You must login first to get allowance for downloading files, which are not publicly free.
File
Description
Free for download
MenuBook_en.pdf
Size: 630.02 KB, Language: en
MD5: 9fbd4c8d4f5c8e64fb418b004d4c414e
Configuration manual for Opticon bar code scanners
Download
USB-Drivers-Installer.exe
Size: 2.3 MB, Language: en
MD5: 508bf8b7a6eb2ccc4bbf615a06dc118b
USB Drivers Installer: USB driver (exe) for Windows. Opticon USB Code Reader virtual VCOM port, This driver is for both 32-bit and 64-bit Windows.
Download
Czech_keyboard.pdf
Size: 1.05 MB, Language: en
MD5: 4132894ef693b2e4a423eddb42083375
Set czech keyboard for Opticon scanners
Download
leaflet_PX-36.pdf
Size: 1000.7 KB
MD5: 7cc785c1a6e7b4048e63d08fc4e70cee
Opticon PX-36 Datasheet
Download
Produkty_Opticon_CZ.pdf
Size: 3.53 MB, Language: cs
MD5: ef66088e9aad65979a615defb925c31a
Opticon products brochure
Download
Appload.zip
Size: 577.77 KB, Language: en
MD5: 49f39d4e9cefda509d73dd700c903752
Utility to upload an application or an operating system
Download
Loading other files from the documentation system... please wait.

ARTICLE No.:

BI-WS50-300A

Availability:

Product discontinued - can not be ordered

Warranty (months): 12 měsíců
Question to product Opticon PX-36, 1D/2D data kolektor s LCD displejem, Bluetooth, IrDA
To PDF
Compare