With affordable price and stable performance, HF600 is the ideal choicefor various small and medium-sized enterprises with 2D scanning needs,including but not limited to E-membership card reading, mobile couponscanning, warehousing and logistics document control.
Honeywell YouJie HF600 Desktop Omni-directional 1D / 2D Barcode Reader, USB, Black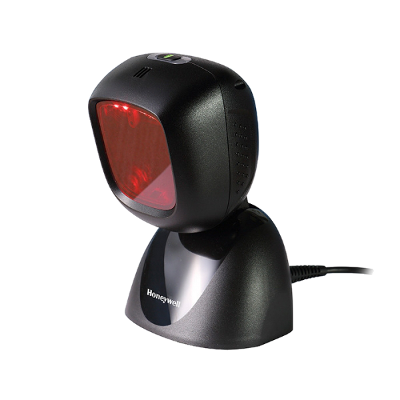 With 2D barcodes increasing their popularity in various applications, customers are looking for affordable high-performance 2D barcode scanners. Designed with leading technology and superior performance, Youjie launches a new hands-free area-imaging scanner Youjie HF600, which can be widely used in multiple applications, such as retail POS, logistics tracking, pharmacy and office automation.
Youjie HF600 Presentation Area-imaging Scanner Features and Benefits
:
Ergonomic Design: 2-modular body design with large window can easily meet various scanning needs.
Switch for Mobile Scanning: a single button enables the optimal scanning of 2D barcodes on mobile phones, improving efficiency and customer satisfaction.
Sleep Mode with IR Activation: effectively reduces power consumption, extends product life and lowers operating costs.
Intelligent Lighting Technology: with 3 adjustable lighting options, scanner illumination is optimized for superior 2D scanning performance and high motion tolerance.
Required accessories
The device will not work without these accessories:
None available
Recommended Accessories
None available
Technical Description:
Functionality & Operation
Communication interface
USB
1D Barcode Symbologies
All standard one-dimension barcodes
2D Code Symbologies
all standard 2D-Codes
Optical
Light source
visible red LED 617 nm
Minimum symbol contrast
35%
Electrical
Power Source
5 VDC ± 0,5 V
Power Consumption - Standby
0.45W
Power Consumption - Operation
2W
Mechanical
Dimensions
Width: 98.2mm, Height: 170mm, Length: 87.4mm
Weight
340g
Color
black
Environment
Operating temperature
0 to 40°C
Storage temperature
-40 to 60°C
Maximal ambient light
100000lux
Shock resistance
drop from 1 m onto concrete surface
Storage humidity (non-condensing)
0 to 95%
Others
Certifications
RoHS
You must login first to get allowance for downloading files, which are not publicly free.
Loading other files from the documentation system... please wait.
Question to product Honeywell YouJie HF600 Desktop Omni-directional 1D / 2D Barcode Reader, USB, Black
To PDF
Compare