The Zebex Z-3220 is designed as an entry bar code scanner. It offers an affordable solution to help businesses streamline workflow and boost efficiency on shop floors and at checkout stands. Lightweight and ergonomic, this CCD contact bar code scanner fits nicely in your grip and with any retail settings.
Zebex Z-3220 CCD Bar Code Scanner, USB, light-grey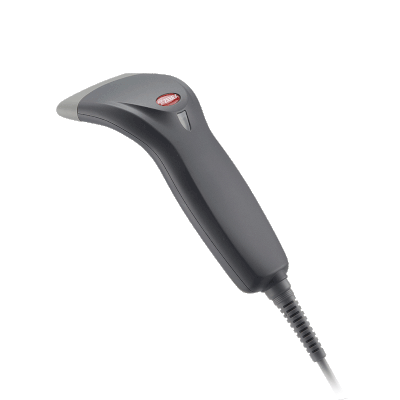 Highlighted features of Zebex Z-3220 scanner
low weight
ergonomic shape
deeply embedded optical module prevents scratching of dust window
proprietary Ultrascan decoding technology
low price
Required accessories
The device will not work without these accessories:
None available
Recommended Accessories
ARTICLE No.
Name
Availability
Price
incl. VAT
ZBX-HOLD-C
Zebex Desktop Holder for CCD Bar Code Scanner

33 pcs

and

Ongoing [i]

207,- CZK
250,5 CZK
Technical Description:
Functionality & Operation
Indicators
Dual-color LED , programmable buzzer
Programmable features
prefix & postfix (max. 10 characters)
Communication interface
JPOS, keyboard, OPOS, RS232, USB-HID, USB-VCP
1D Barcode Symbologies
Code 128, Code 39, Code 93, French Pharma Code, GS1 Data Bar (RSS), Industrial 2 of 5, Interleaved 2 of 5, Italy Pharma Code, Matrix 2 of 5, MSI, Plessey, Telepen, UCC/EAN-128, UPC/EAN/JAN
Optical
Light source
visible red LED 625nm
Depth of scan field
0-50 mm
Scanning rate
150scan/s
Resolution
3 mil
Bar code scanner
CCD 2500 px
Minimal PCS value
25%
Electrical
Power Source
+5 VDC ±5%
Power Consumption - Standby
55mA
Power Consumption - Operation
90mA (max. 150 mA)
Mechanical
Dimensions
Width: 165.7mm, Height: 72.5mm, Length: 54mm
Weight
100g without cable
Cable lenght
2m
Environment
Operating temperature
0 to 50°C
Storage temperature
-20 to 60°C
Relative humidity (non-condensing)
5 to 95%
Maximal ambient light
6000lux
Shock resistance
drop from 1,5 m onto concrete surface
Others
Certifications
BSMI, CE, FCC DOC, VCCI
You must login first to get allowance for downloading files, which are not publicly free.
File
Description
Free for download
CGQ_Zebex_Programming_Card_EN.pdf
Size: 119.66 KB, Language: en
MD5: 16f12411e155e1e3e898846be960c0cc
Programming card
Download
Zebex_barcode.pdf
Size: 106.43 KB, Language: cs
MD5: fdde715e236f607a1c0c230849a09b54
Czech keyboard layout setup for Zebex scanners
Download
DS_Z-3220_EN.pdf
Size: 430.32 KB, Language: en
MD5: 0afb83cdd9989ca0d253346d4eb39f22
Datasheet for CCD bar code reader Zebex Z-3220
Download
Zebex_Handheld_Scanners.pdf
Size: 739.86 KB, Language: en
MD5: 39c8bf14dc090088a52e4636fed0e5c9
Configuration manual for Zebex handheld bar code readers
Download
Quick Guide_Gun Type Handheld CCD.Laser Scanner.pdf
Size: 833.12 KB, Language: en
MD5: bfd5dea4c441ea8bde1301321a60bfa9
Quick manual for Zebex handheld bar code readers
Download
VirtualCOM_QuickGuide.pdf
Size: 44.38 KB, Language: en
MD5: 3819f82e8b908a206b56a21a63ada330
Download
ZEBEX_VCOM_Driver.zip
Size: 458.89 KB, Language: en
MD5: 24aefef39bdf8f87cfd70588c4a957a0
Windows 32/64 bit (XP, 7, 8, 8.1) driver
Download
Zebex_Drivers_windows.zip
Size: 2.02 KB, Language: en
MD5: 3fdc11ef896a879abcaf1cfaa0056218
Windows driver USB-VCP for Zebex bar code readers
Download
softwedge.zip
Size: 1.68 MB, Language: en
MD5: d3d9419d56f0e344f79e8c66e31ab762
Eavesdropping Program COM port - suitable for use all readers emulation RS232, VCOM. (Transfer from RS232 to KBW)
Download
Loading other files from the documentation system... please wait.

ARTICLE No.:

Z-3220-UB

Availability:

Ongoing [i]

Warranty (months): 12 měsíců

ARTICLE No.:

A1000-UHW

Availability:

1 pcs

Warranty (months): 12 měsíců
Question to product Zebex Z-3220 CCD Bar Code Scanner, USB, light-grey
To PDF
Compare