Zebex Z-6010 is a compact hands-free omnidirectional laser bar code scanner with aggressive scanning performance. It supports both omnidirectional and single-line scanning, uses Z-SCAN+ technology and can have the optional 3D turning cradle.
Zebex Z-6010 Omnidirectional Laser Bar Code Reader, USB, black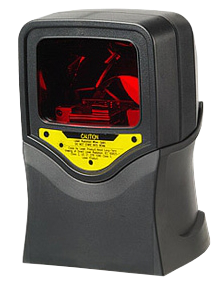 It instantly becomes a single-line laser scanner by firm pressing down a button. It is designed to suit both requirements for omnidirectional and single-line scanning. With the reserved mounting holes at the back of the scanner body, the Z-6010 transforms to a scanning module to allow integration into your desirable hardware application. It also has an optional cradle with two joints which creates a three-dimensional adjustment capability by turning so that you can enjoy the benefit of a real best fit.
Required accessories
The device will not work without these accessories:
None available
Recommended Accessories
None available
Technical Description:
Functionality & Operation
Communication interface
USB-HID, USB-VCP
Indicators
Dual-color LED (blue and red), programmable buzzer
1D Barcode Symbologies
Codabar, Code 11, Code 128, Code 32 Pharmaceutical (PARAF), Code 39, EAN 13/UPCA, EAN 8, GS1 Data Bar (RSS), GS1 DataBar Expanded, GS1 DataBar Limited, China Postal Code, Industrial 2 of 5, Interleaved 2 of 5, ISBN/ISSN, MSI, Standard 2 of 5, UCC/EAN-128, UPC/EAN/JAN, UPCA, UPCE, JAP, IATA Code
Mechanical
Color
black
Dimensions
Width: 70mm, Height: 65.8mm, Length: 110.9mm
Weight
200g
Cable lenght
2m
Optical
Light source
visible laser diode VLD 650 nm
Depth of scan field
0-280 mm
Scanning rate
1400scan/s omnidirectional, 70scan/s Single-Line
Minimum symbol contrast
30% UPC/EAN 100%
Scannig pattern
5 directions, 20 lines
Electrical
Power Source
+5V ±10%, 200 mA
Power Consumption - Operation
1W
Environment
Operating temperature
0 to 40°C
Storage temperature
-20 to 60°C
Maximal ambient light
4500lux
Shock resistance
multiply drops from 1,5 m onto concrete surface
Operating humidity (non-condensing)
5 to 95%
Others
Certifications
Laser Class: CDRH Class IIa, Laser Class 2 (IEC 60825-1), BSMI, CE, FCC DOC, VCCI
You must login first to get allowance for downloading files, which are not publicly free.
File
Description
Free for download
CGQ_Zebex_Programming_Card_EN.pdf
Size: 119.66 KB, Language: en
MD5: 16f12411e155e1e3e898846be960c0cc
Programming card
Download
Zebex_barcode.pdf
Size: 106.43 KB, Language: cs
MD5: fdde715e236f607a1c0c230849a09b54
Czech keyboard layout setup for Zebex scanners
Download
DS_Z-6010_EN.pdf
Size: 281.38 KB, Language: en
MD5: d7698d6e265951bb8a301e81731648b2
Data sheet for the compact barcode scanner Zebex Z-6010
Download
Z-6010_UserManual_EN.pdf
Size: 741.42 KB, Language: en
MD5: 5295adcbabbef2e62fcb034b2f1fc8f6
User manual for the compact bar code reader Zebex Z-6010
Download
softwedge.zip
Size: 1.68 MB, Language: en
MD5: d3d9419d56f0e344f79e8c66e31ab762
Eavesdropping Program COM port - suitable for use all readers emulation RS232, VCOM. (Transfer from RS232 to KBW)
Download
Loading other files from the documentation system... please wait.

ARTICLE No.:

11344

Availability:

Product discontinued - can not be ordered

Warranty (months): 12 měsíců

ARTICLE No.:

Z-A-50M-U

Availability:

9 pcs

Warranty (months): 12 měsíců

ARTICLE No.:

MK3780-61A38

Availability:

1 pcs

Warranty (months): 12 měsíců
Question to product Zebex Z-6010 Omnidirectional Laser Bar Code Reader, USB, black
To PDF
Compare