The Zebex Z-6182, a versatile, compact, vertical barcode scanner that features unique dual-laser technology and reads at 3600 scans per second. It supports both omni-directional and single-line scanning and uses Z-SCAN + technology.
Zebex Dual-laser Omnidirectional In-Counter Code Scanner, USB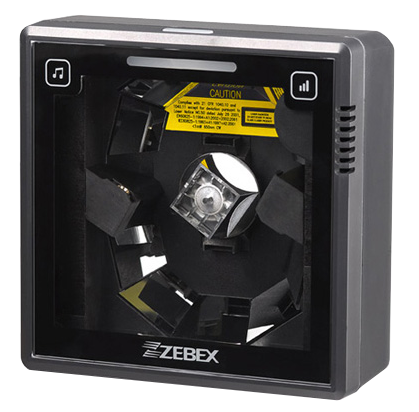 Key features of the sensor Zebex Z-6182:
Unique dual-laser technology & barcode stitching capability
Instant "two-way object-fly-by" scan reaction
EAS- Electronic Article Surveillance
The dual laser barcode reader Zebex Z-6182 can be built into countertop using the frame for Datalogic Magellan HS2300:
Required accessories
The device will not work without these accessories:
None available
Recommended Accessories
| ARTICLE No. | Name | Availability | Price | incl. VAT | |
| --- | --- | --- | --- | --- | --- |
| Z-6182-MOUNT | Datalogic Mounting frame for 2300HS | On Request | 1 178,- CZK | 1 425,4 CZK | |
| Z-6182-TOPC | Zebex Top Cover for In-Counter Bar Code Scanner Z-6182 | 1 pcs | 441,- CZK | 533,6 CZK | |
Technical Description:
Functionality & Operation
1D Barcode Symbologies
All standard one-dimension barcodes
Indicators
two-color LED (blue, red)
Beeper
programmable tone & beep time
Communication interface
keyboard, RS232, USB-HID, OPOS, JPOS
Optical
Light source
visible laser diode VLD 650 nm
Scanning rate
3600scan/s
Minimum symbol contrast
30% UPC/EAN 100%
Bar code scanner
Laser
Electrical
Power Source
9 VDC/1A
Mechanical
Dimensions
Width: 152mm, Height: 82mm, Length: 152mm
Weight
685g
Color
black
Environment
Operating temperature
0 to 40°C
Storage temperature
-20 to 60°C
Maximal ambient light
4500lux
Shock resistance
drop from 1 m onto concrete surface
Storage humidity (non-condensing)
5 to 90%
Others
Certifications
FCC Part 15, IEC 60825-1: Class 1, VCCI, BSMI
You must login first to get allowance for downloading files, which are not publicly free.
File
Description
Free for download
DS_z6182_EN.pdf
Size: 1.49 MB, Language: en
MD5: 0ee4d9a5803a6e65a2c6bad7d763c14d
Datasheet for In-counter Dual omni-directional laser scanner Zebex Z-6182
Download
Z-6182_HS2300_rack.mp4
Size: 4.2 MB
MD5: 9ab7fe2dd22b011d77b6f0c46a8be840
Usage of the dual counter omnidirectional laser bar code scanner Zebex Z-6182 with Datalogic frame for HS2300 for horizontal position
Download
softwedge.zip
Size: 1.68 MB, Language: en
MD5: d3d9419d56f0e344f79e8c66e31ab762
Eavesdropping Program COM port - suitable for use all readers emulation RS232, VCOM. (Transfer from RS232 to KBW)
Download
Loading other files from the documentation system... please wait.
Question to product Zebex Dual-laser Omnidirectional In-Counter Code Scanner, USB
To PDF
Compare