Portable, wireless receipt printer and barcode, very small dimensions at a very affordable price, it is Birch BM C02. With its compact size, flexible connectivity and simple operation you can have it always with you, as you and customers will appreciate.
Birch BM-C02 Mobile POS printer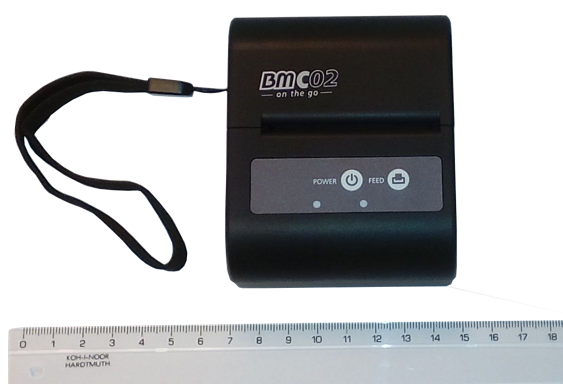 The company offers Birch practical receipt printer very small dimensions and low weight but high battery life per charge battery. On one charge the 8-15hours shift operating at full capacity, or 7 days in stand-by mode. Particularly suited to the hospitality, kiosk sales apod..Broad range of applications, since it is possible to connect the printer via USB, Bluetooth or RS232. Compatible with Windows, Android and Linux systems. Carrying case in the basic price of the printer.
Key features of the printer BM-C02:
low weight of 0.19 kg
small dimensions 92.5 x 75.5 x 37 mm
communication interfaces: USB, Bluetooth, RS232
large 2000mAh battery life up to 8-15 hours in full operation on a single charge
resistant protective packaging in price
very good price
Supported operating systems: Android, Windows, Linux
Connecting a Bluetooth printer to an Android tablet:
Required accessories
The device will not work without these accessories:
None available
Recommended Accessories
| ARTICLE No. | Name | Availability | Price | incl. VAT | |
| --- | --- | --- | --- | --- | --- |
| CLEAN-SET | Cleaning kit for thermal transfer printers | 5 pcs | 279,- CZK | 337,6 CZK | |
| PKT55-30 | Thermo paper roll, w. 55 mm, diameter 30 mm, 12 mm media core diameter (coil 9m) | 80 pcs | 26,- CZK | 31,5 CZK | |
| SPBI-BMC02-BAT | Birch Battery for BM-C02 and BM-i02 printers | 60 pcs | 836,- CZK | 1 011,6 CZK | |
Technical Description:
Functionality & Operation
Print mode
direct thermal
Print speed
70mm/sec (3 ips)
Print resolution
203dpi
Communication interface
Bluetooth 2.1, USB, Serial
1D Barcode Symbologies
All standard one-dimension barcodes
Commands set
ESC/POS
Operating system
Android, Linux, Windows® Embedded Handheld, Windows® Embedded Compact, Windows
Electrical
Main battery pack
Rechargeable Li-Ion battery 2000 mAh
Main battery pack operating time
8hod
Battery charging time
4hod
Mechanical
Dimensions
Width: 75mm, Height: 37mm, Length: 92mm
Weight
0.19kg without paper roll
Consumables
Maximal paper width
58mm
Media thickness
0.06 to 0.08mm
Environment
Operating temperature
0 to 45°C
Storage temperature
-10 to 60°C
Storage humidity (non-condensing)
10 to 90%
Operating humidity (non-condensing)
10 to 80%
You must login first to get allowance for downloading files, which are not publicly free.
File
Description
Free for download
DS_Birch_BM-C02_EN.pdf
Size: 537.86 KB, Language: en
MD5: 66c33396be2b42f75547090ac5ebc85a
Datasheet for mobile receipt printer Birch BM-C02
Download
IU_Manual_BM-C02_EN.pdf
Size: 3.01 MB, Language: en
MD5: b6ea200cbe72992533ac0a4c6d41a77d
User guide for BMC02
Download
Tools_BM-C02.zip
Size: 14.61 MB, Language: en
MD5: 00ffcf265a2f10a5076df647ac50b8e9
Setup utilities for Birch printer BM-C02.
Download
POS-Printer_Driver.zip
Size: 4.17 MB, Language: en
MD5: 14f6e5718cd43b9fa192321b58d8b80b
Windows driver for Birch printers BM-C02, BP-T3, CP-Q3
Download
BM-C02_Program_Manual_EN.pdf
Size: 236.45 KB, Language: en
MD5: 0ca0a3ee786cce517ca8dfcb64d01427
Programming manual for Birch mobile printer BM-C02
Download
Manual_BM-C02_CZ.pdf
Size: 187.99 KB
MD5: eabf2aa1dc54857e614cd18da45f1e0e
BM-C02- Manual
Download
NvImgTool.zip
Size: 1.16 MB, Language: en
MD5: 8c76407fcd55b614d377ae7bd54b8f5d
Utility for upload pictures to printers Birch
Download
Birch-instalace-ovladace.pdf
Size: 4.75 MB, Language: cs
MD5: 45f8e573fc20be935146ddca66f02a5d
How to install Birch drivers
Download
Printer-Test-V3.0C.zip
Size: 1.99 MB, Language: en
MD5: 04cdd5d4eb2d649824f37936bab0ee6b
Birch Printer TEST Testing tools
Download
Loading other files from the documentation system... please wait.

Product discontinued - can not be ordered
Argox AME-3230 is a small portable bar code printers, labels and receipts with command language ZPL II (Zebra compatible) and WLAN or Bluetooth connectivity. They have intelligent power management, which significantly extends battery life. Printer can be connected via…

ARTICLE No.:

BI-BM-i02

Availability:

146 pcs

Warranty (months): 12 měsíců

ARTICLE No.:

BI-CP-Q3BT

Availability:

7 pcs

Warranty (months): 12 měsíců

Portable compact thermal printer, with print widths up to 73.6 mm, compatible with Zebra printers. Robust construction, easy operation and flexible connections.

Portable thermal printer compact dimensions, with the possibility of printing widths up to 104 mm, compatible with Zebra printers. Robust construction, easy operation and flexible connectivity.
Question to product Birch BM-C02 Mobile POS printer
To PDF
Compare