Portable, wireless receipt printer and barcode, very small dimensions at a very affordable price, it is Birch BM-i02. With its compact size, flexible connectivity and simple operation you can have it always with you, as you and customers will appreciate. The printer can be programmed and connect to Apple products like the iPod, iPad or Mac computer using the SDK.
Birch BM-i02 Mobile POS printer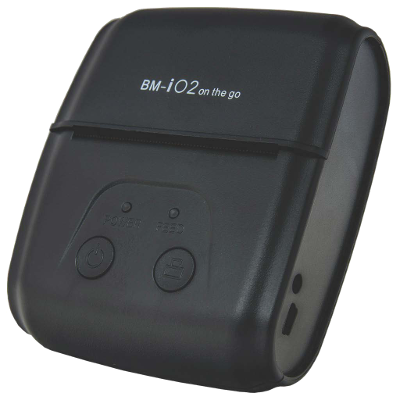 The company offers Birch practical receipt printer very small dimensions and low weight but high battery life per charge battery. On one charge the 8-15hours shift operating at full capacity, or 7 days in stand-by mode. Particularly suited to the hospitality, kiosk sales apod..Broad range of applications, since it is possible to connect the printer via USB, Bluetooth or serial. Compatible with Windows, Android and Linux systems. Carrying case in the basic price of the printer.
Key features of the printer BM-i02
:
low weight of 0,22 kg
small dimensions 111 x 88 x417 mm
communication interfaces: USB, Bluetooth 4, serial
large 2000mAh battery life up to 8-15 hours in full operation on a single charge
resistant protective packaging in price
very good price
supported operating systems: Android, Windows, Linux, iOS
Connecting a Bluetooth printer BM-I02 with Tablet Android EET PEXESO:
Connecting a Bluetooth printer
BM-i02 with phone Samsung A3 Android eÚčtenka
:
Connecting a Bluetooth printer BM-i02 with phone Samsung A3 Android Teeta:
Required accessories
The device will not work without these accessories:
None available
Recommended Accessories
| ARTICLE No. | Name | Availability | Price | incl. VAT | |
| --- | --- | --- | --- | --- | --- |
| CLEAN-SET | Cleaning kit for thermal transfer printers | 6 pcs | 279,- CZK | 337,6 CZK | |
| PKT55-30 | Thermo paper roll, w. 55 mm, diameter 30 mm, 12 mm media core diameter (coil 9m) | 80 pcs | 26,- CZK | 31,5 CZK | |
| SPBI-BMC02-BAT | Birch Battery for BM-C02 and BM-i02 printers | 60 pcs | 836,- CZK | 1 011,6 CZK | |
Technical Description:
Functionality & Operation
Print mode
direct thermal
Print speed
80mm/sec (3 ips)
Print resolution
203dpi
Communication interface
USB, Bluetooth, Serial
1D Barcode Symbologies
All standard one-dimension barcodes
2D Code Symbologies
QR code, PDF417
Operating system
Android, Linux, iOS, Windows® CE, Windows Mobile, Windows
Commands set
ESC/POS
Electrical
Power Source
Input: 110~220 VAC 50~60 Hz
Main battery pack
Li-Ion 2000 mAh
Main battery pack operating time
6hod
Mechanical
Dimensions
Width: 88mm, Height: 41mm, Length: 111mm
Weight
0.22kg
Consumables
Maximal paper width
58mm
Media thickness
0.06 to 0.08mm
Media core diameter
0 to 30mm
Environment
Operating temperature
0 to 45°C
Storage temperature
-10 to 60°C
Storage humidity (non-condensing)
10 to 90%
Operating humidity (non-condensing)
10 to 80%
You must login first to get allowance for downloading files, which are not publicly free.
File
Description
Free for download
BM-i02-datasheet.pdf
Size: 678.41 KB
MD5: 037e03150a6657766ae3056f19dfe315
BM-i02 datasheet
Download
Birch-BM-i02-BT-IOS.pdf
Size: 215 KB, Language: en
MD5: 84dc645d02c8ac4d8db29db6053fdf1c
Bluetooth connectivity tests with IOS system
Download
Birch-instalace-ovladace.pdf
Size: 4.75 MB, Language: cs
MD5: 45f8e573fc20be935146ddca66f02a5d
How to install Birch drivers
Download
Printer-Test-V3.0C.zip
Size: 1.99 MB, Language: en
MD5: 04cdd5d4eb2d649824f37936bab0ee6b
Birch Printer TEST Testing tools
Download
Loading other files from the documentation system... please wait.

ARTICLE No.:

BI-BM-C02

Availability:

25 pcs

Warranty (months): 12 měsíců
Question to product Birch BM-i02 Mobile POS printer
To PDF
Compare