The Cipherlab CCD-1000 is very flexible, reliable and popular contact barcode scanner. Aimed on retail and library applications the CCD-1000 is ergonomically designed and allows easy operation. It is capable to recognize all standard bar code symbologies and it can edit scanned data before transmission to the PC. The CCD-1000 has revolutionary optics which makes toughest bar codes scanning as easy as children's play.
CipherLab 1000 - ruční CCD čtečka, RS232, světlá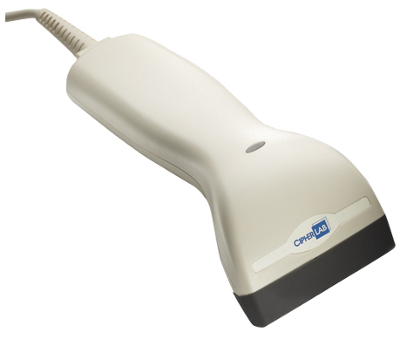 Referential installations:
the employment offices of the Czech Ministry Of Labour And Social Affairs (10 thousand units in total);
Fokus Optik, Prague;
Notwendiges Zubehör
Ohne diese Zubehör das Gerät selbständig funktioniert nicht
Keine mehr zur Verfügung
Empfohlenes Zubehör
| ARTIKEL Nr. | Name | Verfügbarkeit | Preis | inkl. MWSt. | |
| --- | --- | --- | --- | --- | --- |
| ZBX-HOLD-C | Zebex Desktop-Halter für CCD-Barcode-Leser | 94 Stücke | 218,- CZK | 263,8 CZK | |
| PWR5VDC-1 | Netzteil von 230VAC zu 5VDC 1A | 25 Stücke | 159,- CZK | 192,4 CZK | |
Technische Beschreibung:
Funktionalität und Betrieb
Kommunikations-Schnittstelle
RS232
1D Strichcode
Code 39, Italy Pharma Code, French Pharma Code, Industrial 2 of 5, Interleaved 2 of 5, Matrix 2 of 5, EAN 8, EAN 8 + ADDON 2, EAN 8 + ADDON 5, EAN 13/UPCA, EAN 13/UPCA + ADDON 2, EAN 13/UPCA + ADDON 5, UPCE, UPCE + ADDON 2, UPCE + ADDON 5, Codabar, Code 128, MSI, Plessey, UPCA, UPCA + ADDON 2, UPCA + ADDON 5
Indikation
Buzzer (Frequency is programmable and can be disabled), LED: Red Color for Good Read; Green Color for Status
Mittel für Programmierung
"Code ID, Prefix Code, Postfix Code, Length Code, Barcode type, Keyboard layout, ISBN/ISSN/UK Plessey conversion, Inter-characte
Editiermodus
"code type, data length and location (data can be divided into 6 Matching string fields), Five additional fields can be programm
Optical
Lichtquelle
sichtbare rote LED 660nm
Optical system
CCD 2048 pixels
Tiefe des Scanfelds
0.125(0~10mm); 0.33 (0~50mm)
Maximale Barcodebreite
67mm
Scangeschwindigkeit
100scan/s
Auflösung
3 mil
Maximale Neigungswinkel
40°
Maximal Steigungswinkel
70°
PCS min
> 0.45
Barcodescanner
CCD
Electrical
Spannungsversorgung
+5V ±10%
Mechanical
Weicht
250g
Gehäusematerial
ABS plastic
Environment
Betriebstemperatur
0 bis 50°C
Lagertemperatur
-20 bis 60°C
Schockfestigkeit
Fall von 1 m auf Beton
Luftfeuchtigkeit bei Lagerung (kondensierend nicht)
10 bis 95% non-condensing
Luftfeuchtigkeit bei Betrieb (kondensierend nicht)
20 bis 90% non-condensing
Others
Zertifizierungen
FCC Class A, C-Tick, CE, RoHS
Sie müssen melden sich an, um Zulage zum Herunterladen Dateien, die frei zu Download sind nicht.
Datei
Beschreibung
Frei zu Download
CG_CipherLab_SetupReader_CZ.pdf
Dateigröße: 671.42 KB, Sprache: cs
MD5: 903456efb7b1317b5092a0dfacf47999
Configuration manual for hand bar code reader CipherLab
Download
DS_1000_scanner_ccd_EN.pdf
Dateigröße: 798.6 KB, Sprache: en
MD5: 9f3a230b1f6e5c011380e2df8fb4c573
Datasheet for CipherLab CCD-1000 bar code scanner
Download
IU_CCD-1000_Uzivatelska_Prirucka_CZ_ftp.pdf
Dateigröße: 203.02 KB, Sprache: cs
MD5: a0b2b3d83f54a9e46f8400d8be9f881f
User guide for bar code reader CipherLab CCD-1000
Download
CDC_VCP_win_xp_vista_seven.zip
Dateigröße: 812.79 KB, Sprache: en
MD5: cd2dc49c1f25cb8a253e727b80b9c1b5
This is Silicon USB virtual COM driver for CipherLab devices for Windows. It is used with most USB cradles of 8 series portable terminals and with 3610 Bluetooth USB transponder.
Download
ScanMaster.zip
Dateigröße: 3.88 MB, Sprache: en
MD5: eea6520706e306c1dc1b465c4b1d0310
Utility for setting-up the CipherLab bar-code scanners
Download
DS_CPL_1000_1070_1100_EN.pdf
Dateigröße: 604.38 KB, Sprache: en
MD5: 687880fab88d407e454342badc2ecc4b
Data sheet for CCD bar code readers CipherLab 1000, 1070, 1100
Download
CG_1000_1090+_1100_1105_Scanner_User_Guide_EN.pdf
Dateigröße: 1.07 MB, Sprache: en
MD5: 1737674f05ce5eb4f8b23668078a34c5
Set-up guide for CipherLab 1000, 1090+, 1100 and 1200 bar code scanners
Download
ScanMaster User Guide.pdf
Dateigröße: 3.14 MB, Sprache: en
MD5: 3e887cfdbe725626cc8d4d6098346f41
ScanMaster User Guide [Applied Models] 1000 Series, 1500 Series, 1600 Series, 1700 Series scanners
Download
softwedge.zip
Dateigröße: 1.68 MB, Sprache: en
MD5: d3d9419d56f0e344f79e8c66e31ab762
Eavesdropping Program COM port - suitable for use all readers emulation RS232, VCOM. (Transfer from RS232 to KBW)
Download
DS_FullLine_Brochure_CZ.pdf
Dateigröße: 4.03 MB, Sprache: cs
MD5: d1a9ea74df55be28a4895f0247ad098f
CipherLab: CipherLab products brochure
Download
DS_FullLine_Brochure_EN.pdf
Dateigröße: 1.82 MB, Sprache: en
MD5: 8832ed2635b050e90ec969edf45b8564
CipherLab: CipherLab products brochure
Download
Loading other files from the documentation system... please wait.
Frage zum Produkt CipherLab 1000 - ruční CCD čtečka, RS232, světlá
Zu PDF
Vergleichen