Barcodescanner mit der höchsten Leistung, 200 sc./sec, antimikrobischer Design. Lesebereich 35 cm, multininterface keyboard wedge + RS232 + USB
Das Produkt ist nicht mehr verfügbar. Bitte wählen Sie aus ähnlichen Produkten.
CipherLab 1500H Corded linear Imager Scanner Kit, weiss (Scanner + Ständer + USB-HID Kabel) (CipherLab)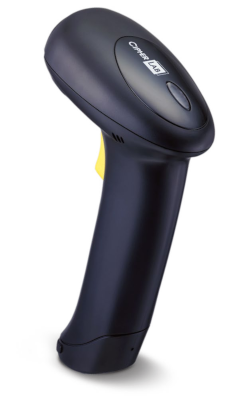 CipherLab 1500 barcode scanner (linear imager) raises the standard of performance, style and affordability. An incredibly comfortable design and the innovative three-way stand makes it easy to use all day long. A large LED and the adjustable tone ensure instant scan recognition that speeds up the workflow. No moving parts and CipherLabs reputation for reliability mean ultra-low maintenance, giving you remarkably low total cost of ownership. And a five-year warranty gaurantees years of worry-free service. The CipherLab 1500 delivers where reliability, durability, comfort, speed, safety, and value matter.
You can easily configure the 1500 scanner with the ScanMaster software.
Bar code scanner CipherLab 1500 is available also in special design for health institutions, pharmacies, and similar social institutes. The housing is cast from a mixture of antibacterial solution developed for this purpose by
Microban
corporation.
Autosense
Desktop
Wall mount
Ministry Of Labor And Social Affairs, Czech (hundreds of scanners)
Gesto Computers, spol. s r.o., Czech
Notwendiges Zubehör
Ohne diese Zubehör das Gerät selbständig funktioniert nicht
Keine mehr zur Verfügung
Empfohlenes Zubehör
| ARTIKEL Nr. | Name | Verfügbarkeit | Preis | inkl. MWSt. | |
| --- | --- | --- | --- | --- | --- |
| A1500-STAND | CipherLab 1500 Autosense Ständer, schwarz | 4 Stücke | 386,- CZK | 467,1 CZK | |
| PWR5VDC-1 | Netzteil von 230VAC zu 5VDC 1A | 10 Stücke | 161,- CZK | 194,8 CZK | |
Technische Beschreibung:
Funktionalität und Betrieb
1D Strichcode
Codabar, Code 128, Code 39, Code 93, EAN 13/UPCA, EAN 8, French Pharma Code, Industrial 2 of 5, Interleaved 2 of 5, Italy Pharma Code, Matrix 2 of 5, MSI, Plessey, Telepen, UPCE, und andere
Mittel für Programmierung
Data editing, interface selection, symbology, configuration
Konfigurierung
by programming barcodes, via ScanMaster utility
Optische
Lichtquelle
sichtbare rote LED 625 nm
Tiefe des Scanfelds
40-400 mm
Scangeschwindigkeit
520scan/s
Auflösung
3 mil
Maximale Neigungswinkel
70°
Maximal Steigungswinkel
70°
Barcodescanner
CCD 2500 px
Minimal PCS Wert
30%
Elektrische
Energieverbrauch - Standby
350mA
Energieverbrauch im Betrieb
170mA max. 250 mA
Mechanische
Weicht
145g
Farbe
schwarz
Umwelt
Betriebstemperatur
0 bis 50°C
Lagertemperatur
-20 bis 60°C
Maximales Umgebungslicht
100000lux
Schockfestigkeit
Fall von 1,5 m auf Beton
Luftfeuchtigkeit bei Lagerung (kondensierend nicht)
5 bis 95%
Luftfeuchtigkeit bei Betrieb (kondensierend nicht)
10 bis 90%
Elektrostatische Entladung
±8kV Kontakt, ±15kV Luft
IP Schutz
IP30
Andere
Zertifizierungen
CE, FCC Class A, MIC, BSMI, IC, C-Tick
Garantie
5 years
Sie müssen melden sich an, um Zulage zum Herunterladen Dateien, die frei zu Download sind nicht.
Datei
Beschreibung
Frei zu Download
CG_CipherLab_SetupReader_CZ.pdf
Dateigröße: 671.42 KB, Sprache: cs
MD5: 903456efb7b1317b5092a0dfacf47999
Configuration manual for hand bar code reader CipherLab
Download
IU_CG_1500_1502_Scanner_User_Guide_EN.pdf
Dateigröße: 1.87 MB, Sprache: en
MD5: 5946b38c06fc755a2a17c200489c6dc0
User and set-up guide for CipherLab 1500 and 1502 bar code scanner
Download
IU_CG_1500_nastavovaci_prirucka_CZ.pdf
Dateigröße: 531.13 KB, Sprache: cs
MD5: 99d8d4a923e3894d51dccdccf597e405
User and set-up guide for CipherLab 1500 bar code scanner
Download
CDC_VCP_win_xp_vista_seven.zip
Dateigröße: 812.79 KB, Sprache: en
MD5: cd2dc49c1f25cb8a253e727b80b9c1b5
This is Silicon USB virtual COM driver for CipherLab devices for Windows. It is used with most USB cradles of 8 series portable terminals and with 3610 Bluetooth USB transponder.
Download
ScanMaster.zip
Dateigröße: 3.88 MB, Sprache: en
MD5: eea6520706e306c1dc1b465c4b1d0310
Utility for setting-up the CipherLab bar-code scanners
Download
DS_CPL_1500P_1502_1560P_1562_1564A_EN.pdf
Dateigröße: 1.54 MB, Sprache: en
MD5: a958d31571e2717d11170c2efce07630
Datasheet for CipherLab 1500P, 1560P, 1502, 1562 and 1564Abar code scanners
Download
softwedge.zip
Dateigröße: 1.68 MB, Sprache: en
MD5: d3d9419d56f0e344f79e8c66e31ab762
Eavesdropping Program COM port - suitable for use all readers emulation RS232, VCOM. (Transfer from RS232 to KBW)
Download
DS_FullLine_Brochure_CZ.pdf
Dateigröße: 4.03 MB, Sprache: cs
MD5: d1a9ea74df55be28a4895f0247ad098f
CipherLab: CipherLab products brochure
Download
DS_FullLine_Brochure_EN.pdf
Dateigröße: 1.82 MB, Sprache: en
MD5: 8832ed2635b050e90ec969edf45b8564
CipherLab: CipherLab products brochure
Download
Loading other files from the documentation system... please wait.
Frage zum Produkt CipherLab 1500H Corded linear Imager Scanner Kit, weiss (Scanner + Ständer + USB-HID Kabel) (CipherLab)
Zu PDF
Vergleichen