With raising demands for advanced scanning abilities in many industries, such as retail, warehousing and light industry, CipherLab has attentively designed the durable 2500 series handheld scanner to suit various applications in harsh environments. CipherLab 2500 series is able to deliver superior scanning abilities to speed up the efficiency of data collection. Along with business-rugged durability, its high performance is well protected so users can enjoy fast workflow without any worries. Moreover, the 2500 series is also equipped with additional user friendly features to create a productive experience for its users.
CipherLab 2564 Robuster-Funk-2D-u-QR-Code-Scanner mit Halteplatte + Cradle + USB Kabel, Bluetooth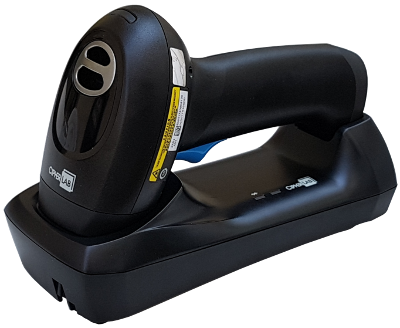 The CipherLab 2500 series business-rugged handheld scanner takes performance up a notch with a 578 scan rate for fast operations. Along with the ability to read high-density 1D and 2D barcodes and low contrast barcodes as low as 15%, the CipherLab 2500 series eases its aiming for scanning excellence on tiny objects or the barcodes which are poorly printed. CipherLab 2500 series equips with a scan beam of 3 mm in width from 15 cm away that allows users to reduce the probabilities of misreads while barcodes are placed close to each other. The CipherLab 2500 series handheld scanner maximizes workforce productivity for everyday operations in a variety of business.
Key features Cipherlab A2560:
Bluetooth v4.0 Dual Mode with EDR
IP54 rating and 1.8 m/ 6 ft. drop resistance
Snappy 578 scan rate on 1D Barcodes
Reads barcodes up to 3 mil resolution and 15% PCS
Auto detection of USB, RS232 and keyboard wedge interface
Swappable battery runs over 24 hours on single charge
ESD Protection ±10 kV(contact), ±20 kV (air)
Web-based ScanMaster for easy access and configuration
Notwendiges Zubehör
Ohne diese Zubehör das Gerät selbständig funktioniert nicht
Keine mehr zur Verfügung
Empfohlenes Zubehör
| ARTIKEL Nr. | Name | Verfügbarkeit | Preis | inkl. MWSt. | |
| --- | --- | --- | --- | --- | --- |
| A2560-BAT | CipherLab Náhradní baterie pro 2560, 2564 (Li-Ion, 800mAh, 3.7V) | 20 Stücke | 643,- CZK | 778,0 CZK | |
| A2564-CRDU | CipherLab Kommunikazions-Aufladungs-Basis für 2560, USB | Gewöhnlich 27 Tagen | 2 701,- CZK | 3 268,2 CZK | |
Technische Beschreibung:
Optische
Tiefe des Scanfelds
35-280 mm
Auflösung
3 mil 1D, 5 mil 2D
Lichtquelle
warm white LEDs 2x
Scangeschwindigkeit
60scan/s
Funktionalität und Betrieb
1D Strichcode
Alle Standard-eindimensionale Strichcoden
2D-Strichcode
Data Matrix, QR code, Micro QR Code, Aztec, MaxiCode, TLC-39, Composite codes, MicroPDF417, PDF417
Funkkommunikation
Bluetooth®
WPAN Eigenschaften
Bluetooth® v4.0
Elektrische
Hauptbatterie
Li-Ion 800 mAh, 3,7V
Mechanische
Dimensions
Breite: 66mm, Höhe: 160.5mm, Länge: 98.2mm
Weicht
198g
Farbe
schwarz
Umwelt
Betriebstemperatur
0 bis 50°C
Lagertemperatur
-40 bis 70°C
Maximales Umgebungslicht
100000lux
Luftfeuchtigkeit bei Lagerung (kondensierend nicht)
5 bis 95%
Luftfeuchtigkeit bei Betrieb (kondensierend nicht)
10 bis 90%
Elektrostatische Entladung
±8kV Kontakt, ±20kV Luft
IP Schutz
IP54
Andere
Zertifizierungen
FCC, IC, CE, RCM, BSMI, NCC, KCC, SRMC, REACH, WEEE, RoHS
Sie müssen melden sich an, um Zulage zum Herunterladen Dateien, die frei zu Download sind nicht.
Datei
Beschreibung
Frei zu Download
CP210x_VCP_Windows.zip
Dateigröße: 3.66 MB, Sprache: en
MD5: d6887b846d999238dd165857b71d6d95
Windows 7,8.1,10 32/64bit drivers USB-VCP (Virtual COM port) for bar code scanner 1070, 1560, 1562, 1564, 2500, 2560
Download
DS_2500_Series_Brochure_EN.pdf
Dateigröße: 2.07 MB, Sprache: en
MD5: 3f61b3ecb4748ea9f58635f4c8f555ae
Datasheet for CipherLab 2500 series bar code & 2D code scanner
Download
DS_2500_Series_Brochure_DE.pdf
Dateigröße: 1.7 MB, Sprache: de
MD5: d8f1e887a27ed4a0e49259fad0b30414
Datasheet for CipherLab 2500 series bar code & 2D code scanner
Download
2560_Series_Scanner_User_Guide_v1.00.pdf
Dateigröße: 2.97 MB, Sprache: en
MD5: 77e3d3a5cfebc03b7277ff71d13a1bb4
User Guide Cipherlab 2560 Scanner
Download
DS_FullLine_Brochure_CZ.pdf
Dateigröße: 4.03 MB, Sprache: cs
MD5: d1a9ea74df55be28a4895f0247ad098f
CipherLab: CipherLab products brochure
Download
DS_FullLine_Brochure_EN.pdf
Dateigröße: 1.82 MB, Sprache: en
MD5: 8832ed2635b050e90ec969edf45b8564
CipherLab: CipherLab products brochure
Download
Loading other files from the documentation system... please wait.
Frage zum Produkt CipherLab 2564 Robuster-Funk-2D-u-QR-Code-Scanner mit Halteplatte + Cradle + USB Kabel, Bluetooth
Zu PDF
Vergleichen