Eclipse Scanner, der billigste Laser Barcodescanner am Markt. Wir empfehlen auch Ständer zu verkaufen.
Honeywell MK-5145 Eclipse, KBW, hellgrau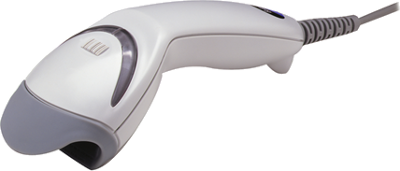 With Honeywell's state-of-the-art scanning technology embedded inside, the MK-5145 Eclipse has a longer working range and a wider scan field than a typical CCD. The width of the scan line grows as the scanner moves further away from barcodes. In addition, the laser beam pulses which makes lining up barcodes easy, and when the scanner senses a barcode (CodeSenseTM Mode), the laser beam automatically switches to scan mode and activates CodeGate to ensure high-speed scanning and accuracy.
Many of the standard features include: PowerLink user-replaceable cables, Bits 'n' Pieces® data editing, user friendly programming using MetroSelect® bar codes, or MetroSet® 2 Windows-based configuration utility.
You can buy one of the more types of additional stands for your Metrologic Eclipse bar code scanner.
Features
Light Source
Visible Laser Diode 650 nm ± 5 nm
Laser Power
< 1.0 mW @ peak power
Depth of Scan Field
0 mm - 140 mm (0" - 5.5") for 0.330 mm (13 mil) bar codes
Width of Scan Field
49 mm (1.9") @ face; 195 mm (7.7") @ 140 mm (5.5")
Scan Speed
72 scan lines per second
Scan Pattern
Single scan line
Minimum Bar Width
0.102 mm (4.0 mil )
Decode Capability
Auto discriminates all standard bar codes; for other symbologies call Metrologic
System Interfaces
RS232, PC Keyboard Wedge, Stand-Alone Keyboard, USB
Print Contrast
35% minimum reflectance difference
Roll, Pitch, Yaw
42°, 68°, 52°
Beeper Operation
7 tones or no beep
Number Characters Read
Up to 80 data characters
Indicators
Red = Good read / Green = Laser on, ready to scan
Length
169 mm (6.7")
Width
63 mm (2.5"); at head / 63 mm (2.5"); at handle
Height
35 mm (1.4"); at head / 31 mm (1.2"); at handle
Weight
(w/o cable) 97 g (3.41 oz)
Termination
10 pin modular RJ45
Cable
Standard 1.5 m ( 5\' ) straight; optional 2.7m ( 9\' ) coiled
Input Voltage
5 VDC ± 0.25 V
Power
675 mW
Current Operating
135 mA @ 5VDC
DC Transformers
Class 2; 5.2 VDC @ 200 mA; or Class 2, 5.2 VDC @ 650 mA
Laser Class
CDRH: Class II; IEC 60825-1:1993+A1:1997+A2:2001 Class 1
EMC
Class B: FCC Part 15, ICES-003, European Union EMC Directive
Environment
Operating Temperature
0°C to 40°C (32°F to 104°F)
Storage Temperature
-40°C to 60°C (-40°F to 140°F)
Humidity
5% to 95% relative humidity, non-condensing
Light Levels
Up to 4842 Lux (450 footcandles
Shock
Designed to withstand 1.5 m (5\') drops
Contaminants
Sealed to resist airborne particulate contaminants
Ventilation
None required
Notwendiges Zubehör
Ohne diese Zubehör das Gerät selbständig funktioniert nicht
Keine mehr zur Verfügung
Empfohlenes Zubehör
| ARTIKEL Nr. | Name | Verfügbarkeit | Preis | inkl. MWSt. | |
| --- | --- | --- | --- | --- | --- |
| 46-46758-3 | Honeywell Ständer für MS-5145 Eclipse - Flex, schwarz | 1 stück | 407,- CZK | 492,5 CZK | |
| 55-55002A | Honeywell Kabel KBW pro MK-5145 Eclipse, přímý, šedý | Gewöhnlich 20 Tagen | 1 152,- CZK | 1 393,9 CZK | |
| HON-PWR-095V | Honeywell Netzteil für 1900 Xenon,Orbit, Quantum, Voyager, Fusion, Eclipse, Horizon 5.2VDC 1A | 15 Stücke | 715,- CZK | 865,2 CZK | |
| S-PODPORA | Codeware Technische Unterstützung - begann 30 Minuten | am Lager | 350,- CZK | 423,5 CZK | |
Technische Beschreibung:
Funktionalität und Betrieb
1D Strichcode
Codabar, Code 128, Code 39, Code 93, EAN 13/UPCA, French Pharma Code, Industrial 2 of 5, Interleaved 2 of 5, Matrix 2 of 5, MSI
Kommunikations-Schnittstelle
USB, RS232, Keyboard Wedge, IBM 46xx (RS485), OCIA, Laser Emulation, Light Pen Wand Emulation
Konfigurierung
by programming barcodes
Language support
French,Germany,Italian,Norwegian,Portuguese,Spanish,Swedish,US and UK English, Belgian
Optical
Lichtquelle
650 nm sichtbare Laserdiode (VLD)
Scangeschwindigkeit
72 scan/sek.
Minimal Kontrast den Code
35%
Maximale Neigungswinkel
50°
Barcodescanner
Laser
Electrical
Spannungsversorgung
+5V ±10%
Energieverbrauch - Standby
125mW
Energieverbrauch im Betrieb
675mW
Mechanical
Dimensions
Breite: 51mm, Höhe: 169mm, Länge: 63mm
Weicht
100g
Environment
Betriebstemperatur
0 bis 40°C
Lagertemperatur
-40 bis 60°C
Schockfestigkeit
Fall von 1,5 m auf Betonboden
Luftfeuchtigkeit bei Lagerung (kondensierend nicht)
5 bis 95%
Others
Zertifizierungen
BSMI, C-Tick, CE, FCC Class A, IC, MIC
Sie müssen melden sich an, um Zulage zum Herunterladen Dateien, die frei zu Download sind nicht.
Datei
Beschreibung
Frei zu Download
DS_MS5145-eu.pdf
Dateigröße: 1.15 MB, Sprache: en
MD5: 3df8c88e31794dedf181237fe33bb62f
Datasheet
Download
IU_MS5145_EN_ftp.pdf
Dateigröße: 1.23 MB, Sprache: en
MD5: 5940e446affdca1629efa06e8c6d07e8
User guide
Download
HSM USB Serial Driver r1.19-WHQL-03-08-2013.zip
Dateigröße: 4.2 MB, Sprache: en
MD5: 48c80e31584f77110bc64de31345213c
Honeywell Scanning and Mobility (HSM) USB Serial Driver The Honeywell Scanning & Mobility (HSM) WHQL-certified USB Serial Driver connects an HSM scanner through a virtual COM port to a Microsoft Windows operating system and applications. See release notes for list of supported devices and operating systems. Revision 1.19 Format: Zip File Date Released: 5/23/13
Download
softwedge.zip
Dateigröße: 1.68 MB, Sprache: en
MD5: d3d9419d56f0e344f79e8c66e31ab762
Eavesdropping Program COM port - suitable for use all readers emulation RS232, VCOM. (Transfer from RS232 to KBW)
Download
Loading other files from the documentation system... please wait.

You won't believe, that something so little CAN also READ bar codes. And after you'll find out this can, you'll be surprised again. By HOW GOOD it is in bar code reading.
Der Zebex Z-3100 / Z-3101 ist Single-Line-Laser- oder CCD-Hand-Barcodeleser. Der Model mit Laserdiode Sensor Z-3101 hat größere Reichweite und breiteren Feld als die Beseitigung konventioneller CCD. Im Gegensatz zu ähnlichen Sensor MK-5145 Eclipse ist ein Z-3101…
Frage zum Produkt Honeywell MK-5145 Eclipse, KBW, hellgrau
Zu PDF
Vergleichen