The OPL-6845 laser hand bar code scanner's target are all applications where the high efficient automatic reading of 1D barcode is needed as well as normal trigger-mode scanning. When operating out of stand the trigger is active, whilst placing the reader into stand toggles it's scanning mode into automatic triggerless one. Autosense stand is included in standard delivery set.
Opticon OPL-6845 laserová čtečka se stojánkem, USB, černá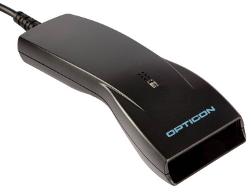 Types of interfaces: a keyboard wedge, a RS232, a USB (HID).
Optical Features
Laser diode
visible light (650nm)
Depth of field
0 ~ 422mm
Scanrate
100 scans / sec
Minimal resolution
0.127mm (5 mil)
IR sensor activation
yes
Min. PCS value
45%
Reading angles
rotation 58°, pitch 51°, skew 66°
Symbologies
autodiscriminates all standard bar code symbologies, less standard S-Code and Tri-Optic additionaly
Dimensions, Electrical Features
Power
5V ± 0.5V
Size
32mm x 57mm x 159mm / 1.26" x 2.24" x 6.26"
Weight
90 g / 0.19 pounds
Interface
RS-232, keyboard wedge, USB (HID)
Configurability
via special bar-code book / via internet browser
Environment
Temperature
operational -5°C ~ +50°C
storage -20°C ~ +60°C
Humidity
20% ~ 80% (non condensing)
Ambient light
up to 3000 Lux (fluorescent and white light) / up to 50,000 Lux (direct sun light)
Durability
shock drop test: 1.5m drop onto concrete surface vibration test: 12 - 100 Hz with 2G for 1 hour dust and water proof: IP42
Regulatory
laser: Class I, IEC 825 EMC: EN 55022, EN 55024 RoHS
Standard package set
laser scanner, interface cable, autosense and holding stand, user\'s guide
Notwendiges Zubehör
Ohne diese Zubehör das Gerät selbständig funktioniert nicht
Keine mehr zur Verfügung
Empfohlenes Zubehör
Keine mehr zur Verfügung
Technische Beschreibung:
Funktionalität und Betrieb
Taste
1 Skenovací tlačítko
1D Strichcode
Codabar, Code 128, Code 39, Code 93, EAN 13/UPCA, French Pharma Code, Industrial 2 of 5, Interleaved 2 of 5, Matrix 2 of 5, MSI
Konfigurierung
Internet guide or special programming barcodes
Kommunikations-Schnittstelle
RS-232 , Keyboard wedge , USB
Language support
Czech,French,Germany,Italian,Norwegian,Portuguese,Spanish,Swedish,US and UK English, Belgian
2D-Strichcode
Composite codes, MicroPDF417, PDF417
Optical
Lichtquelle
650 nm sichtbare Laserdiode (VLD), 650 nm sichtbare Laserdiode (VLD)
Tiefe des Scanfelds
"40 - 500 mm / 1.57 - 19.69 in (1.0 mm / 39 mil), 20 - 350 mm / 0.79 - 13.78 in (0.5 mm / 20 mil), 20 - 200 mm / 0.79 - 7.87 in
Scangeschwindigkeit
Maximale Neigungswinkel
35°
Maximal Steigungswinkel
50°
Electrical
Spannungsversorgung
+5V ±10%
Mechanical
Dimensions
Breite: 159mm, Höhe: 32mm, Länge: 57mm
Weicht
90g
Environment
Betriebstemperatur
-5 bis 50°C
Lagertemperatur
-20 bis 60°C
Schockfestigkeit
wiederholtem Fall aus 1,5 m auf Beton
Luftfeuchtigkeit bei Lagerung (kondensierend nicht)
5 bis 95%
IP Schutz
IP42
Others
Zertifizierungen
BSMI, C-Tick, CE, FCC Class A, IC, MIC
Garantie
12 monate
Sie müssen melden sich an, um Zulage zum Herunterladen Dateien, die frei zu Download sind nicht.
Datei
Beschreibung
Frei zu Download
MenuBook_en.pdf
Dateigröße: 646.87 KB, Sprache: en
MD5: 70355218a9c2d1e34253e5b8f058a271
Configuration manual for Opticon bar code scanners
Download
USB-Drivers-Installer.exe
Dateigröße: , Sprache: en
MD5: c54f46104403453d8e88fc83725c7dea
USB Drivers Installer: USB driver (exe) for Windows. Opticon USB Code Reader virtual COM port, This driver is for both 32-bit and 64-bit Windows.
Download
leaflet_OPL6845R.pdf
Dateigröße: 851.14 KB
MD5: 11c2bcb67f4aa139438062dfc56871a4
leaflet OPL6845R
Download
Czech_keyboard.pdf
Dateigröße: 1.05 MB, Sprache: en
MD5: 4132894ef693b2e4a423eddb42083375
Set czech keyboard for Opticon scanners
Download
softwedge.zip
Dateigröße: 1.68 MB, Sprache: en
MD5: d3d9419d56f0e344f79e8c66e31ab762
Eavesdropping Program COM port - suitable for use all readers emulation RS232, VCOM. (Transfer from RS232 to KBW)
Download
Produkty_Opticon_CZ.pdf
Dateigröße: 3.53 MB, Sprache: cs
MD5: ef66088e9aad65979a615defb925c31a
Opticon products brochure
Download
optousb.zip
Dateigröße: 650.81 KB, Sprache: en
MD5: 927cd9472ef9ef76ebe63ff3ab3af0e8
Drivers for windows
Download
Appload.zip
Dateigröße: 577.77 KB, Sprache: en
MD5: 49f39d4e9cefda509d73dd700c903752
Utility to upload an application or an operating system
Download
Loading other files from the documentation system... please wait.

Laser-Barcodescanner mit hervorragenden Scanleistung und unübertroffene Fähigkeit, schlechter Qualität oder beschädigten Barcodes zu lesen. Ein neues Modell der meistverkauften eine lineare Scanner der Welt, Voyager 1200g, reduziert Lesezeit und…


You won't believe, that something so little CAN also READ bar codes. And after you'll find out this can, you'll be surprised again. By HOW GOOD it is in bar code reading.
Frage zum Produkt Opticon OPL-6845 laserová čtečka se stojánkem, USB, černá
Zu PDF
Vergleichen