Birch BS-115 is a handheld laser bar code scanner. With improved technology offers excellent reading performance, which in its work will appreciate. Recognizes all standard 1D barcodes. USB interface.
Birch BS-115 Corded bar code laser scanner, USB, black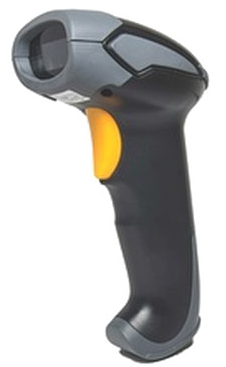 Key features readers Birch BS-115:
user-friendly
built-in 32-bit CPU
High performance scanning
easy operation
built-in auto-sensor
Required accessories
The device will not work without these accessories:
None available
Recommended Accessories
| ARTICLE No. | Name | Availability | Price | incl. VAT | |
| --- | --- | --- | --- | --- | --- |
| BI-BS-115-HOLB | Birch Desktop stand for BS-115 bar code scaner, black | 72 pcs | 256,- CZK | 309,8 CZK | |
Technical Description:
Functionality & Operation
Communication interface
USB, RS232, keyboard
CPU Type
32-bit RISC
1D Barcode Symbologies
All standard one-dimension barcodes
Optical
Light source
visible laser diode VLD 650 nm
Depth of scan field
10-60 cm
Scanning rate
100scan/s
Maximal pitch angle
60°
Bar code scanner
Laser
Electrical
Power Source
+5 VDC ±5%
Power Consumption - Standby
70mA
Power Consumption - Operation
150mA
Mechanical
Dimensions
Width: 66mm, Height: 166mm, Length: 86mm
Weight
130g
Body housing
ABS plastic with rubber
Maximal rotation angle
45°
Color
light grey, black
Environment
Operating temperature
0 to 50°C
Storage temperature
-26 to 60°C
Maximal ambient light
6000lux
Shock resistance
drop from 1,5 m onto concrete surface
Operating humidity (non-condensing)
10 to 90%
Others
Certifications
CE, FCC, RoHS
You must login first to get allowance for downloading files, which are not publicly free.
File
Description
Free for download
DS_BS-115_EN.pdf
Size: 591.06 KB, Language: en
MD5: 14ed547caf503d107941cea74475f5b1
Data sheet for Birch CD-115 bar code scanner
Download
softwedge.zip
Size: 1.68 MB, Language: en
MD5: d3d9419d56f0e344f79e8c66e31ab762
Eavesdropping Program COM port - suitable for use all readers emulation RS232, VCOM. (Transfer from RS232 to KBW)
Download
DS_birch-bs-115_EN.pdf
Size: 591.06 KB, Language: en
MD5: 14ed547caf503d107941cea74475f5b1
Catalogue sheet for laser 1D bar code reader Birch BS-115
Download
Loading other files from the documentation system... please wait.
Question to product Birch BS-115 Corded bar code laser scanner, USB, black
To PDF
Compare