A small omnidirectional laser barcode scanner, multiinterface, 46 x 62 x 67 mm. 650 nm visible laser diode, 24 lines, 2000 scans/sec, depth of scanning field 300 mm. Works with USA and German keyboard layouts.
Birch BS-360 Omnidirectional Laser Bar Code Scanner, USB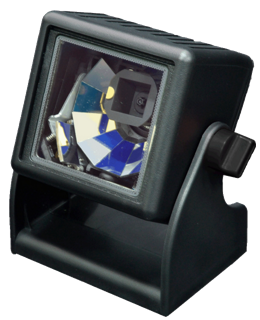 The unique design of scan pattern provides high scan performance. Depth-of-Field available achieve to 30cm. Moreover with the built-in advanced decoder to support more advanced barcode symbologies in retailing market (such as RSS code, GS1 data bar family) and upgradeable firmware after purchase.
Interchangeable interface cable for PS2, RS232 and USB at distributor's side directly. USB connection supports both USB HID and USB virtual COM for the advanced use.
BS-360 is the one with compact cubic design. Tailored for the small and medium size retailer with limited space at a competitive price, it is also as finished module scanner with mounting holes on the rear for DIY Kiosk assembling market.
Light Source: 650 nm visible laser diode
Scan Pattern: 24 lines, 6 directions
Scanning Speed: 2,000 scans/sec
Depth of Field: 300 mm @ 13mil PCS 90%
Ambient Light: 4,800 Lux Max. @ Direct sun light
Symbologies: EAN/UPC A/ UPC E/JAN + Add-on, ISBN, ISSN, Code 128, EAN 128, Code 93, Code 39, Code 32, Codabar, Interleaved 2 of 5, MSI-Plessey, fully RSS, GS1 DataBar compliance (symbol 1-9)
Resolution: 5mil @ 90% PCS
PCS: 30% @ EAN13
Interface: PS2, RS232, USB (HID and virtual COM)
Connector: RJ-48, 10 pins
Input Voltage: +5V DC
Operating Current: 250mA
Operating Temp: 0°C ~ 40°C at 5% to 95% Non-condensing
Storage Temp: -20°C ~ 60°C at 5% to 95% Non-condensing
Material ABS Plastic ABS Plastic
Weight: 130g (without stand)
Dimension: 46 (L) x 62(W) x 67(H)mm
Required accessories
The device will not work without these accessories:
None available
Recommended Accessories
None available
Technical Description:
Functionality & Operation
Communication interface
RS232, USB, USB-HID, USB-VCP
Connectors
RJ 48
Optical
Light source
visible laser diode VLD 650 nm
Depth of scan field
0-300 mm (13 mil barcode)
Scanning rate
2000scan/s
Scannig pattern
24 lines, 6 directions
Mechanical
Dimensions
Width: 46mm, Height: 62mm, Length: 67mm
Weight
130g without stand
Body housing
ABS plastic
Environment
Operating temperature
0 to 40°C
Storage temperature
-20 to 60°C
Relative humidity (non-condensing)
5 to 95%
Maximal ambient light
4800lux
You must login first to get allowance for downloading files, which are not publicly free.
File
Description
Free for download
BS-360-USB-COM.zip
Size: 292.88 KB, Language: en
MD5: 96962b63da8b7e5eb915b634b09ce7b1
Driver for BS-360/BS-370 USB virtual COM
Download
BS-360-Omni-scanner-Configuration-Guide.pdf
Size: 924.04 KB, Language: en
MD5: ea48bce1dc7e827c830ec76a8a0d40c7
BS-360 Omni scanner Configuration Guide
Download
BS-360-Users-Manual.pdf
Size: 1.55 MB, Language: en
MD5: d15bf7e1f4bae7181bb6dee0b898af84
BS-360 Users Manual
Download
ASCII-Code-Table.pdf
Size: 284.07 KB, Language: en
MD5: 2a455b4bcd63081158b836a0f78cf3b6
ASCII Code Table
Download
softwedge.zip
Size: 1.68 MB, Language: en
MD5: d3d9419d56f0e344f79e8c66e31ab762
Eavesdropping Program COM port - suitable for use all readers emulation RS232, VCOM. (Transfer from RS232 to KBW)
Download
Loading other files from the documentation system... please wait.
Question to product Birch BS-360 Omnidirectional Laser Bar Code Scanner, USB
To PDF
Compare