Thanks to the ingenious mechanism chassis design, which enable the user easily enjoy a better Data collection and Data transmission quality than ever before. The BZ-R series offer you the good choices of Linear Imager CCD, Laser (Honeywell engine built-in) and 2D scanner (Opticon engine built-in) to assure the high performance scan performance. The unique design of Data-pairing (called as EZ-Pairing) on BZ-R series help you to have the data –pairing done just in few seconds (about 5 seconds) just by pressing the trigger. There is no need to have boring and complicated steps to do.
Birch BZ-R01 RF2.4Ghz linear imager scanner, Black, USB HID dongle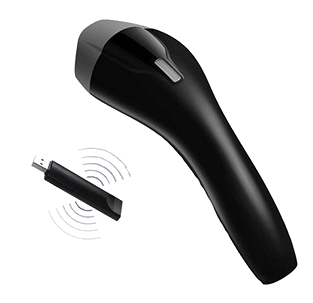 The fast data transfer with RF 2.4Ghz technology make the data transmission real time to your system, it is very comfortable to use. The data transmission distance of RF technology on BZ-R series is 100 meters (on the open space). The newly developed 2-in-1 holder supports your applications either on desktop or hand- free high stand operation. Moreover, the holder is based on the modular design, then it can be with very light and small packaging to save your transportation cost.
Key features readers Birch BZ-R:
USB dongle
sensing range up to 100 m on open space
option to buy the 2 in 1 holder
The fast data transfer with RF 2.4Ghz technology
EZ pairing
linear imager CCD
scanning all standard 1D bar codes
scan rate 270 scan/sec
Required accessories
The device will not work without these accessories:
None available
Recommended Accessories
None available
Technical Description:
Functionality & Operation
Communication interface
USB-HID
1D Barcode Symbologies
All standard one-dimension barcodes
Optical
Light source
visible red LED 660nm
Depth of scan field
30-200 mm
Scanning rate
270scan/s
Bar code scanner
CCD
Electrical
Power Source
+3,3 VDC ±5%
Power Consumption - Standby
90mA
Power Consumption - Operation
110mA
Main battery pack
Li-Ion 1200 mAh, 3,7V
Battery charging time
4hod
Mechanical
Dimensions
Width: 67mm, Height: 186mm, Length: 91mm
Weight
140g
Body housing
ABS plastic
Color
black
Environment
Operating temperature
0 to 40°C
Storage temperature
-20 to 60°C
Relative humidity (non-condensing)
10 to 90%
Shock resistance
drop from 1,5 m onto concrete surface
You must login first to get allowance for downloading files, which are not publicly free.
File
Description
Free for download
BZ-R01B Configuration Guide.pdf
Size: 14.85 MB, Language: en
MD5: 1b8abe24f75dd0908428d91fdc1b19e5
Birch BZ-R01B Configuration Guide
Download
softwedge.zip
Size: 1.68 MB, Language: en
MD5: d3d9419d56f0e344f79e8c66e31ab762
Eavesdropping Program COM port - suitable for use all readers emulation RS232, VCOM. (Transfer from RS232 to KBW)
Download
Birch_BZ-R_datasheet.pdf
Size: 291.42 KB
MD5: ce1d309da4f7dd20291e5c93d0b5b73e
Birch BZ-R datasheet
Download
Loading other files from the documentation system... please wait.

1560 series wireless BT scanners raise the bar for performance, value and user satisfaction with a 90-meter range, sleek ergonomics and a smart communication stand that serves seven scanners.

ARTICLE No.:

BI-BZ-R15BU

Availability:

14 pcs

Warranty (months): 12 měsíců
Question to product Birch BZ-R01 RF2.4Ghz linear imager scanner, Black, USB HID dongle
To PDF
Compare