Fast and ergonomically designed advanced compact 1D and 2D barcode scanner with optional 3in1 stand.
CipherLab 1504A 2D Reader (scanner only)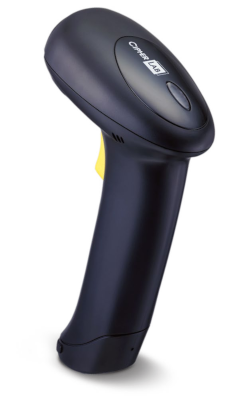 Lightweight and ergonomic, this 1D and 2D scanner enables workers to capture critical data from 2 to 57 cm away quickly, accurately, and comfortably shift after shift in any work environment. Together with its build test-proven to survive 1.2 m drops onto concrete the 1504A makes one reliable and valuable choice for 2D codes scanning.
Main Highlights Of CipherLab 1504A 2D Bar Code Scanner
able to read1D and 2D bar code from 2 to 57 cm (0.8 to 22.4 in.) away
lightweight, ergonomic design for repetitive use
innovative 3-in-1 handsfree scanning, desktop, or wall mount stand for easy scanning
test-proven to withstand 1.2 m (3.9 ft.) multiple drops from concrete
supports multiple languages and symbologies for worldwide applications
widely programmable ScanMaster software included free with purchase for data editing support, interface selection, and symbology configuration
Required accessories
The device will not work without these accessories:
| ARTICLE No. | Name | Availability | Price | incl. VAT | |
| --- | --- | --- | --- | --- | --- |
| A1504-CBLR | CipherLab Straight RS232 Cable for 1504/1704 series | 4 pcs | 161,- CZK | 194,8 CZK | |
| A1504-CBLU | CipherLab Straight USB Cable for 1504/1704 series | 7 pcs | 161,- CZK | 194,8 CZK | |
Recommended Accessories
| ARTICLE No. | Name | Availability | Price | incl. VAT | |
| --- | --- | --- | --- | --- | --- |
| A1500-STAND | CipherLab 1500 Autosense stand, black | 5 pcs | 402,- CZK | 486,4 CZK | |
Technical Description:
Functionality & Operation
1D Barcode Symbologies
All standard one-dimension barcodes
2D Code Symbologies
all standard 2D-Codes
Configuration
by programming barcodes, ScanMaster utility
Optical
Light source
visible red LED 625nm
Scanning rate
60 scans/s
PCS min
30%
Bar code scanner
2D Imager
Electrical
Power Consumption - Standby
22mA
Power Consumption - Operation
150mA
Mechanical
Weight
154g
Color
black
Environment
Operating temperature
50 to 0°C
Storage temperature
60 to 0°C
Relative humidity (non-condensing)
95 to 0%
Maximal ambient light
100000lux
Shock resistance
drop from 1.2 m onto concrete surface
Electrical static discharge
±8kV contact / ±15kV air
Ingress protection
IP30
Others
Certifications
BSMI, CE, RCM, FCC, IC, KCC
Warranty
3 years
You must login first to get allowance for downloading files, which are not publicly free.
File
Description
Free for download
DS_CPL_1500P_1502_1560P_1562_1564A_EN.pdf
Size: 1.54 MB, Language: en
MD5: a958d31571e2717d11170c2efce07630
Datasheet for CipherLab 1500P, 1560P, 1502, 1562 and 1564Abar code scanners
Download
Cipher2DKey.zip
Size: 1.12 MB, Language: en
MD5: 2f1eb0d2fb1430a7dd6e066f2bef0a96
Cipher2DKey utiliti for encoding 2D code UTF8
Download
softwedge.zip
Size: 1.68 MB, Language: en
MD5: d3d9419d56f0e344f79e8c66e31ab762
Eavesdropping Program COM port - suitable for use all readers emulation RS232, VCOM. (Transfer from RS232 to KBW)
Download
DS_FullLine_Brochure_CZ.pdf
Size: 4.03 MB, Language: cs
MD5: d1a9ea74df55be28a4895f0247ad098f
CipherLab: CipherLab products brochure
Download
DS_FullLine_Brochure_EN.pdf
Size: 1.82 MB, Language: en
MD5: 8832ed2635b050e90ec969edf45b8564
CipherLab: CipherLab products brochure
Download
Loading other files from the documentation system... please wait.

ARTICLE No.:

BI-BS-111-BU

Availability:

Ongoing [i]

Warranty (months): 12 měsíců
Question to product CipherLab 1504A 2D Reader (scanner only)
To PDF
Compare