Handheld Barcode Reader Datalogic Gryphon GD4430 combines advanced 2D code reading with motion sensing technology, so the result is a user-friendly device with outstanding performance. Gryphon ™ 4000 series represents the premium-class collection of Datalogic readers for common use.
Datalogic Gryphon GM4400: 2D imager, wireless, USB, Black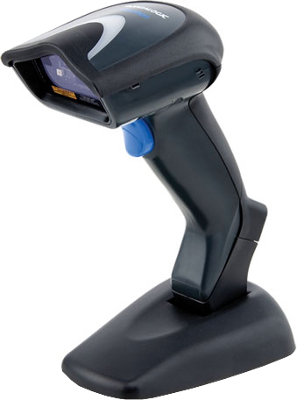 Reader Datalogic Gryphon GD4430 offers elegant reading of all common 1D, 2D, postal, warehousing and kobinovaných (PDF417) codes. User comfort is increased thanks to the flicker free shooting red rays. The light is so much less aggressive to the eyes compared to competing devices. Box of 4 corner pixels precisely defines the area that is scanned. The central cross then determines the center of various 2D codes. Motion Detection Technology Datalogic Motionix ™ automatically switches between handheld and stationary mode.
Main features barcode readers Datalogic Gryphon 4430:
omnidirectional reading
highly visible 4-point finder
decodes 1D, 2D, postal, stacked and composite codes
scan images / documents
warm lighting for users
high tolerance of movement
Required accessories
The device will not work without these accessories:
None available
Recommended Accessories
| ARTICLE No. | Name | Availability | Price | incl. VAT | |
| --- | --- | --- | --- | --- | --- |
| GD4430-HOLDER-B | Datalogic Gryphon GD4430 Holder, Black | On Request | 254,- CZK | 307,3 CZK | |
| GD4430-WAR-5Y | Datalogic Gryphon GD4430: 5 years warranty | On Request | 928,- CZK | 1 122,9 CZK | |
Technical Description:
Functionality & Operation
1D Barcode Symbologies
All standard one-dimension barcodes
2D Code Symbologies
all standard 2D-Codes
Postal Codes
Australian, British, Planet Code, China, KIX (Netherlands), Japanese, Postnet, Korea
Communication interface
USB, RS232
Optical
Light source
visible laser diode VLD 650 nm
Optical system
linear laser
Electrical
Power Consumption - Standby
0.325W
Power Consumption - Operation
160 mAh
Mechanical
Dimensions
Width: 100mm, Height: 71mm, Length: 181mm
Weight
195g
Color
black
Environment
Operating temperature
0 to 50°C
Storage temperature
-20 to 70°C
Relative humidity (non-condensing)
5 to 95%
Shock resistance
drop from 1,8 m on to concrete surface
Ingress protection
IP52
Others
Certifications
RoHS, IEC 60825-1: Class 2
Warranty
5 years
You must login first to get allowance for downloading files, which are not publicly free.
File
Description
Free for download
softwedge.zip
Size: 1.68 MB, Language: en
MD5: d3d9419d56f0e344f79e8c66e31ab762
Eavesdropping Program COM port - suitable for use all readers emulation RS232, VCOM. (Transfer from RS232 to KBW)
Download
gm4400-datasheet.pdf
Size: 307.35 KB
MD5: 5e8b97e516623b8c536082a1dfa5bb72
Datalogic Gryphon GM4400 - datasheet
Download
Loading other files from the documentation system... please wait.

With raising demands for advanced scanning abilities in many industries, such as retail, warehousing and light industry, CipherLab has attentively designed the durable 2500 series handheld scanner to suit various applications in harsh environments. CipherLab 2500…
Question to product Datalogic Gryphon GM4400: 2D imager, wireless, USB, Black
To PDF
Compare