VGA 3.7", PXA300 @ 625MHz, 256MB RAM + 1GB Flash. Package content: terminal, battery, SD-card, screen protector, stylus
Honeywell Dolphin 9700 WPAN/WLAN/WWAN/GPS/Camera, 2D Imager, QWERTY, WM6.5 Pro ENG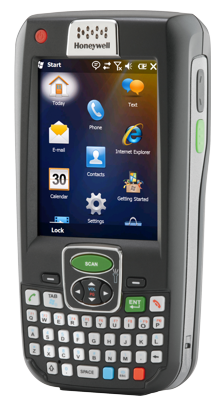 Integrated global high-speed wireless technology
includes 3.5G GSM/HSDPA and 802.11 a/b/g for real-time data exchange and voice communications, plus Bluetooth for efficient wireless connection to peripheral devices and IrDA
Adaptus® Imaging Technology 5.0
reads linear and 2D bar codes, captures digital images, and enables electronic signature captureenabling workers to do more with a single device
Shift-PLUS™ power management technology
enhances productivity by powering real-time wireless and multi-media applications continuously for 8 hours of more
Automated assisted GPS (A-GPS)
technology improves satellite connection speed and tracking continuity in weak signal areas while simplifying device set-up
Windows® Mobile 6.5
delivers enhanced touch-friendly user interface, improved web browsing functionality, and broad third-party application support
Color camera
with automated programming control provides easy integration of color picture and video capture into business applications while simplifying operator use
Real-time communication is critical in today's fast-paced global business environment. Mobile workers can perform a multitude of tasks on the Dolphin 9700, including business computing, e-mail, instant messaging, web browsing, voice calls, bar code scanning, picture taking, video recording, GPS tracking, and vehicle navigation. This consolidation of hardware simplifies workflow and significantly reduces expenses. High-speed wireless technology3.5G GSM/HSDPA, 802.11 a/b/g, Bluetooth®, IrDA and GPSconnects companies to customers and workers, regardless of location. The Dolphin 9700 maximizes worker productivity and comfort by providing an optimized user interface and system performance. Its contoured industrial design is easy to handle and provides a secure grip. A large 3.7" high-resolution VGA display ensures easy data interaction in any environment. An angled imager with ergonomic scan keys enables rapid, fatigue-free scanning, while a full QWERTY keyboard with enhanced navigation keys facilitates intuitive data input. Honeywell's Shift-PLUSTM power management system ensures continuous operation throughout an entire work shift, resulting in a lower total cost of ownership.
Automated intelligent multi-media technology enhances device utility. Adaptus® Imaging Technology 5.5 is paired with a fully-programmable color camera which allows enterprises to easily incorporate data, image and video capture into new or existing business applications, creating additional value which improves the bottom line.
Required accessories
The device will not work without these accessories:
| ARTICLE No. | Name | Availability | Price | incl. VAT | |
| --- | --- | --- | --- | --- | --- |
| 9700-CBL-R | Honeywell Komunikační a dobíjecí kabel RS232 pro Dolphin 9700, bez zdroje | 2 pcs | 1 700,- CZK | 2 057,- CZK | |
| 9700-HB-2 | Honeywell Dolphin 9700 HomeBase Kit, single bay charging cradle, USB+RS232 | 3 pcs | 1 119,- CZK | 1 354,0 CZK | |
| 9700-MC | Honeywell Dolphin 9700 Mobile Charge Cable kit - 12V vehicle charger | 1 pcs | 502,- CZK | 607,4 CZK | |
Recommended Accessories
| ARTICLE No. | Name | Availability | Price | incl. VAT | |
| --- | --- | --- | --- | --- | --- |
| 9700-SCRPRO3 | Honeywell Dolphin 9700 screen protectors - 3 kusy v balení | 1 pcs | 514,- CZK | 621,9 CZK | |
| S-PODPORA | Codeware Technical support - commenced 30 minutes | On stock | 350,- CZK | 423,5 CZK | |
| TERMINAL-ARCHITECT-E | Codeware Terminal Architect Editor: Software tool creator for app schema for mobile devices | On stock | 24 899,- CZK | 30 127,8 CZK | |
| TERMINAL-ARCHITECT-M | Codeware Terminal Architect Mobile: runtime app runs schemas created by the Terminal Architect Editor for mobile devices | On stock | 3 899,- CZK | 4 717,8 CZK | |
Technical Description:
Functionality & Operation
Keyboard
QWERTY
Operating system
Windows Mobile
Communication interface
Bluetooth 2.1, USB
GPS navigation
AGPS
WLAN Features
WLAN: IEEE 802.11 a/b/g/n
WPAN Features
Bluetooth® Class II v2.1 EDR
Optical
Bar code scanner
2D Imager
Mechanical
Dimensions
Width: 85mm, Height: 41mm, Length: 165mm
Weight
486g
Environment
Operating temperature
-10 to 50°C
Storage temperature
-20 to 70°C
Shock resistance
drop from 1,5 m onto concrete surface
Electrical static discharge
±8kV contact, ±15kV air
You must login first to get allowance for downloading files, which are not publicly free.
File
Description
Free for download
9700_DS_RevC_0711_EN.pdf
Size: 472.41 KB, Language: en
MD5: 6b93d6e45cb2364f77a8d9174d571406
Dolphin 9700: datasheet_EN
Download
97-CZ-QS.pdf
Size: 2.81 MB, Language: cs
MD5: 8f790def8bbdc733a0c6a783b0d6459a
Quick user guide for Honeywell Dolphin 9700
Download
97-QS.pdf
Size: 2.79 MB, Language: en
MD5: f759125aac442f1f8d4cafbfa5ce1cb0
Quick user guide for Honeywell Dolphin 9700
Download
DS_Dolphin_9700_Datasheet_EN_FTP.pdf
Size: 816.9 KB, Language: en
MD5: fc4a4403846d387ec1b6269140e7a803
Datasheet
Download
IU_9700_EN_FTP.pdf
Size: 9.52 MB, Language: en
MD5: 7120b5b6764f3ca59706451cf8a63806
User guide
Download
IU_Dolphin_9700-quickstart-CZ_ftp.pdf
Size: 2.81 MB, Language: cs
MD5: 8f790def8bbdc733a0c6a783b0d6459a
Download
Tools&Demos_honeywel_ter.rar
Size: 12.27 MB, Language: en
MD5: b2b6c68fd35b88c73bf28971b97e4f1c
Package of utilities for the terminal Honeywell.
Download
Utility_9700.rar
Size: 4.01 MB, Language: en
MD5: e08461dca0b76b4192e48ddf65a37d63
Utility for Dolphin 9700
Download
Setup_MobileStore.NET.zip
Size: 45.84 MB, Language: cs
MD5: cf83f4a27897c1129813924d0bafc805
Applications for store operations in ERP systems ABRA G2/G3/G4 and HeliosGreen. Programs are also usable for creating the documents with output to the TXT/CSV files. Supported portable terminals: proprietary on-line/off-line terminals CipherLab CPT-8xxx and WinCE/WinMobile terminals. As a data source can be used wide range of TXT/CSV/XLS(X) files, ODBC databases and web services.
Download
Setup_MobileOperator.zip
Size: 5.83 MB, Language: cs
MD5: 69b8618fa11aca52f273821cd1089393
Application for data collecting using the proprietary on-line terminals CipherLab CPT-8x70 or terminals with WinCE/WinMobile OS. Program can read information about the scanned code from various sources (TXT/CSV/XLS(X) files, ODBC databases, web services) and save output terminal data to the TXT/CSV files, databases or send them to the web service. Installation package also contains test settings, database, firmware for CipherLab CPT-8xxx portable terminals and basic application sheet for receiving and delivering.
Download
SD_karta_pro_Win_terminaly.zip
Size: 151.96 MB, Language: cs
MD5: 186764b89ea5518e9aa860f1f61abf2f
Support for portable terminals with Windows CE and Windows Mobile operating system. The package contains the list of applications, installations and URL shortcuts to download apps for the specific types of terminals.
Download
TerminalArchitect.zip
Size: 19.21 MB, Language: cs
MD5: b9350ffdca9a012a7b20f335352595cd
Program (DEMO version) for creating and processing application schemes. User can use the editor to create any number of scheme sets. Each scheme set can contain any number of scheme objects like Timer, Send data to TCP/IP, Message, ... There is over a sixty different types of scheme objects capable to perform some operation (reading data from database, writing data to TXT/CSV/XLS/... file, showing the user menu or form, writing data to the serial port, ...) that can be used to connect to each other and create required functionality. There is also several types of starting objects that determine the scheme's processing type (Application, Timer, TCP/IP server, ...). The application is designed for the Windows XP/Vista/7/8.x/10 and for the devices using the WindowsCE and WindowsMobile operating systems.
Download
Loading other files from the documentation system... please wait.
Question to product Honeywell Dolphin 9700 WPAN/WLAN/WWAN/GPS/Camera, 2D Imager, QWERTY, WM6.5 Pro ENG
To PDF
Compare