Purpose built for transportation and logistics applications, Dolphin 99EX mobile computer provides user-friendly design, wireless technology, multi-functional data capture and extreme durability.This reliable and intuitive mobile terminal delivers an outstanding feature set that enables improved productivity for mobile workers.Devices are available with many configurations for all customer´s needs.
This product is no longer available. Please choose from similar products.

Honeywell's Dolphin® 9700 is a rugged digital assistant that is equipped with multi-functional data collection and communications capabilities in one reliable, easy-to-use device. The Dolphin 9700 allows companies specializing in parcel delivery, route accounting,…
Honeywell Dolphin 99EX WPAN/WLAN/Camera, 34 kláves, WEH 6.5 Classic ENG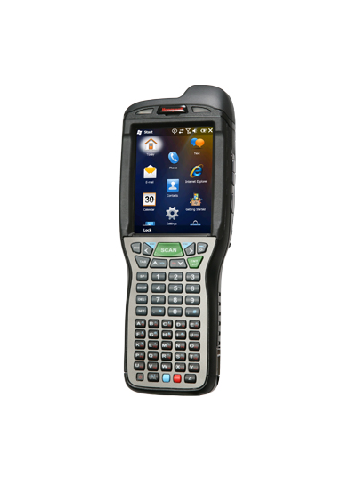 Fast and Reliable Wireless Connectivity

: Delivers full wireless coverage for applications inside and outside of the four walls, allowing real-time access to critical data

Optimal Combination of Performance and Usability:

Improves ease of use and worker efficiency with a large outdoor-viewable screen, multiple keypad options, a super fast CPU and smart sensors

Shift-PLUS Power Management:

Enhances productivity by providing full shift battery life, eliminating the need for employees to carry spare batteries or chargers

Adaptus® Imaging Technology 6.0:

Enables multifunctional data capture by providing fast scanning of linear and 2D bar codes with excellent motion tolerance, as well as seamless image capture through use of an integrated color camera

Superior Durability:

Incorporates an IP67-rated design that withstands multiple 6 feet drops to concrete and 2,000 1 meter tumbles, resulting in a lower total cost of ownership for enterprises
Required accessories
The device will not work without these accessories:
| ARTICLE No. | Name | Availability | Price | incl. VAT | |
| --- | --- | --- | --- | --- | --- |
| 99EX-CBL-U | Honeywell Dolphin 99EX USB Charging and communications cable with snap | Usually 20 days | 2 030,- CZK | 2 456,3 CZK | |
Recommended Accessories
| ARTICLE No. | Name | Availability | Price | incl. VAT | |
| --- | --- | --- | --- | --- | --- |
| 99EX-BAT | Honeywell Battery for Dolphin 99EX | Usually 20 days | 2 070,- CZK | 2 504,7 CZK | |
| 99EX-BAT-EX | Honeywell High Capacity Battery for Dolphin 99EX-GX (Li-Ion, 3.7V, 18.5 Watt Hour) | Usually 20 days | 1 784,- CZK | 2 158,6 CZK | |
| 99EX-HB-2 | Honeywell Dolphin 99EX HomeBase Kit, USB com. and charging Base (Honeywell) | Usually 20 days | 3 978,- CZK | 4 813,4 CZK | |
| S-PODPORA | Codeware Technical support - commenced 30 minutes | On stock | 350,- CZK | 423,5 CZK | |
Technical Description:
Functionality & Operation
Keyboard
34 keys
Operating system
Microsoft Windows Embedded Handheld Professional and Classic
Wireless communication
Bluetooth®, GPS, WiFi, GSM, EDGE, GPRS
Communication interface
Audio, IrDA, RS232, USB
1D Barcode Symbologies
All standard one-dimension barcodes
2D Code Symbologies
all standard 2D-Codes
Display type
3.7"" transflective displej, VGA (480x640)
Memory
1024MB Flash, 256MB DRAM
WPAN Features
Bluetooth® Class II v2.1 EDR
WLAN Features
WLAN: IEEE 802.11 a/b/g/n
Touch-screen panel
Yes
Audio
speaker
Expansion slot
Micro SD Card (SDHC)
GPS navigation
SiRF Star III
WWAN Features
GSM/GPRS/EDGE: Quad band 850 / 900 / 1800 / 1900 MHz
Optical
Bar code scanner
Laser
Electrical
Main battery pack
Li-Ion 3060 mAh, 3,6V
Main battery pack operating time
10hod
Mechanical
Dimensions
Width: 39mm, Height: 215mm, Length: 69mm
Weight
520g
Environment
Operating temperature
-20 to 50°C
Storage temperature
-25 to 70°C
Shock resistance
Withstands multiple drops from 1,8 m to concrete, in all axis and in operating temperature range
Storage humidity (non-condensing)
0 to 95%
Operating humidity (non-condensing)
0 to 95%
Electrical static discharge
±8kV contact, ±15kV air
Ingress protection
IP67
Others
Warranty
1 year
Development tools
Honeywell SDK for Windows® Embedded
You must login first to get allowance for downloading files, which are not publicly free.
File
Description
Free for download
99EX-QS Rev C.pdf
Size: 2.75 MB, Language: en
MD5: 50b8a58c1a5fca400378ee0ecfc203d5
Dolphin 99EX: user´s guide_EN
Download
Dolphin99ex_DS_RevC_0311_EN.pdf
Size: 766.08 KB, Language: en
MD5: 8bb9509c365d2507ef758448682a8b3c
Dolphin 99EX: datasheet_EN
Download
99EX-CZ-QS.pdf
Size: 3.53 MB, Language: cs
MD5: 4a71c92f12865133b2407a64ea9bfbc9
Quick user guide for Honeywell Dolphin 99EX
Download
DS_Dolphin99EX_DS_EN_FTP.pdf
Size: 766.08 KB, Language: en
MD5: 8bb9509c365d2507ef758448682a8b3c
Datasheet
Download
IU_99EX_Quick_Start_ftp.pdf
Size: 3.27 MB, Language: en
MD5: 8169ea0ac708b94e5814863b904f5794
Quick user guide
Download
IU_99EX_ftp.pdf
Size: 13.72 MB, Language: en
MD5: 35ff1784d07d9c80b017cd5e06a213dc
User guide
Download
Tools&Demos_honeywel_ter.rar
Size: 12.27 MB, Language: en
MD5: b2b6c68fd35b88c73bf28971b97e4f1c
Package of utilities for the terminal Honeywell.
Download
Setup_MobileStore.NET.zip
Size: 45.84 MB, Language: cs
MD5: cf83f4a27897c1129813924d0bafc805
Applications for store operations in ERP systems ABRA G2/G3/G4 and HeliosGreen. Programs are also usable for creating the documents with output to the TXT/CSV files. Supported portable terminals: proprietary on-line/off-line terminals CipherLab CPT-8xxx and WinCE/WinMobile terminals. As a data source can be used wide range of TXT/CSV/XLS(X) files, ODBC databases and web services.
Download
Setup_MobileOperator.zip
Size: 5.83 MB, Language: cs
MD5: 69b8618fa11aca52f273821cd1089393
Application for data collecting using the proprietary on-line terminals CipherLab CPT-8x70 or terminals with WinCE/WinMobile OS. Program can read information about the scanned code from various sources (TXT/CSV/XLS(X) files, ODBC databases, web services) and save output terminal data to the TXT/CSV files, databases or send them to the web service. Installation package also contains test settings, database, firmware for CipherLab CPT-8xxx portable terminals and basic application sheet for receiving and delivering.
Download
SD_karta_pro_Win_terminaly.zip
Size: 151.96 MB, Language: cs
MD5: 186764b89ea5518e9aa860f1f61abf2f
Support for portable terminals with Windows CE and Windows Mobile operating system. The package contains the list of applications, installations and URL shortcuts to download apps for the specific types of terminals.
Download
TerminalArchitect.zip
Size: 19.21 MB, Language: cs
MD5: b9350ffdca9a012a7b20f335352595cd
Program (DEMO version) for creating and processing application schemes. User can use the editor to create any number of scheme sets. Each scheme set can contain any number of scheme objects like Timer, Send data to TCP/IP, Message, ... There is over a sixty different types of scheme objects capable to perform some operation (reading data from database, writing data to TXT/CSV/XLS/... file, showing the user menu or form, writing data to the serial port, ...) that can be used to connect to each other and create required functionality. There is also several types of starting objects that determine the scheme's processing type (Application, Timer, TCP/IP server, ...). The application is designed for the Windows XP/Vista/7/8.x/10 and for the devices using the WindowsCE and WindowsMobile operating systems.
Download
Loading other files from the documentation system... please wait.

Honeywell's Dolphin® 9700 is a rugged digital assistant that is equipped with multi-functional data collection and communications capabilities in one reliable, easy-to-use device. The Dolphin 9700 allows companies specializing in parcel delivery, route accounting,…
Question to product Honeywell Dolphin 99EX WPAN/WLAN/Camera, 34 kláves, WEH 6.5 Classic ENG
To PDF
Compare