Rugged Smartphone with Windows Mobile (PDA), built-in barcode reader, camera and GPS. Unlike similar products, this one has widescreen WQVGA screen and the control environment SPB Shell 3D.
CipherLab CP30 WM 6.5 Pro, 2D Imager, BT, Wi-Fi, 3G WCDMA, GSM/GPRS/EDGE, WQVGA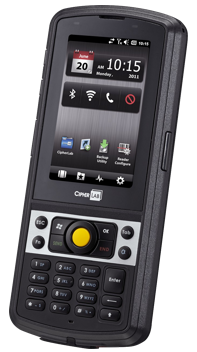 Compact mobile enterprise computer CipherLab CP30 allows not only easy data collection with on-line processing through all kinds of wireless connection, it also adds phone functionality. CP30 provides a flexible and easy navigation with CipherLab Smart Shell interface and thus increases the work efficiency of operator.
Key Features Of CipherLab CP30 Terminal
Compact and functional mobile computer with easy-to-use interface
Windows Mobile 6.5 operating system
All-in-one wireless connectivity with 3.5G WWAN, WLAN and WPAN
CipherLab Smart Shell enables simple and flexible application navigation
Laser barcode reader or 2D imager
Built-in 3.2 megapixel auto focus camera
GPS/AGPS navigation
Wide range of software tools for easy and fast customization
Required accessories
The device will not work without these accessories:
None available
Recommended Accessories
| ARTICLE No. | Name | Availability | Price | incl. VAT | |
| --- | --- | --- | --- | --- | --- |
| A1861-SM-HOL | CipherLab Universal holder of mobile device for CipherLab 1861 | 8 pcs | 871,- CZK | 1 053,9 CZK | |
| A910-APPLC-WEH | CipherLab AppLock, activation key for1 terminal with WEH OS | On stock | 363,- CZK | 439,2 CZK | |
| CP30-BAT | CipherLab CP30 Recharchable battery, Li-Ion, 2200 mAh | 4 pcs | 992,- CZK | 1 200,3 CZK | |
| CP30-CRD | CipherLab CP30-CRD Charging & Communication Cradle, with battery | 1 pcs | 3 045,- CZK | 3 684,5 CZK | |
| TERMINAL-ARCHITECT-E | Codeware Terminal Architect Editor: Software tool creator for app schema for mobile devices | On stock | 24 899,- CZK | 30 127,8 CZK | |
| TERMINAL-ARCHITECT-M | Codeware Terminal Architect Mobile: runtime app runs schemas created by the Terminal Architect Editor for mobile devices | On stock | 3 899,- CZK | 4 717,8 CZK | |
Technical Description:
Functionality & Operation
1D Barcode Symbologies
All standard one-dimension barcodes
2D Code Symbologies
all standard 2D-Codes
Display type
3.2"" WQVGA, 240x400, TFT LCD, LED backlight, 65K color
Expansion slot
Micro SD Card (SDHC)
Operating system
Microsoft Windows Mobile Professional
Keyboard
24 keys, with backlight
Memory
256MB DRAM, 512MB Flash
Wireless communication
Bluetooth®, GPS, WiFi, GSM, EGPRS, GPRS, UMTS, WCDMA
Communication interface
USB
Bluetooth profiles
GAP, GOEP, HFP, HSP, OPP, PAN, A2DP, AVRCP, PBAP, DUN, HID, SPP
WPAN Features
Bluetooth® Class II v2.1 EDR
GPS navigation
AGPS
WLAN Features
WLAN: IEEE 802.11 b/g
WWAN Features
EGPRS/EDGE: Multi-Slot Class 12, WCDMA 2100MHz, UMTS (DL/UL, HSDPA 7.2Mbps, HSUPA 2Mbps), GPRS Class 12
Optical
Bar code scanner
2D Imager
Camera
3,2 MPix, with Autofocus
Electrical
Main battery pack
Li-Ion 2200 mAh, 3,7V
Mechanical
Dimensions
Width: 162mm, Height: 69mm, Length: 27mm
Weight
255g
Environment
Operating temperature
-10 to 55°C
Storage temperature
-20 to 70°C
Shock resistance
Withstands multiple drops from 1,2 m to concrete, in all axis and in operating temperature range
Storage humidity (non-condensing)
5 to 95%
Operating humidity (non-condensing)
10 to 90%
Electrical static discharge
±8kV air, ±4kV contact
Ingress protection
IP42
Others
Certifications
BSMI, FCC, CCC, CE, MII
Bundled software
Backup Utility, Button Assignment, Reader Configuration, WiFi Configuration, Windows Application Generator (CODEWARE), MIRROR Browser, Signature Capture, GPS Viewer
Recommended software
App-Lock, Kalipso Mobile Application Generator, SOTI MobiControl (remote devices control)SOTI MobiControl (Remote Device Management)
Optional accessories
belt holster, charging and communication cradle, protective cover, vehicle charger
Bundled Accessories
USB cable, headphones, charging supply, battery
Development tools
C++/.NET DLL, SDK to support Microsoft® Visual studio 2005, Microsoft® Visual Studio 2008
You must login first to get allowance for downloading files, which are not publicly free.
File
Description
Free for download
CP30_DotNetDLL.zip
Size: 3.42 MB, Language: en
MD5: b69c48a0105a2fe4c96164aadbec7f75
Library for developers for CipherLab CP30 in DotNet
Download
CP30_Sample_Code.zip
Size: 516.43 KB, Language: en
MD5: 92e3ff5720f85a8cd863a4ba3723cacc
Examples of programming CipherLab CP30 in DotNet
Download
Setup_MobileStore.NET.zip
Size: 45.84 MB, Language: cs
MD5: cf83f4a27897c1129813924d0bafc805
Applications for store operations in ERP systems ABRA G2/G3/G4 and HeliosGreen. Programs are also usable for creating the documents with output to the TXT/CSV files. Supported portable terminals: proprietary on-line/off-line terminals CipherLab CPT-8xxx and WinCE/WinMobile terminals. As a data source can be used wide range of TXT/CSV/XLS(X) files, ODBC databases and web services.
Download
Setup_MobileOperator.zip
Size: 5.83 MB, Language: cs
MD5: 69b8618fa11aca52f273821cd1089393
Application for data collecting using the proprietary on-line terminals CipherLab CPT-8x70 or terminals with WinCE/WinMobile OS. Program can read information about the scanned code from various sources (TXT/CSV/XLS(X) files, ODBC databases, web services) and save output terminal data to the TXT/CSV files, databases or send them to the web service. Installation package also contains test settings, database, firmware for CipherLab CPT-8xxx portable terminals and basic application sheet for receiving and delivering.
Download
EN_SD_Download_CP30_0_025_0409_110809.zip
Size: 77.26 MB, Language: en
MD5: f7953cf5b0554e771b892df6932ca72d
This is the first release of English OS image Windows for CP30
Download
CP30_Patch_V2.0.CAB
Size: 3.48 MB, Language: en
MD5: 507cacbec4bde0d3c5b29841c4019a09
Hotfix for CP30
Download
CP30_CipherLab_Smart_Shell_User_Guide_v1.00.pdf
Size: 2.63 MB, Language: en
MD5: 66a4eb7960f0aee2724033d6a11eca53
CP30 CipherLab Smart Shell User Guide
Download
SmartShellInstaller_1.1.4.CAB
Size: 8.2 MB, Language: en
MD5: a604f2226ab650334c2be3bb98e4e959
Smart Shell for Windows CP30, CP50, CP60, 9200 CipherLab
Download
CP30BatchAGv1010.zip
Size: 821.92 KB, Language: en
MD5: bf352a526ac527c2d11074be244671c9
CP30 Batch Forge AG Application Generator
Download
SD_karta_pro_Win_terminaly.zip
Size: 151.96 MB, Language: cs
MD5: 186764b89ea5518e9aa860f1f61abf2f
Support for portable terminals with Windows CE and Windows Mobile operating system. The package contains the list of applications, installations and URL shortcuts to download apps for the specific types of terminals.
Download
DS_CP30_Brochure_EN.pdf
Size: 1.22 MB, Language: en
MD5: 3e06c81d9384e69a3e3e5384d239e6a2
Catalogue datasheet of the CipherLab CP30
Download
CP30_Reference_Manual.pdf
Size: 8.6 MB, Language: en
MD5: 24db7606678d4aa50e26e99fbc202bde
User's guide for the CipherLab CP30
Download
AppLock_Windows.zip
Size: 1.58 MB, Language: en
MD5: 1b67c1fd7bcc5431161d67a09ef67827
The application for CipherLab mobile terminals, allows to disable an operator to run other applications than needed for his/her job.
Download
TerminalEmulation.zip
Size: 3.65 MB, Language: en
MD5: 87da5a1f1ea06a7243f90b0f791ada2f
The application for mobile terminals CipherLab, emulation of terminal VT or emulation of terminal 5250 with built-in functions for barcode scanner of the device.
Download
SignatureCaptureDemo.zip
Size: 769.79 KB, Language: en
MD5: e40e75e77c78f4fc8396883824f8d55f
The application for CipherLab mobile terminals, retrieve the signature from the screen and save it as an image.
Download
CipherLab Service Advantage Brochure.pdf
Size: 1.03 MB, Language: en
MD5: 984a93d11ad952c94a61ac487c0ad0c4
Description of the additional CSA
Download
MirrorBrowser.zip
Size: 1.64 MB, Language: cs
MD5: 5ed915839c31f729d322f65edce6211e
Web browser for CipherLab terminals with Windows operating system. The browser has extended ability to control bar code and/or RFID reader. Using the HTML files is possible to achieve similar functionality as with the previously used application generator. The package contains installation files for the Windows terminals and the application's manual.
Download
CP30-zkraceny_uzivatelsky_manual-cdw.pdf
Size: 20.09 MB
MD5: 215c43b488dbc003a0b236834c4dd52a
CP30 user manual CZ cdw
Download
CP30_SDK.ZIP
Size: 107.38 KB, Language: cs
MD5: df8e279aa734bd69cbb3689194655fea
SDK for developing the applications for the CipherLab CP30 terminal. Usable for the C/C++ and .NET environment.
Download
TerminalArchitect.zip
Size: 19.21 MB, Language: cs
MD5: b9350ffdca9a012a7b20f335352595cd
Program (DEMO version) for creating and processing application schemes. User can use the editor to create any number of scheme sets. Each scheme set can contain any number of scheme objects like Timer, Send data to TCP/IP, Message, ... There is over a sixty different types of scheme objects capable to perform some operation (reading data from database, writing data to TXT/CSV/XLS/... file, showing the user menu or form, writing data to the serial port, ...) that can be used to connect to each other and create required functionality. There is also several types of starting objects that determine the scheme's processing type (Application, Timer, TCP/IP server, ...). The application is designed for the Windows XP/Vista/7/8.x/10 and for the devices using the WindowsCE and WindowsMobile operating systems.
Download
Loading other files from the documentation system... please wait.
Question to product CipherLab CP30 WM 6.5 Pro, 2D Imager, BT, Wi-Fi, 3G WCDMA, GSM/GPRS/EDGE, WQVGA
To PDF
Compare