Quad-core performance in a waterproof body. The ScanPal EDA50 enterprise hybrid device combines reliability and usability to provide mobile workers real-time visibility to business-critical information.
Honeywell ScanPal EDA50, odolný mobilní terminál, Android 4.4, 1D/2D, WiFi, kamera, BT, NFC, 3G, černý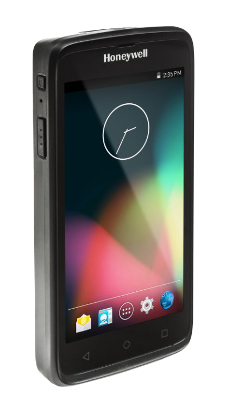 Honeywell's ScanPal EDA50 enterprise hybrid device delivers exceptional end user experience for mobile workers inside the four walls. The ScanPal EDA50 combines reliability and usability to provide mobile workers real-time visibility to business-critical information. Designed for healthcare applications such as point-of-care, specimen collection and inventory management, which require reliable access to communication and information and a device that can be cleaned to support a high level of patient safety protection in demanding environments, Honeywell's latest ScanPal EDA50hc delivers smooth multi- task processing, intuitive user interface, and the ability to improve productivity.
Key features ScanPal EDA50:
An industry-leading platform: Qualcomm® Snapdragon™ 410 processor with 1.2 GHz quad-core CPU enables fast access to business- critical applications.
Large, 12.7-cm (5-in) Corning Gorilla® capacitive touchscreen is readable both indoors and outdoors, and works when used with wet hands.
Lightweight design offering the user the perfect combination of durability, comfort, convenience and portability. Small enough to fit conveniently into a pocket
Featuring smart battery technology, the ScanPal EDA50 device can power through a full shift and beyond.
ScanPal EDA50 devices can be easily connected to multiple devices, providing the ability to support more use cases and applications
Required accessories
The device will not work without these accessories:
None available
Recommended Accessories
| ARTICLE No. | Name | Availability | Price | incl. VAT | |
| --- | --- | --- | --- | --- | --- |
| EDA50-5LC3 | Honeywell EDA50, Limited Comprehensive, 5 Day Turn, 3 Year, Day One | On stock | 2 432,- CZK | 2 942,7 CZK | |
| EDA50-HB | Honeywell Charging base - Cradle for ScanPal EDA 50 | Usually 20 days | 1 098,- CZK | 1 328,6 CZK | |
| EDA50-HSK | Honeywell EDA50 Hand Strap kit, black | Usually 20 days | 506,- CZK | 612,3 CZK | |
Technical Description:
Functionality & Operation
Operating system
Android 4.4.4
Memory
2GB
1D Barcode Symbologies
All standard one-dimension barcodes
2D Code Symbologies
all standard 2D-Codes
Expansion slot
Micro SD Card (SDHC)
Wireless communication
Bluetooth®, WiFi
CPU Type
Qualcomm Snapdragon 410 MSM8916 Quad Core 1,2 GHz
Display type
Multi-touch capacitive, 5", 1280 × 720 High Definition
WPAN Features
Bluetooth® v4.0
WLAN Features
WLAN: IEEE 802.11 a/b/g/n
Optical
Bar code scanner
2D Imager
Camera
5 MPix, with Autofocus, with LED flash
Electrical
Main battery pack
Extended: Li-Ion 4000 mAh, 3,7V
Main battery pack operating time
12hod
Battery charging time
4hod
Mechanical
Dimensions
Width: 78.9mm, Height: 18mm, Length: 153.5mm
Weight
270g
Color
black
Environment
Operating temperature
-10 to 50°C
Storage temperature
-20 to 60°C
Relative humidity (non-condensing)
10 to 90%
Shock resistance
drop from 1,2 m onto concrete surface
Electrical static discharge
±8kV contact, ±15kV air
Ingress protection
IP54
Others
Warranty
1 year
You must login first to get allowance for downloading files, which are not publicly free.
Loading other files from the documentation system... please wait.
Question to product Honeywell ScanPal EDA50, odolný mobilní terminál, Android 4.4, 1D/2D, WiFi, kamera, BT, NFC, 3G, černý
To PDF
Compare