The H22 is designed with the technology and ruggedness to meet the demands of businesses that deploy field workers. The interactive mobile computer with excellent reading and touch screen performance uses the Windows Mobile® 6.5.3 platform providing the latest technology for mobile applications.
Opticon H22 1D rugged terminal with WM 6.5, BT, GSM/GPRS, WLAN, GPS, RFID (13.56 MHz), numeric keypad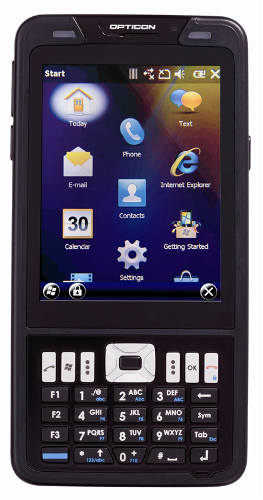 The sharp 3.7" color display with touch screen is among the largest screens available for mobile terminals. It provides users with an extremely user friendly interface for any field worker application. The 3.2 megapixel color camera with auto focus and flash light supports visual information to any issue. Besides linear barcodes, the H22-2D model also reads 2D and stacked codes, both from traditional media (labels etc.) as well as from the screens of other mobile devices.

The built-in A-GPS module (Assisted Global Positioning System) ensures simple and extremely fast detection of the current location and thus accelerated positioning and navigation. With its rugged housing, the H22 can withstand multiple drops onto concrete from 1.5 meters as well as adverse environmental conditions with its IP 65 compliant design.

Other devices can easily be connected via an USB cable or wirelessly via Bluetooth 2.1 and IrDA 1.3. The H22 can also log on to any WiFi® network available via wireless LAN to connect to the local ERP system. With the WLAN and microphone support, the H22 can be used for voice over IP. A dedicated cradle with charging and communication features rounds off the set of features that the H22 offers. Users will be able to use functions and enterprise applications at any time – regardless of the location. The H22 is available with either an alpha-numeric layout or a complete QWERTY keypad.
Opticon H22 is ideal solution for:
Logistics
Postal
Field service
Facility & Security
Required accessories
The device will not work without these accessories:
None available
Recommended Accessories
| ARTICLE No. | Name | Availability | Price | incl. VAT | |
| --- | --- | --- | --- | --- | --- |
| H21-BAT | Opticon Rechargeable battery for H21 or H22, Li-Ion, 3060mAh | 1 pcs | 984,- CZK | 1 190,6 CZK | |
| H22-CAR-KIT | Opticon CMK-22 Car Kit with Lighter Charger, Suction Cup and Fixed Holder for H22 | Usually 12 days | 1 356,- CZK | 1 640,8 CZK | |
| H22-CRD | Opticon CRD22 Charging and communication cradle for H22 | 1 pcs | 2 340,- CZK | 2 831,4 CZK | |
| TERMINAL-ARCHITECT-E | Codeware Terminal Architect Editor: Software tool creator for app schema for mobile devices | On stock | 24 899,- CZK | 30 127,8 CZK | |
| TERMINAL-ARCHITECT-M | Codeware Terminal Architect Mobile: runtime app runs schemas created by the Terminal Architect Editor for mobile devices | On stock | 3 899,- CZK | 4 717,8 CZK | |
Technical Description:
Functionality & Operation
Keyboard
QWERTY
RFID transponder protocols
13.56 MHz
Display type
3.7"" TFT LCD, VGA (480 x 640 pixels)
Operating system
Microsoft Windows Mobile Professional
Expansion slot
Micro SD Card (SDHC)
Memory
512MB Flash, 256MB DRAM
1D Barcode Symbologies
All standard one-dimension barcodes
2D Code Symbologies
all standard 2D-Codes
Wireless communication
Bluetooth®, GPS, WiFi, EGPRS, EDGE
Communication interface
Audio, IrDA, USB
WPAN Features
Bluetooth® Class II v2.1 EDR
GPS navigation
AGPS
WLAN Features
WLAN: IEEE 802.11 b/g
WWAN Features
EGPRS/EDGE: Multi-Slot Class 12
Optical
Camera
3,2 MPix
Electrical
Main battery pack
Li-Ion 3060 mAh, 3,6V
Mechanical
Dimensions
Width: 75mm, Height: 25mm, Length: 151mm
Weight
340g
Color
black
Environment
Operating temperature
-10 to 50°C
Storage temperature
-30 to 80°C
Shock resistance
drop from 1,5 m onto concrete surface
Storage humidity (non-condensing)
0 to 95%
Operating humidity (non-condensing)
0 to 95%
Ingress protection
IP65
Others
Certifications
CE, FCC, IEC 60825-1: Class 1, RoHS
Warranty
1 year
Bundled Accessories
battery, hand strap, headphones, stylus, USB cable
You must login first to get allowance for downloading files, which are not publicly free.
File
Description
Free for download
H22_leaflet.pdf
Size: 979.78 KB, Language: en
MD5: 3b541921d2d4139f9510e2d1cc349d8a
Datasheet
Download
H22_certifikace.pdf
Size: 49.22 KB, Language: en
MD5: a23a07679a7fff5cf9f9332dead19a5c
Certificate
Download
Setup_MobileStore.NET.zip
Size: 45.84 MB, Language: cs
MD5: cf83f4a27897c1129813924d0bafc805
Applications for store operations in ERP systems ABRA G2/G3/G4 and HeliosGreen. Programs are also usable for creating the documents with output to the TXT/CSV files. Supported portable terminals: proprietary on-line/off-line terminals CipherLab CPT-8xxx and WinCE/WinMobile terminals. As a data source can be used wide range of TXT/CSV/XLS(X) files, ODBC databases and web services.
Download
Setup_MobileOperator.zip
Size: 5.83 MB, Language: cs
MD5: 69b8618fa11aca52f273821cd1089393
Application for data collecting using the proprietary on-line terminals CipherLab CPT-8x70 or terminals with WinCE/WinMobile OS. Program can read information about the scanned code from various sources (TXT/CSV/XLS(X) files, ODBC databases, web services) and save output terminal data to the TXT/CSV files, databases or send them to the web service. Installation package also contains test settings, database, firmware for CipherLab CPT-8xxx portable terminals and basic application sheet for receiving and delivering.
Download
SD_karta_pro_Win_terminaly.zip
Size: 151.96 MB, Language: cs
MD5: 186764b89ea5518e9aa860f1f61abf2f
Support for portable terminals with Windows CE and Windows Mobile operating system. The package contains the list of applications, installations and URL shortcuts to download apps for the specific types of terminals.
Download
TerminalArchitect.zip
Size: 19.21 MB, Language: cs
MD5: b9350ffdca9a012a7b20f335352595cd
Program (DEMO version) for creating and processing application schemes. User can use the editor to create any number of scheme sets. Each scheme set can contain any number of scheme objects like Timer, Send data to TCP/IP, Message, ... There is over a sixty different types of scheme objects capable to perform some operation (reading data from database, writing data to TXT/CSV/XLS/... file, showing the user menu or form, writing data to the serial port, ...) that can be used to connect to each other and create required functionality. There is also several types of starting objects that determine the scheme's processing type (Application, Timer, TCP/IP server, ...). The application is designed for the Windows XP/Vista/7/8.x/10 and for the devices using the WindowsCE and WindowsMobile operating systems.
Download
Produkty_Opticon_CZ.pdf
Size: 3.53 MB, Language: cs
MD5: ef66088e9aad65979a615defb925c31a
Opticon products brochure
Download
Appload.zip
Size: 577.77 KB, Language: en
MD5: 49f39d4e9cefda509d73dd700c903752
Utility to upload an application or an operating system
Download
Loading other files from the documentation system... please wait.
Question to product Opticon H22 1D rugged terminal with WM 6.5, BT, GSM/GPRS, WLAN, GPS, RFID (13.56 MHz), numeric keypad
To PDF
Compare