Opticon adds a new dimension to its current range of mobile computing devices.. With the functionality of a PDA and the appearance of a smartphone, the H-27 is particularly suitable for mobile workers who need the combination of auto-ID and business critical information to carry out their work in a highly efficient way.
Opticon H27 - Rugged mobile terminal, 1D, WIFI, Bluetooth, Android, GPS, NFC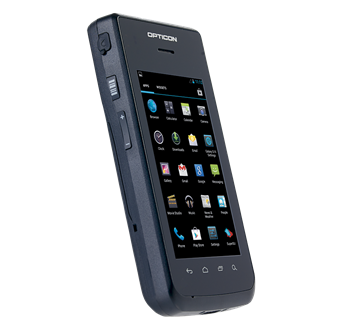 The device comes with an integrated 1D barcode reader or 2D imager. Due to the ergonomic design the H-27 is slimmer and lighter than an industrial device, and also stronger and more robust than a consumer phone. Moreover the 1.5 meter shock drop test, the IP65 rating, an operation temperature from -10° to 50° C and its 4.3"display (800 x 480 pixels) with Gorilla glass and anti-reflective coating give this Android 4.2.2 based device the durability you may expect.
The H-27 delivers a powerful application performance thanks to the powerful 1.5 GHz processor, 8 GB flash memory and a range of communication possibilities. The powerful standard high capacity battery (2860 mAh) which is good for full-shift operation and the various communication options such as Bluetooth 4.0, WiFi , IEEE 802.11 a/b/g/n , 2.5G , 3.5G , NFC, GPS and GLONASS enable the mobile worker to provide a better and faster service on site.
Required accessories
The device will not work without these accessories:
| ARTICLE No. | Name | Availability | Price | incl. VAT | |
| --- | --- | --- | --- | --- | --- |
| H-27-CRD | Opticon H27 - charging and communication cradle | 8 pcs | 1 467,- CZK | 1 775,1 CZK | |
Recommended Accessories
| ARTICLE No. | Name | Availability | Price | incl. VAT | |
| --- | --- | --- | --- | --- | --- |
| H-27-BAT | Opticon H27 - replacement battery | 1 pcs | 1 900,- CZK | 2 299,- CZK | |
Technical Description:
Optical
Bar code scanner
Laser
Sensors
Accelerometer, magnetometer, gyroscope, photometer, proximity sensor
Camera
5 MPix, with Autofocus, with LED flash
Functionality & Operation
Display type
4.3 "" TFT LCD
1D Barcode Symbologies
All standard one-dimension barcodes
2D Code Symbologies
all standard 2D-Codes
Wireless communication
NFC reader with embedded secure element, Bluetooth®, GPS, WiFi, GSM, GPRS, EDGE
Operating system
Android
Indicators
Visual: 2 LEDs (red/green), NON-VISUAL: Vibrate
Expansion slot
Micro SD Card (SDHC)
Keyboard
dedicated scan key,programmable keys,volume up and down keys,left and trigger keys
Memory
8GB Flash NAND, DDR2 1GB SDRAM and microSD up to 32GB
WPAN Features
Bluetooth® v4.0
GPS navigation
AGPS
WLAN Features
WLAN: IEEE 802.11 a/b/g/n
WWAN Features
GSM/GPRS/EDGE: Quad band 850 / 900 / 1800 / 1900 MHz
Electrical
Main battery pack
Rechargeable Li-Ion battery 2860 mAh, 3,7V
Main battery pack operating time
8hod
Charging method
Qualcomm Quickcharge 1.0
Battery charging time
2hod
Mechanical
Dimensions
Width: 77mm, Height: 19mm, Length: 147mm
Weight
244g
Color
black
Environment
Operating temperature
0 to 50°C
Storage temperature
-20 to 70°C
Shock resistance
drop from 1,5 m onto concrete surface
Storage humidity (non-condensing)
5 to 95%
Operating humidity (non-condensing)
5 to 95%
Ingress protection
IP65
Others
Optional accessories
charging and communication cradle
Warranty
1 year
Bundled Accessories
battery, headphones, power supply, USB cable, USB Charging and Communcation Cable
You must login first to get allowance for downloading files, which are not publicly free.
File
Description
Free for download
DS_Opticon_H27_EN.pdf
Size: 1.97 MB, Language: en
MD5: 0e019f6caf818705a154e186df70df91
Datasheet for Opticon H27 mobile terminal
Download
Opticon_H-27_Android_Enterprise_Terminal.flv
Size: 3.29 MB
MD5: 0b61970ba2caa6735c4c5d85d138d6b6
Opticon H-27 Android Enterprise Terminal van Headline video animaties 3D
Download
leaflet_H-27.pdf
Size: 239.47 KB
MD5: c29a5ad9a548c418317bcacb56406858
leaflet H27
Download
Produkty_Opticon_CZ.pdf
Size: 3.53 MB, Language: cs
MD5: ef66088e9aad65979a615defb925c31a
Opticon products brochure
Download
Appload.zip
Size: 577.77 KB, Language: en
MD5: 49f39d4e9cefda509d73dd700c903752
Utility to upload an application or an operating system
Download
Loading other files from the documentation system... please wait.

ARTICLE No.:

70E-L00-C122XE

Availability:

Product discontinued - can not be ordered

Warranty (months): 12 měsíců

ARTICLE No.:

70E-LW0-C122SE

Availability:

Product discontinued - can not be ordered

Warranty (months): 12 měsíců
Question to product Opticon H27 - Rugged mobile terminal, 1D, WIFI, Bluetooth, Android, GPS, NFC
To PDF
Compare