Motorola MC3190-Z is the mobile, industrial terminal provides not only barcode scanner, but thanks to RFID reader integreeritud and exceptional performance and the ability to read RFID tags in any position. The terminal is the perfect combination of high performance, ergonomic design and favorable price.This is particularly suitable for efficient condition monitoring of goods and assets such as inventory. In offices, shops or healthcare.
Zebra MC3190-Z Industrial mobile computer, laser, RFID, Wi-Fi, QVGA, WEH, pistol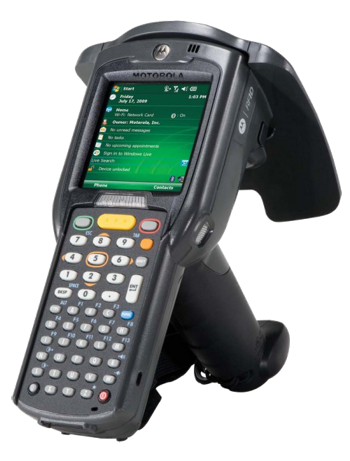 Motorola MC3190-Z is a new addition in the family of Motorola products, allowing the use of RFID technology in the UHF band, which is used in Europe 860 MHz frequency. This is the smallest and lightest mobile terminal with RFID reader and patented MAX RFID antenna design in hand. Of course there is a simple usability in retail, wholesale or industry. Pistol performance and lower weight predispose this model to the widest range of applications for RFID.
Main Features of the Motorola MC3190-Z:
reading RFID tags
robust construction
universal use
high performance
patented MAX RFID antenna
Longlife battery
Required accessories
The device will not work without these accessories:
None available
Recommended Accessories
| ARTICLE No. | Name | Availability | Price | incl. VAT | |
| --- | --- | --- | --- | --- | --- |
| MC3000-CRD | Zebra MC3000 - USB cradle | Usually 28 days | 3 728,- CZK | 4 510,9 CZK | |
| MOT-CBL-220V | Kabel síťový napájecí 220V, černý pro zařízení Motorola | 1 pcs | 205,- CZK | 248,1 CZK | |
| TERMINAL-ARCHITECT-E | Codeware Terminal Architect Editor: Software tool creator for app schema for mobile devices | On stock | 24 899,- CZK | 30 127,8 CZK | |
| TERMINAL-ARCHITECT-M | Codeware Terminal Architect Mobile: runtime app runs schemas created by the Terminal Architect Editor for mobile devices | On stock | 3 899,- CZK | 4 717,8 CZK | |
Technical Description:
Functionality & Operation
Display type
3 in. QVGA color display (320 x 320) touchscreen with backlight
Communication interface
USB, RS232
Keyboard
48 keys, alphanumeric
WPAN Features
Bluetooth® Class II v2.1 EDR
Operating system
Windows® Embedded Handheld
Memory
256MB DRAM, 1GB Flash
Frequency
UHF: 865 - 868 MHz (EU)
RFID transponder protocols
EPC Gen 2 DRM
1D Barcode Symbologies
All standard one-dimension barcodes
WLAN Features
WLAN: IEEE 802.11 a/b/g/n
Antennas, Antenna inputs
integrated RFID antenna
Optical
Bar code scanner
Laser
Electrical
Main battery pack
Extended: Li-Ion 4400 mAh, 3,7V
Mechanical
Dimensions
Width: 162.6mm, Height: 119.4mm, Length: 193.4mm
Weight
650g
Environment
Operating temperature
-10 to 50°C
Storage temperature
-30 to 70°C
Shock resistance
drop from 1,2 m onto concrete surface
Storage humidity (non-condensing)
5 to 95%
Operating humidity (non-condensing)
5 to 95%
Electrical static discharge
±8kV contact, ±15kV air
Ingress protection
IP54
Others
Certifications
EN 300 328, EN 302208, FCC Part 15, RSS 210, FCC (Class B), ICES-003 Class B, EN 301 489-1/3, UL 60950-01, EN 50364, FCC 47CFR2:OET Bulletin 65
Warranty
1 year
You must login first to get allowance for downloading files, which are not publicly free.
File
Description
Free for download
DS_mc3190z_EN.pdf
Size: 323.76 KB, Language: en
MD5: 730f86f48d039104c7f172981d7b8526
Catalogue sheet of the mobile terminal with built-in RFID reader Motorola MC3190-Z
Download
TerminalArchitect.zip
Size: 19.21 MB, Language: cs
MD5: b9350ffdca9a012a7b20f335352595cd
Program (DEMO version) for creating and processing application schemes. User can use the editor to create any number of scheme sets. Each scheme set can contain any number of scheme objects like Timer, Send data to TCP/IP, Message, ... There is over a sixty different types of scheme objects capable to perform some operation (reading data from database, writing data to TXT/CSV/XLS/... file, showing the user menu or form, writing data to the serial port, ...) that can be used to connect to each other and create required functionality. There is also several types of starting objects that determine the scheme's processing type (Application, Timer, TCP/IP server, ...). The application is designed for the Windows XP/Vista/7/8.x/10 and for the devices using the WindowsCE and WindowsMobile operating systems.
Download
Loading other files from the documentation system... please wait.
Question to product Zebra MC3190-Z Industrial mobile computer, laser, RFID, Wi-Fi, QVGA, WEH, pistol
To PDF
Compare