CipherLab RS50 series is a new touch mobile computer, which is well-balanced between ruggedness and user-friendly form factor to deliver superior user experience. Tailored for user's demands in logistics, field service, and warehousing, the RS50 series runs in Android 6.0 operating system and is equipped with a 4.7'' multi-touch display, wireless communications, application software, and development tools. All these featured designs are protected under the industrial standard up to IP67 to assure the performance in any harsh environments.
CipherLab RS50: Rugged Smartphone, Android, 2D, WiFi dual band, WPAN, WWAN - 3G/LTE, RFID, NFC, USB Kit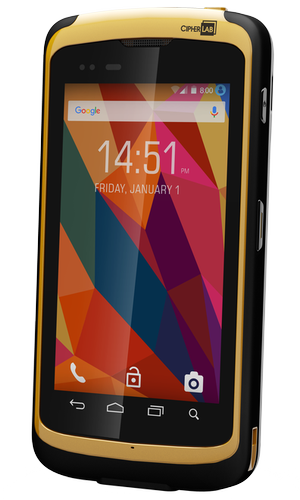 When you need a smartphone form factor with robust protection for use in logistics, on-site service, warehousing and similar, the RS50 is the perfect solution. Running on Android 6.0, this tough enterprise mobile computer is IP67-rated and survives multiple 1.8m drops to concrete. Integrated WWAN, WLAN and WPAN take care of voice and data comms and there's a choice of integrated barcode readers. With the enterprise in mind there are USB-connected cradles and ethernet comms. When the working environment is harsh, the RS50 is the smarter choice.
Key Features of Smartphone CipherLab RS50:
Full version of Android 6.0 with GMS
The fastest Cortex A56 processor, octa-core, 2 GHz
USB 2.0 OTG communication interface
Long battery life, up to 12 hours after charging
2 Dual SIM - 2 slots for 2 SIM cards + memory card slot
RFID and NFC reader as standard
4.7" capacitive touch display
IP67
Built-in multi-touch panel
Protective layer of display: Corning Gorilla Glass 3
battery backup with Hot swap
Lightweight 330 g
Camera 8 MPix
Wi-Fi and Bluetooth
2D Imager
Supported by the Sysdev KALIPSO Mobile Application Generator software development tool
Required accessories
The device will not work without these accessories:
None available
Recommended Accessories
| ARTICLE No. | Name | Availability | Price | incl. VAT | |
| --- | --- | --- | --- | --- | --- |
| CIP-SNP-PWR | CipherLab Power adapter for Snap-cable to CP55, CP60, CP9700, RS30, RS31, RS50, 100V-240V, 5V/4A, EU | 5 pcs | 794,- CZK | 960,7 CZK | |
| RS50-BAT | CipherLab RS50 Battery Module 5300mAh with NFC Antenna | 11 pcs | 2 866,- CZK | 3 467,9 CZK | |
| RS50-CARCRD1 | Carcomm Charging vehicle cradle for CipherLab RS50, fixed | Usually 26 days | 3 258,- CZK | 3 942,2 CZK | |
| RS50-CRD | CipherLab Charging and communicating cradle for RS50 | 2 pcs | 6 449,- CZK | 7 803,3 CZK | |
| RS50-CSA-C3 | CipherLab RS50: 3-year Comprehensive Warranty | On stock | 6 366,- CZK | 7 702,9 CZK | |
| RS50-CSA-C5 | CipherLab RS50: 5-year Comprehensive Warranty | On stock | 9 196,- CZK | 11 127,2 CZK | |
| RS50-CSA-E3 | CipherLab RS50: Standard warranty extension to 3 years | On stock | 2 653,- CZK | 3 210,1 CZK | |
| RS50-CSA-E4 | CipherLab RS50: Standard warranty extension to 4 years | On stock | 4 421,- CZK | 5 349,4 CZK | |
| RS50-CSA-E5 | CipherLab RS50: Prodloužení standardní záruky na 5 let | On stock | 5 659,- CZK | 6 847,4 CZK | |
| RS50-SNP | CipherLab USB snap-on cable for RS50 for communication & charge | 1 pcs | 1 395,- CZK | 1 688,0 CZK | |
| SD-KAL-LUA | Sysdev Kalipso Professional - 1 year License Upgrade Asurance | Usually 2 days | 7 392,- CZK | 8 944,3 CZK | |
| SD-KAL-PRO | Sysdev Kalipso Professional | Usually 2 days | 58 841,- CZK | 71 197,6 CZK | |
| STYLUS-CAP | Stylus for capacitive display, with tether | Usually 26 days | 205,- CZK | 248,1 CZK | |
Technical Description:
Optical
Depth of scan field
3,5-28 cm
Bar code scanner
2D Imager
Sensors
light sensor, proximity sensor, Accelerometer, e-compass
Camera
8 MPix, with Autofocus
Electrical
Main battery pack
Rechargeable Li-Ion battery 4000 mAh, 3,8V
Main battery pack operating time
12hod
Mechanical
Weight
330g
Dimensions
Width: 80mm, Height: 162mm, Length: 26mm
Color
black, yellow
Functionality & Operation
Operating system
Android
Memory
16GB Flash, 2 GB RAM
CPU Type
Cortex A53 Octa Core Up to 2,0 GHz
Expansion slot
Micro SD Card (SDHC)
Communication interface
USB
Wireless communication
WiFi
1D Barcode Symbologies
All standard one-dimension barcodes
2D Code Symbologies
all standard 2D-Codes
RFID transponder protocols
13.56 MHz, ISO 14443A, ISO 14443B, ISO 15693
GPS navigation
AGPS, GLONASS
Keyboard
dedicated scan key,programmable keys,volume up and down keys,left and trigger keys
WLAN Features
WLAN: IEEE 802.11 a/b/g/n/ac/d/e/i/w dual band
Environment
Operating temperature
-20 to 50°C
Storage temperature
-30 to 70°C
Shock resistance
drop from 1,8 m on to concrete surface
Storage humidity (non-condensing)
5 to 95%
Operating humidity (non-condensing)
10 to 90%
Electrical static discharge
±8kV contact, ±15kV air
Ingress protection
IP67
Others
Certifications
CE, Green, NCC, FCC, CB, RoHS, REACH, WEEE
Bundled software
Reader Configuration, Button Assignment, SOTI MobiControl, App-Lock, Kalipso Mobile Application Generator
Warranty
1 year
You must login first to get allowance for downloading files, which are not publicly free.
File
Description
Free for download
AppLock_Android.zip
Size: 877.76 KB, Language: en
MD5: e05e53aad00fbb7e9482f08708329f60
The CipherLab's AppLock application is designed for Android. It is possible to use it to restrict user access to the applications and functions of the RS30, RS31, RS50, 9700A terminals.
Download
RS50_Brochure_EN.pdf
Size: 2.92 MB
MD5: b87c1e47a28f7abbe637e7b8d7c91553
Datasheet for CipherLab RS50 rugged smartphone
Download
CipherLab_9700_varianty.pdf
Size: 4.05 MB, Language: cs
MD5: c3bc480e3fbcc9ea8152047673ae9e9b
The CipherLab 9700 is a product with unusual variability, with about 1500 variants for Europe only available. The presentation compares some of the most commonly demanded configurations on the Czech and Slovak markets with the corresponding models of the different brands.
Download
Android_Programming_Guide.pdf
Size: 1.51 MB, Language: en
MD5: 70cbc4ed8e539d9c3f1fcc4bf14ead25
Android programming guide for CipherLab RS30, RS31, RS50 and 9700A mobile terminals
Download
Mirror_Browser_5_User_Guide.pdf
Size: , Language: en
Web browser for Android terminals CipherLab RS30, RS31, RS50 and 9700A supporting HTML5 and barcode scanner.
Download
AppLock_User_Guide_for_Android.pdf
Size: 3.03 MB, Language: en
MD5: 9a08dcbd96d508dc4e8f01a85c637113
Application with a possibility to block a variety of functions fo Android terminals CipherLab RS30, RS31, RS50 and 9700A.
Download
ADCSetup-Cipherlab.zip
Size: 8.14 MB, Language: en
MD5: 200103d1fb511c0e9afb839d5e5a91f4
Deployment tool for RS30, RS31, RS50 and 9700A terminals
Download
TerminalEmulation_Android.zip
Size: 28.16 MB, Language: en
MD5: a04bcc66d7798c7d1cff6bce80249b91
Terminal emulation for CipherLab Android terminals RS30, RS31, RS50 and 9700A
Download
Loading other files from the documentation system... please wait.

CipherLab CP50 is a Windows Embedded Handheld PDA built to fulfill the demands of transportation, logistics and warehousing applications. Coupled with barcode readers or RFID (HF) sensor, CP50 provides versatile data capture options. Further, this rugged PDA meets 1.5m…
Quad-core performance in a waterproof body. The ScanPal EDA50 enterprise hybrid device combines reliability and usability to provide mobile workers real-time visibility to business-critical information.

Opticon adds a new dimension to its current range of mobile computing devices.. With the functionality of a PDA and the appearance of a smartphone, the H-27 is particularly suitable for mobile workers who need the combination of auto-ID and business critical…

CipherLab RS30 is a touchscreen, mobile, robust and very durable smartphone with dual SIM card, built-in NFC and RFID reader, barcode scanner and a 8 megapixel camera. Its solid protection ensures worry-free applications in the field. The 4.7-inch touch screen along…

CipherLab RS31 is a touchscreen, mobile, robust and very durable smartphone with dual SIM card, built-in NFC and RFID reader, barcode scanner and a 8 megapixel camera. Its solid protection ensures worry-free applications in the field. The 4.7-inch touch screen along…

Product discontinued - can not be ordered
The Zebra TC55 is a Mobile Data Terminal in comfortable Smartphone format with large touch display, integrated scanner and the robustness of the business class. The TC55 is the ideal companion, if you need to work efficiently and mobile on the go. The TC55 - made for…
Question to product CipherLab RS50: Rugged Smartphone, Android, 2D, WiFi dual band, WPAN, WWAN - 3G/LTE, RFID, NFC, USB Kit
To PDF
Compare