The TC8000 is the ground-breaking all new warehouse mobile computer designed to deliver revolutionary productivity increases in the warehouse. In fact, on average, it saves 14% per worker versus the traditional form factors. It's like gaining an extra hour of productivity, per worker, per day.
Zebra TC8000 průmyslový mobilní terminál, laser, WIFI, 4'' dotykový displej, Android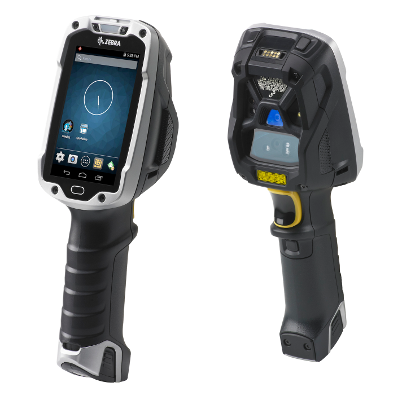 The Zebra TC8000 Touch Computer features a revolutionary new design that has been shown to improve worker productivity by as much as 14%. This new approach moves always from the traditional gun or brick style handheld and places the main part of the computer at the end-of-a-handle. Combined with an angled scan approach, the TC8000 design eliminates the need for the worker to constantly tilt the screen back-and-forth between scanning and screen viewing resulting in a 55% reduction in wrist motion. Additionally, the TC8000 has a 33% weight reduction when compared to traditional devices that translates to 15% less muscle effort.
The TC8000 also has many other features that you've come to expect in Zebra handheld computers designed for use in scan-intensive environments like warehouses and distribution centers. This includes ruggedness (8 foot drop), triple-shift battery power, and multiple scan engine options (laser, 2D imager, mid-range imager and long-range). The TC8000 uses the Google Android operating system with Mobility Extensions to transform it into an enterprise-class device.
Other features of the TC8000 include a 4" color touchscreen (no keyboard), 802.11a/b/g/n and Bluetooth 4.0 wireless communications, and All-touch Terminal Emulation.
- Superior ergonomics for superior productivity and worker comfort
- Rugged and ready for your warehouse
- Enterprise-class android kitkat
- Triple-shift battery power and unsurpassed battery management
- Capture multiple barcodes and entire forms with a single scan with SimulScan
- Advanced touchscreen technology for flexible data input
Required accessories
The device will not work without these accessories:
| ARTICLE No. | Name | Availability | Price | incl. VAT | |
| --- | --- | --- | --- | --- | --- |
| PWRS-14000-148R | Zebra Power supply for the TC 8000 Cradle | Usually 10 days | 1 250,- CZK | 1 512,5 CZK | |
| TC8000-CRDL | Zebra Cradle for USB TC8000 - 2 slots | 1 pcs | 6 347,- CZK | 7 679,9 CZK | |
Recommended Accessories
None available
Technical Description:
Functionality & Operation
CPU Type
Dual Core 1,7 GHz processor
Display type
800 x 480 pixels; 4.0 in. diagonal; transflective LCD display
Operating system
Android
Expansion slot
Micro SD Card (SDHC)
Memory
1GB RAM / 4GB FLASH
Communication interface
USB, WLAN (WiFi), Bluetooth 4.0
Touch-screen panel
kapazitive multi-touch
Optical
Camera
8 MPix, with Autofocus
Electrical
Main battery pack
Rechargeable Li-Ion battery 6700 mAh Hot Swap
Mechanical
Dimensions
Width: 233mm, Height: 76mm, Length: 64mm
Weight
500g
Environment
Operating temperature
-20 to 50°C
Storage temperature
-40 to 70°C
Shock resistance
multiply drops from 2,4 m onto concrete surface
Storage humidity (non-condensing)
5 to 95%
Operating humidity (non-condensing)
5 to 95%
Ingress protection
IP65
You must login first to get allowance for downloading files, which are not publicly free.
Loading other files from the documentation system... please wait.
Question to product Zebra TC8000 průmyslový mobilní terminál, laser, WIFI, 4'' dotykový displej, Android
To PDF
Compare