Z-9000 Series redefines simplicity with more simple features and less complicated options. Enhanced with the easy to use ZAC (ZEBEX Application Creator) program, Z-9000 Series allows users to achieve maximum efficiency through intuitive settings and user friendly interfaces.
Zebex Z-9001 Portable Programmable Terminal, laser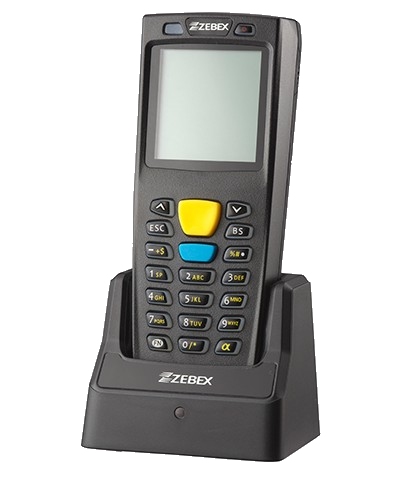 In addition, Z-9000 Series is uniquely shaped with a neat and rugged appearance to allow precision control with just one hand. Optimized to fit your needs, the Z-9000 Series comes with wide variety of scanning options, including 1D, 2D, and laser readers. Advanced features such as 32-bit CPU, wireless connection, status LED, and reliable IP53 seal are also included.
Main features of Zebex Z-9000 series mobile terminal
Zebex Application Creator: Simple, easy to understand interface
Transflective LCD for a wide working condition
No programming background required thanks the ZAC
Required accessories
The device will not work without these accessories:
None available
Recommended Accessories
None available
Technical Description:
Functionality & Operation
Operating system
proprietary
Display type
Mono graphic LCD FSTN, 128 × 128 dots, backlighted
Keyboard
21 keys
Indicators
two-color LED (green+red)
Beeper
programmable tone & beep time
Communication interface
USB, WPAN IEEE 802.15, WLAN (WiFi)
WLAN Features
WLAN security: WEP, EAP, WPA: PSK, WPA2: TKIP, AES, PSK, WLAN: IEEE 802.11 b/g
Program memory
8MB Flash
Data memory
4MB
Number of characters
16 characters x 8 lines
Optical
Bar code scanner
Laser
Optical system
Linear CCD Imager, Laser, 2D Imager
Electrical
Main battery pack
Li-Ion 1150 mAh, 3,7V
Mechanical
Dimensions
Width: 29mm, Height: 59mm, Length: 132mm
Weight
157g including battery
Environment
Operating temperature
-20 to 60°C
Storage temperature
-30 to 70°C
Relative humidity (non-condensing)
5 to 95%
Shock resistance
multiply drops from 1,2 m onto concrete surface, 1000 tumbles at 50 cm
Ingress protection
IP53
Others
Certifications
BSMI, CE, FCC, VCCI
You must login first to get allowance for downloading files, which are not publicly free.
File
Description
Free for download
Z-9000_DataSheet.pdf
Size: 1.28 MB, Language: en
MD5: 3d0ff92d2dbfec88fc241733f704fb34
Data sheet for Zebex Z-9000 series mobile terminals
Download
ZAC.zip
Size: 2.12 MB, Language: en
MD5: 53c13cf520f5b8188ea655845a66ff9b
Zebex Application Creator for mobile terminal Z-9000 / Z-9001 / Z-9002
Download
Z9000_CP210x_VCP_driver.zip
Size: 4.96 MB, Language: en
MD5: 2d6c9def94fd711931dac651ed22eb8d
Windows driver USB-VCP for Z-9000 / Z-9001 / Z-9002 terminal
Download
ZAC_UsersManual.pdf
Size: 1.7 MB, Language: en
MD5: bc13eb33803cdd7c6546f5421f214dcb
User's Manual for Zebex Application Creator for mobile terminal Z-9000 / Z-9001 / Z-9002
Download
Z-9000_UsersManual.pdf
Size: 360.93 KB, Language: en
MD5: 21dcb371b3fc695a0b33ee31b2cd3e01
User's Manual for Zebex mobile terminal Z-9000 / Z-9001 / Z-9002
Download
Loading other files from the documentation system... please wait.

The 8000 series Portable Data Terminal is the smallest and the most price efficient one, even with the high performance designed for all-day, everyday use. CPT-8000 is powered by two AAA size batteries, CPT-8001 uses the standard Li-ION rechargeable accumulator (Nokia)…
Question to product Zebex Z-9001 Portable Programmable Terminal, laser
To PDF
Compare