With its multi-touch, outdoor-readable screen, long battery life, and highly accurate barcode scanning capabilities, the CN51 Mobile Computer offers unparalleled versatility and performance for mobile workers.
Honeywell CN51 terminal - WPAN,3G, GPS, BT, kamera, WEH6.5, QWERTY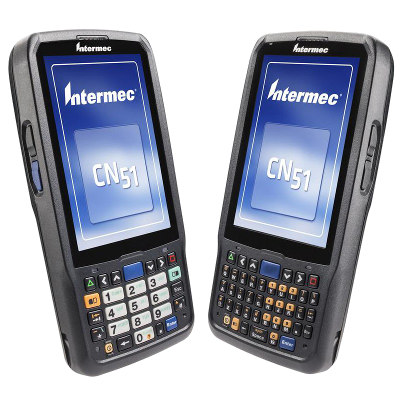 The Honeywell CN51 Mobile Computer offers unparalleled versatility, allowing the choice of Windows® or Android™ operating systems on a single device coupled with a power-packed 1.5 GHz dual core, multiengine processor, 1 GB RAM and 16 GB Flash for the highest degree of future-proofing capability.
Designed for a superior user experience, the CN51 computer's large, multi-touch, outdoor-readable screen provides ample room for application viewing with less scrolling and greater productivity, as
well as more space for capturing signatures. It's also equipped with state-of-the-art smart battery technology, delivering enough power to last a full shift and reducing the cost for replacement batteries.
The CN51 computer is equipped with a high-performance imager that provides quick and accurate barcode scanning capabilities even in low light scanning environments, with unmatched motion tolerance to eliminate costly delays and user frustration during scan-intensive applications.
The 5-megapixel color camera combined with Honeywell's cuttingedge image processing technologies deliver advanced capability beyond reading barcodes. Mobile Document Imaging (MDI) and Remote Deposit Capture (RDC) provide a fast and reliable way to convert full-size paper documents or check payments into electronic files while out on the road, transmitting directly from the point of capture to the back-office workflow.
Enterprises with large, geographically dispersed workforces need adaptable network coverage. The CN51 computer answers the call with its voice-capable Flexible Network Radio (in North America), allowing the same device to operate on either CDMA or UMTS wireless networks. Depending on which network provides the best geographic coverage or the lowest cost, the CN51 computer can be switched on the fly, should coverage needs change.
Industry-leading software and services solutions like CloneNGo offer breakthrough device provisioning that makes it easy to replicate a master configuration across an unlimited number of devices to get up and running quickly. Honeywell SmartSystems™ Foundation also monitors key subsystems, including scanning, communications and device health, to prevent issues before they impact operations.
Honeywell's support services help protect your investment by reducing unexpected operational impacts of network communication issues and minimizing device downtime due to accidental breakage.
Notwendiges Zubehör
Ohne diese Zubehör das Gerät selbständig funktioniert nicht
Keine mehr zur Verfügung
Empfohlenes Zubehör
| ARTIKEL Nr. | Name | Verfügbarkeit | Preis | inkl. MWSt. | |
| --- | --- | --- | --- | --- | --- |
| CN51-BAT | Honeywell Akku für CN51 | Gewöhnlich 17 Tagen | 1 400,- CZK | 1 694,- CZK | |
| S-PODPORA | Codeware Technische Unterstützung - begann 30 Minuten | am Lager | 350,- CZK | 423,5 CZK | |
| TERMINAL-ARCHITECT-E | Codeware Terminal Architect Editor: Software-Tool-Creator für App-Schema für handheld Geräte | am Lager | 24 899,- CZK | 30 127,8 CZK | |
| TERMINAL-ARCHITECT-M | Codeware Terminal Architect Mobile: Runtime-App führt Schemata von Terminal Architect Editor zu handheld Geräten | am Lager | 3 899,- CZK | 4 717,8 CZK | |
Technische Beschreibung:
Funktionalität und Betrieb
Tastatur
QWERTY
Betriebssystem
Android, Windows® Embedded Handheld 6.5
Speicher
1GB , 16 GB Flash
Kommunikations-Schnittstelle
USB Host, USB Client
Elektrische
Hauptbatterie
Wiederaufladbare Li-polymer Batterie 3900 mAH, 3,7V
Mechanische
Dimensions
Breite: 74mm, Höhe: 164mm, Länge: 28mm
Weicht
350g
Farbe
schwarz
Umwelt
Betriebstemperatur
-10 bis 50°C
Lagertemperatur
-20 bis 70°C
Relative Luftfeuchtigkeit (kondensierend nicht)
0 bis 95%
Schockfestigkeit
Fall von 1,5 m auf Beton
Elektrostatische Entladung
±8kV Kontakt, ±15kV Luft
IP Schutz
IP64
Sie müssen melden sich an, um Zulage zum Herunterladen Dateien, die frei zu Download sind nicht.
Datei
Beschreibung
Frei zu Download
cn51-datasheet.pdf
Dateigröße: 136.93 KB
MD5: 79e6f9a5cfb19a23bd0c2141205a7d07
CN51- Datasheet
Download
TerminalArchitect.zip
Dateigröße: 19.21 MB, Sprache: cs
MD5: b9350ffdca9a012a7b20f335352595cd
Program (DEMO version) for creating and processing application schemes. User can use the editor to create any number of scheme sets. Each scheme set can contain any number of scheme objects like Timer, Send data to TCP/IP, Message, ... There is over a sixty different types of scheme objects capable to perform some operation (reading data from database, writing data to TXT/CSV/XLS/... file, showing the user menu or form, writing data to the serial port, ...) that can be used to connect to each other and create required functionality. There is also several types of starting objects that determine the scheme's processing type (Application, Timer, TCP/IP server, ...). The application is designed for the Windows XP/Vista/7/8.x/10 and for the devices using the WindowsCE and WindowsMobile operating systems.
Download
Loading other files from the documentation system... please wait.

The ScanPal EDA50K enterprise hybrid device combines an ergonomic design with a large screen and two input modes – touchscreen or keypad – ensuring visibility and comfort with sacrificing pocketability.
Frage zum Produkt Honeywell CN51 terminal - WPAN,3G, GPS, BT, kamera, WEH6.5, QWERTY
Zu PDF
Vergleichen