The PX20 is the smallest programmable 2D Bluetooth data collector. With a fast integrated 2D CMOS scanner and when fully charged, offering operating times of up to 35 hours. In occasions where Bluetooth is not provided, access by the USB port enables (cabled) data transfer to any USB device.
Opticon PX-20, 2D data collector, Bluetooth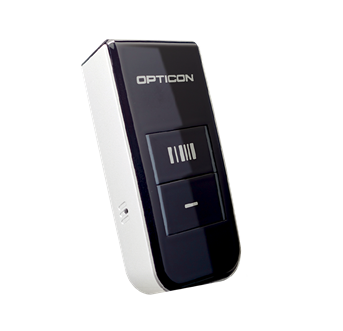 The PX20 is supplied as a ready to go functional kit including a USB cable and lanyard. With its unique ergonomic design and weighing only 40 grams the PX20 is perfectly suited to being worn around the user's neck with the lanyard supplied. Besides a modern and well thought-out design the PX20 has a drop resistance to 1.8 meters (no need for a special protection cover) and is IP 54. The PX20 is modern, fully functional and very durable, perfect for outdoor operations.
Pairing reader with Android OS:
Pairing reader with Windows 10:
Pairing readers with Windows 7:
Required accessories
The device will not work without these accessories:
None available
Recommended Accessories
None available
Technical Description:
Functionality & Operation
1D Barcode Symbologies
All standard one-dimension barcodes
Operating system
proprietary
Communication interface
USB, Bluetooth 2.1
2D Code Symbologies
Aztec, Data Matrix, MaxiCode, Micro QR Code, MicroPDF417, PDF417, QR code
Electrical
Main battery pack operating time
20hod /35 hr Bluetooth on/off
Mechanical
Dimensions
Width: 34mm, Height: 15mm, Length: 71mm
Weight
40g
Body housing
ABS plastic
Color
black
Environment
Operating temperature
-10 to 50°C
Storage temperature
-20 to 60°C
Shock resistance
drop from 1,8 m on to concrete surface
Storage humidity (non-condensing)
20 to 85%
Operating humidity (non-condensing)
20 to 85%
Ingress protection
IP54
Others
Warranty
1 year
Bundled Accessories
hand strap, USB cable
You must login first to get allowance for downloading files, which are not publicly free.
File
Description
Free for download
MenuBook_en.pdf
Size: 630.02 KB, Language: en
MD5: 9fbd4c8d4f5c8e64fb418b004d4c414e
Configuration manual for Opticon bar code scanners
Download
USB-Drivers-Installer.exe
Size: 2.3 MB, Language: en
MD5: 508bf8b7a6eb2ccc4bbf615a06dc118b
USB Drivers Installer: USB driver (exe) for Windows. Opticon USB Code Reader virtual VCOM port, This driver is for both 32-bit and 64-bit Windows.
Download
leaflet_PX-20.pdf
Size: 545.9 KB
MD5: 19732b0e501d1cb0ca8389d0f44e1533
leaflet PX-20
Download
Czech_keyboard.pdf
Size: 1.05 MB, Language: en
MD5: 4132894ef693b2e4a423eddb42083375
Set czech keyboard for Opticon scanners
Download
Produkty_Opticon_CZ.pdf
Size: 3.53 MB, Language: cs
MD5: ef66088e9aad65979a615defb925c31a
Opticon products brochure
Download
Appload.zip
Size: 577.77 KB, Language: en
MD5: 49f39d4e9cefda509d73dd700c903752
Utility to upload an application or an operating system
Download
Loading other files from the documentation system... please wait.

ARTICLE No.:

A1664-SCAN

Availability:

Ongoing [i]

Warranty (months): 12 měsíců
Question to product Opticon PX-20, 2D data collector, Bluetooth
To PDF
Compare