ALR-F800 is the fifth generation self-optimizing enterprise UHF RFID reader by Alien, which enables users to deploy best-in-class EPC Gen 2 RFID solutions for retail, supply chain, manufacturing, mobile asset tracking and asset management applications.
Alien ALR-F800 Enterprise RFID reader, UHF 865.7-867.5 MHz, EMEA Kit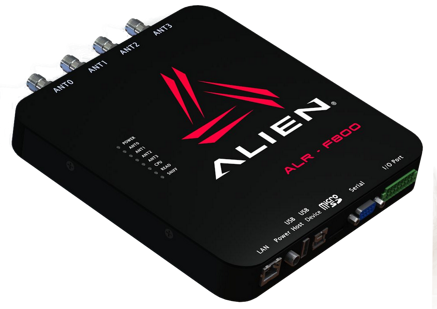 Reader with a power supply in the form of a Power-over-Ethernet Injector (which supplies both power and data to the reader). Comes complete with power cord for the injector and 2 Ethernet cables, one for data and one for both data and power).
Required accessories
The device will not work without these accessories:
None available
Recommended Accessories
| ARTICLE No. | Name | Availability | Price | incl. VAT | |
| --- | --- | --- | --- | --- | --- |
| ALR-8696-C | Alien ALR-8696-C Antenna: CP right, 865-960 MHz, IP54, 8.5 dBic | 2 pcs | 4 991,- CZK | 6 039,1 CZK | |
Technical Description:
Functionality & Operation
CPU Type
ARM9 677 MHz
Operating system
Linux
Data memory
2GB Flash
RFID transponder protocols
ISO 18000-6C
Maximal transmit power
2W (E.R.P.)
Communication interface
Ethernet, RS232, USB Client, USB Host, GPIO (0-24 VDC optical isolated, 4 IN / 8 OUT)
Network services
DHCP, NTP, SNMP, TCP/IP
Antennas, Antenna inputs
4 mono-static ports
Indicators
Power, CPU, Read, Sniff, Ant 0-3
Electrical
Power Source
Input: 100 ~ 240 VAC, 50~60 Hz, 5A, POE (Power Over Ethernet), 12 VDC
Mechanical
Dimensions
Width: 191mm, Height: 202mm, Length: 28mm
Weight
850g
Environment
Operating temperature
-20 to 50°C
Ingress protection
IP53
Others
Certifications
RoHS, cTUVus, FCC, EN 302208, EN 60950-1, EN 50364
Development tools
.NET SDK (Windows Desktop, CE, Mobile), Java, Ruby API
You must login first to get allowance for downloading files, which are not publicly free.
File
Description
Free for download
DS_ALR-F800_EN.pdf
Size: 256.28 KB, Language: en
MD5: afbc47d0a584b8b19ae2739dcd614601
Catalogue sheet for the fixed enterprise RFID UHF reader Alien F800
Download
alien-gateway.zip
Size: 19.65 MB, Language: en
MD5: 3fc3e8aa2d3a654b9a31a9010438b4e0
Reading and writing tool for the fixed RFID UHF readers Alien
Download
Loading other files from the documentation system... please wait.

Motorola FX7500 is affordable stationary UHF RFID reader. With an integrated POE (Power over Ethernet) is ideal for large spaces, they do not have to be plugged in. With its large memory reader is flexible enough to be able to use your business today and in the future.…

Motorola FX 9500 is stationary, industrial RFID reader for reading tags EPC Gen 2 reader is designed especially for demanding industrial environments such as warehouses, manufacturing or logistics centers. Offering excellent value for money, great reader performance.…
Question to product Alien ALR-F800 Enterprise RFID reader, UHF 865.7-867.5 MHz, EMEA Kit
To PDF
Compare