Low frequency RFID desktop reader, supported tags: EM4102, UNIQUE, HITAG-1, HITAG-2, HITAG-S, EM4150, TITAN, EM4105, Q5, T5557.

Manufacturer:

Elatec

ARTICLE No.:

TWN3-M125U

Warranty (months): 12
Availability:

5 pcs
Package content: Device itself
Elatec RFID Reader TWN3 Multi 125, 125 kHz, USB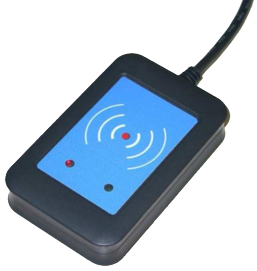 tool for ID read
data collection
access control ...
Compact body
Easy connection
Low power consumption
Native RS232 or USB-HID interface, no special driver needed
Technical description
CabinetABS, color black or whiteFrequency13.56 MHz +/- 0,5%Dimensions (H x W x D)88 x 56 x 18 mmPower supply
· RS232 model: 5VDC, external adapter
· USB model: 5V from USB connector
Operational temperature-10°C to +50°C (-4°F to 122°F)Power consumption220 mAAntenneAircoilReading distance10 cmSupported transponders
· EM4102, UNIQUE
· HITAG-1, HITAG-2, HITAG-S
· EM4150, TITAN
· EM 4105
· Q5, T5557
Optional· TWNConfig: programming & set-up tool
Required accessories
The device will not work without these accessories:
None available
Recommended Accessories
None available
Technical Description:
Functionality & Operation
Communication interface
USB
Frequency
125 kHz
Reading/writing distance
10cm
RFID transponder protocols
EM4102, UNIQUE, HITAG-1, HITAG-2, HITAG-S, EM4150, TITAN, EM4105
Antennas, Antenna inputs
Aircoil
Electrical
Power Source
+5V ±10%
Mechanical
Dimensions
Width: 88mm, Height: 56mm, Length: 18mm
Body housing
ABS plastic
Color
black
Environment
Operating temperature
0 to 50°C
You must login first to get allowance for downloading files, which are not publicly free.
Loading other files from the documentation system... please wait.
Question to product Elatec RFID Reader TWN3 Multi 125, 125 kHz, USB
To PDF
Compare