High frequency RFID desktop reader & writer, supported tags: Mifare Ultralight, Mifare 1k, Mifare 4k, Mifare DESfire.

Manufacturer:

Elatec

ARTICLE No.:

TWN3-MIFU

Warranty (months): 12
Availability:

Usually 18 days
Package content: Device itself
Elatec RFID Reader/Writer TWN3 Mifare 13.56 MHz, USB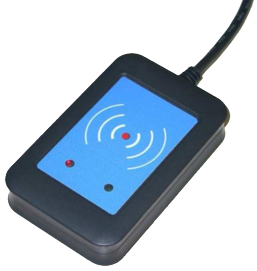 tool for ID read
data collection
access control ...
Compact body
Easy connection
Low power consumption
Native RS232 or USB-HID interface, no special driver needed
Technical description
CabinetABS, color black or whiteFrequency13.56 MHz +/- 0,5%Dimensions (H x W x D)88 x 56 x 18 mmPower supply
· RS232 model: 5VDC, external adapter
· USB model: 5V from USB connector
Operational temperature-10°C to +50°C (-4°F to 122°F)Power consumption220 mAAntenneAircoilReading distance10 cmSupported transponders
· EM4102, UNIQUE
· HITAG-1, HITAG-2, HITAG-S
· EM4150, TITAN
· EM 4105
· Q5, T5557
Optional· TWNConfig: programming & set-up tool
Required accessories
The device will not work without these accessories:
None available
Recommended Accessories
None available
Technical Description:
Functionality & Operation
Communication interface
USB
Frequency
13.56 MHz
Reading/writing distance
10cm
RFID transponder protocols
EM4102, UNIQUE, HITAG-1, HITAG-2, HITAG-S, EM4150, TITAN, EM4105
Antennas, Antenna inputs
Aircoil
Electrical
Power Source
+5V ±10%
Mechanical
Dimensions
Width: 88mm, Height: 56mm, Length: 18mm
Body housing
ABS plastic
Color
black
Environment
Operating temperature
0 to 50°C
You must login first to get allowance for downloading files, which are not publicly free.
Loading other files from the documentation system... please wait.
Question to product Elatec RFID Reader/Writer TWN3 Mifare 13.56 MHz, USB
To PDF
Compare