Manufacturer:

Codeware

ARTICLE No.:

SW-PROG-KAL

Warranty (months): 12
Availability:

On stock
Codeware Creating an application using Sysdev Kalipso, per hour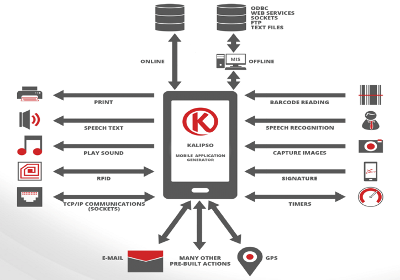 Required accessories
The device will not work without these accessories:
None available
Recommended Accessories
None available
Technical Description:
Functionality & Operation
Communication interface
ZigBee IEEE 802.15.4
Signal coverage
30m depending on environment characteristics
1D Barcode Symbologies
Codabar, Code 128, Code 39, Code 93, EAN 13/UPCA, EAN 13/UPCA + ADDON 2, EAN 13/UPCA + ADDON 5, EAN 8, EAN 8 + ADDON 2, EAN 8 + ADDON 5, Industrial 2 of 5, Interleaved 2 of 5, MSI, Plessey, UPCA, UPCA + ADDON 2, UPCA + ADDON 5, UPCE, UPCE + ADDON 2, UPCE + ADDON 5
2D Code Symbologies
Aztec, Data Matrix, Data Matrix (ECC200 only), MaxiCode, PDF417, QR code, MicroPDF417, Micro QR Code
Trigger mode
Manual, multiple read, auto-trigger, stand detection
Optical
Light source
visible red LED 630nm, visible green LED 527nm
Optical system
CMOS area sensor, SXGA (1.3 million pixels), gray scale
Depth of scan field
25-130 mm (res 0.399 mm / 13 mil), 48-80 mm (res 0.127 / 5 mil), 30-105 mm (res. 0.25 / 10 mil), 55-75 mm (res. 0.1 / 4 mil)
Maximal skew angle
60°
Maximal pitch angle
50°
Focal plane
85mm in from window
Curvature
R>15 mm (EAN8), R>20 mm (EAN13)
Minimal resolution
0.1 mm / 4 mil - Code 39, 0.127 mm / 15 mil - PDF417 at PCS 0.9
Minimal PCS value
0.45
Electrical
Main battery pack
Li-Ion 1150 mAh, 3,6V
Main battery pack operating time
30hod (1 scan / 5 sec)
Charging method
via enclosed AC adapter OPA 1001 or optional charger CHG 4001
Battery charging time
3hod
Mechanical
Dimensions
Width: 164mm, Height: 59mm, Length: 43mm
Weight
125g
Environment
Operating temperature
0 to 40°C
Storage temperature
-20 to 60°C
Maximal ambient light
10000lux fluorescent, 100000lux direct sunlight
Shock resistance
drop from 1,5 m onto concrete surface
Storage humidity (non-condensing)
5 to 90%
Operating humidity (non-condensing)
5 to 90%
Electrical static discharge
±15kV air
Others
Certifications
CE, FCC Class A, RoHS, VCCI
You must login first to get allowance for downloading files, which are not publicly free.
File
Description
Free for download
KALIPSO_COMMERCIALPRESENTATION_EN.pdf
Size: 2.78 MB, Language: en
MD5: 8c0745c8ba68e656a1a88c7b647291e6
Business presentations of the Sysdev Kalipso, the development tool for portable terminals
Download
KalipsoV4NewFeatures.pdf
Size: 908.11 KB, Language: en
MD5: e8d7c42ff100c9295156f507b16676b2
Version 4 changelog of the Sysdev Kalipso, the development tool for portable terminals
Download
LabelPrintLite.zip
Size: 1.55 MB
MD5: bb634b83563b3427d2e62ca49d7f5337
Simple application for printing labels with barcodes to the printers installed in Windows systems. The TXT/CSV/XLS(X) files or ODBC databases can be used as a data source. The graphic editor of the print templates is also part of the program.
Download
Loading other files from the documentation system... please wait.
Question to product Codeware Creating an application using Sysdev Kalipso, per hour
To PDF
Compare