Compact ZEBRA ZX1 plastic card printer with 300dpi resolution and print speed of 120/500 single-sided cards per hour (color/black and white) is the best choice if you choose between price and performance. The ZRaster ™ printing method will ensure a high quality and durability of card printing.
Zebra ZXP1 - printer for printing plastic cards, single-sided printing, USB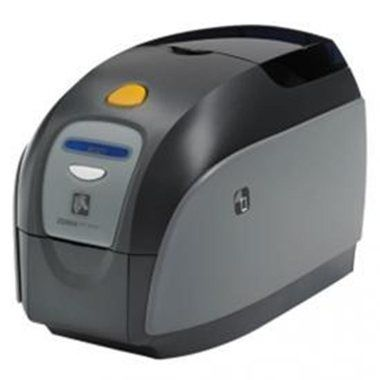 A
ffordable and Easy to Use
The ZXP Series 1 card printer provides high-quality card printing at an affordable price. Ideal for low-volume, single-sided printing applications in colour or monochrome, the ZXP Series 1 offers a complete card printing solution with minimal upfront investment. These features along with Zebra's eco-friendly print cartridges make it the best entry-level printer on the market.
The ZXP Series 1 requires little technical support or user training. The quick-replace Load-N-Go™ smart ribbons have the added benefit of being eco-friendly, using less plastic and more biodegradable material than many competing brands. Print Touch™ uses Near Field Communication (NFC) to instantly retrieve helpful information about the ZXP Series 1 from any NFC-enabled smart device.

You can count on the ZXP Series 1 to print clear, sharp and colour-rich images when you need them, where you need them. Its optional magnetic stripe encoding, Ethernet connectivity and support for multiple card thicknesses permit the ZXP Series 1 to meet a variety of business needs.
Ideal for These Applications
• Retail & Hospitality
• Identification & Access
• Government & Education
• Dye-sublimation thermal transfer direct to card
• Single-sided full color or monochrome printing
• Edge-to-edge printing on standard CR-80 media
• Eco-Friendly Load-N-Go drop-in ribbon cartridges
• Auto calibration of ribbon
• ENERGY STAR Certified
• 100 card covered feeder (30mil-0,76mm)
• 45 card capacity output hopper (30mil-0,76mm)
• Magnetic stripe encoder: ISO 7811
• Frequency range: 47-63Hz.
• Zebra ix Series™ intelligent technology automatically detects and authenticates ribbon
• Card Size: CR-80, ISO 7810 format, Type ID-1, 2.12"/ 54mm x 3.38"/ 86mm
Required accessories
The device will not work without these accessories:
None available
Recommended Accessories
| ARTICLE No. | Name | Availability | Price | incl. VAT | |
| --- | --- | --- | --- | --- | --- |
| ZEB-CS-PRO | Zebra CardStudio Professional | Usually 10 days | 19 468,- CZK | 23 556,3 CZK | |
| ZEB-ZXP1-RBNB-1000 | Zebra ZXP1 - printing color MONOCHROME for 1000 cards | Usually 10 days | 571,- CZK | 690,9 CZK | |
| ZXP1-RBN-100 | Zebra ZXP1 - printing color YMCKO for 100 cards | Usually 10 days | 931,- CZK | 1 126,5 CZK | |
Technical Description:
Functionality & Operation
Communication interface
USB
Operating system
Windows® CE
Print resolution
300dpi
Print speed
120 /500 cph YMCKO/monochrome
Display type
LCD 16-character
Electrical
Power Source
90-132VAC, 190-264VAC RMS
Mechanical
Dimensions
Width: 236mm, Height: 200mm, Length: 368mm
Weight
5.3kg
Color
black
Consumables
Media thickness
0.25 to 1mm
Others
Certifications
FCC Class A
You must login first to get allowance for downloading files, which are not publicly free.
Loading other files from the documentation system... please wait.

ARTICLE No.:

ZEB-ZXP3-DUAL

Availability:

Usually 10 days

Warranty (months): 12 měsíců
Question to product Zebra ZXP1 - printer for printing plastic cards, single-sided printing, USB
To PDF
Compare