The enhanced linear imager bar code scanner BD-388III offers laser-like and high performance barcode reading: 500 scans/second, 400mm scanning distance for all of barcode reading including EAN 128 code and GS1 data bar.
Birch BD-388III Corded long range CCD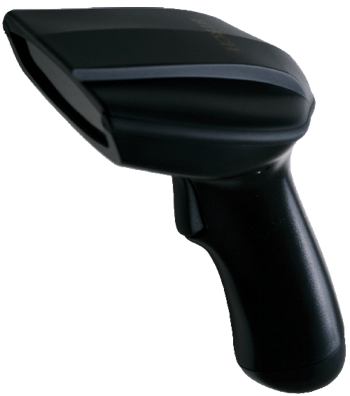 BD-388III is built with Keyboard, RS232 USB and Wand interface. It supports use replaceable interface cable by RJ45 phone jack; different interface can be interchangeable just by changing cable. It is simplified installation and integration and good to lessen your inventory load.
The scanner is enhanced with Auto Sensor function for hand-free operation to lengthen the optical life. Furthermore, the ergonomic and gun type design body offers maximum comfort for every day use.
Required accessories
The device will not work without these accessories:
None available
Recommended Accessories
None available
Technical Description:
Functionality & Operation
Communication interface
USB
1D Barcode Symbologies
All standard one-dimension barcodes
Reading/writing distance
40cm
Optical
Scanning rate
500scan/s
Bar code scanner
CCD
Electrical
Power Source
+5 VDC ±5%
Mechanical
Dimensions
Width: 90mm, Height: 193mm, Length: 85mm
Weight
130g
Body housing
ABS plastic with rubber
Environment
Operating temperature
0 to 50°C
Storage temperature
-20 to 70°C
Maximal ambient light
10000lux
Shock resistance
drop from 1,2 m onto concrete surface
Operating humidity (non-condensing)
20 to 95%
Others
Warranty
6 months
You must login first to get allowance for downloading files, which are not publicly free.
File
Description
Free for download
DS_BD-388III_EN.pdf
Size: 224.04 KB, Language: en
MD5: d9e0d6e7af925ca698f012c83313dab7
Datasheet for pistol-type 1D-Imager bar code reader Birch BD-388
Download
softwedge.zip
Size: 1.68 MB, Language: en
MD5: d3d9419d56f0e344f79e8c66e31ab762
Eavesdropping Program COM port - suitable for use all readers emulation RS232, VCOM. (Transfer from RS232 to KBW)
Download
Loading other files from the documentation system... please wait.
Question to product Birch BD-388III Corded long range CCD
To PDF
Compare